Savannah, Georgia Car Donations
Donate Your Vehicle and Save Lives!
Let Savannah, Georgia Car Donations Transform Lives in Your City
Do you know that Savannah, Georgia car donations could turn the world upside down? When you donate your car, you give hope to the hopeless and relief to the burdened. Your shabby old car may be an eyesore to you, but to those whose lives are touched by breast cancer, it's priceless.
'The Hostess City of the South'
Savannah wasn't dubbed the "Hostess City of the South" for nothing. Being the oldest city in the state of Georgia, Savannah is home to an interesting and vibrant mix of cultures and scenic spots. Exquisitely manicured lawns, baroque architectural marvels, horse-drawn carriages – these are few of the reasons why people have Savannah on their travel bucket lists.
Based on the 2016 U.S. Census Bureau, the city's total estimated population is at 146,763. More than half of its residents are females.
Fast Facts About Breast Cancer
Breast cancer is a disease marked by the abnormal growth of cells that eventually form a malignant tumor in the breast tissues. One in eight women in the U.S. will develop this disease within her lifetime, making breast cancer the most commonly diagnosed cancer in women next to skin cancers.
It's also the second leading cause of cancer deaths in women. On average, an American woman loses her life to breast cancer every 13 minutes.
These numbers are alarming. Our goal is to increase breast cancer awareness in order to promote prevention and provide free and accessible breast health services to all individuals regardless of gender, socioeconomic background, and ethnicity.
What We Do to Help Beat Breast Cancer
We at Breast Cancer Car Donations operate vehicle donations on behalf of the certified 501(c)3 nonprofit organizations that we have partnered with. We use the proceeds from the sale of every donated vehicle to fund our charity partners' breast cancer programs that provide comprehensive breast health services across the United States. These programs provide the following services:
Raise public awareness on the nature of breast cancer, concentrating on disease prevention through early detection;
Provide financial assistance to aid in the screening, diagnosis, and treatment for those who are uninsured and underserved;
Establish and improve link and referral systems that allow free access to local resources, services, and information that are ethnically and linguistically customized according to the needs of individuals.
Choose to make Savannah, Georgia car donations to help someone with breast cancer by calling 866-540-5069 today.
Your Top Benefits
A car donation is the textbook description of a "win-win situation" because both the giver and the receiver benefit from the transaction. Aside from the overwhelming sense of fulfillment with the knowledge that you've helped someone with breast cancer, here are some of the good stuff you'll get in exchange for your Savannah, Georgia car donations:
Go through a donation process that's easy-breezy!
Free yourself from the responsibility of paying for insurance and registration!
We won't let you handle the paperwork!
You'll get a healthy tax write-off!
Say goodbye to repairs and upkeep needed!
No need to go through the hassles of selling a car!
Extra garage space after your car gets hauled away!
Almost All Vehicle Types are Acceptable!
On a case-by-case basis, we at Breast Cancer Car Donations even accept vehicles that haven't been running for a long time! We also accept cars that have failed emissions testing! You can even donate the clunker that you inherited from a deceased loved one.
The only vehicles we cannot accept are the abandoned ones because proof of ownership is needed so that we could sell them. If you have any concerns pertaining to your vehicle's title, don't hesitate to contact our team of title clerks who are always ready to assist you.
If you're not sure that your vehicle would make the cut, here's a good list of vehicles we commonly receive from donors:
Cars: sedans, vans, SUVs, trucks, motorcycles
Boats: sailboats, motorboats, fishing boats, yachts, pontoon boats, houseboats, personal watercraft (like jet skis)
RVs: recreational vehicles, motorhomes, campers, travel trailers, pop-up trailers, 5-wheelers
Specialty vehicles: ATVs, snowmobiles, motorized wheelchairs, riding lawn mowers, tractors, farm equipment
Fleet vehicles: cars, passenger vans, cargo vans, SUVs, pickups, trucks, buses
How to Donate Your Car
With Breast Cancer Car Donations, you're guaranteed to go through the quickest and most hassle-free car donation process ever. In less than five minutes, you could part ways with your preloved vehicle and support breast cancer patients in Savannah! Here's how you can do it:
Let us know you wish to donate.
 You have a choice to either fill out our online donation form or simply call us at 866-540-5069 and give us your personal contact details (which we promise never to sell), as well as a few basic information about your preloved car (year, make, model, mileage, VIN, availability of a title).
Schedule your vehicles pickup.
After you confirm your intent to donate, you can give us your preferred time, date and place for your vehicle's fast and free pickup! That's right: You don't have to spend a single dime on towing! A local professional towing company will get the job done and you won't even have to be there when they haul your car away! We will give you a donation receipt that allows you to cancel your car's insurance and registration.
Within 30 days after your car is sold at auction, we will send you by mail your 100-percent tax-deductible receipt that shows you the amount you can base your tax deduction claim when you file your itemized federal tax return!
Something to Hope For
The best exercise for the heart is to reach down so you could lift people up. Once you go for Savannah, Georgia car donations, an uninsured woman with breast cancer will receive financial assistance for treatment and medication. Another will have access to free diagnostic procedures to promote early detection.
Like you, these women want to live a bit longer to see their children grow up or hold their newly-born grandchild for the first time. With your help, they could face the future with a renewed sense of hope.
What are you waiting for? Call us at 866-540-5069 and get free towing services for your Savannah, Georgia car donations!
or Call Us Now at 866-540-5069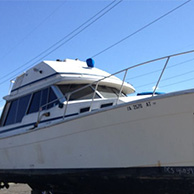 Excellent customer service!