Sandy Springs, Georgia Car Donations
Donate Your Vehicle and Save Lives!
Sandy Springs, Georgia Car Donations: Your Little Act of Charity Can Save Lives of Breast Cancer Victims
Did you know that you can bring a positive change in the lives of breast cancer patients when you donate your car to our Sandy Springs, Georgia car donations program? That old or idle car of yours can become an instrument for finding a cure for the devastating disease. Breast Cancer Car Donations makes it all possible.
In the United States alone, tens of thousands of lives have been lost due to breast cancer. Despite the best efforts of the world's leading scientists and cancer specialists to discover a cure for the illness, nothing has come out of their research. With your vehicle donations, you can provide them additional resources that will help in extending their studies.
By collaborating with us, you will also partner with reputable nonprofit charities that have dedicated themselves to assisting needy and uninsured breast cancer patients. We at Breast Cancer Car Donations will turn your automobile into funds that support charities such as American Breast Cancer Foundation and Women Involved in Nurturing, Giving, Sharing, Inc. It would really mean so much for breast cancer patients and their loved ones when you donate to our Sandy Springs, Georgia car donations program.
How Does the Donation Process Work?
We have been known to provide quality service to our donors, including you. We make sure that you don't get stressed out with a donation process that's too much to handle, which is why we're taking away all the responsibilities from your hands. Trust us to take care of everything!
Because we know how stressful it is to handle paperwork, we'll be sparing you the time and effort to do it. Apart from that, we will also be the one to hire a tow truck to haul your vehicle away. And no, you won't be paying a single dollar for it.
If you find yourself ready to take part in our Sandy Springs, Georgia car donations program, just give us a call or fill out our online donation form. We only need a few details about the vehicle you plan to donate. After that, we will agree on a specific date and time to have it towed away.
Once our hired tow truck arrives at your place, you don't have to be around during the towing if you have other appointments to attend to. Before we take your car away, we will give you, or your designated representative, a donation receipt that will give you the freedom to cancel your car's insurance and registration.
We will then place your donated car up for auction. The funds that we will generate from this will enable our nonprofit partners to continue providing assistance to cancer patients and their loved ones.
As our way of showing gratitude, after your car is sold we will send you by mail your 100 percent tax-deductible receipt indicating the sale price of your vehicle. You will need this to claim your tax deduction when you file your itemized income tax return. If your vehicle sells for less than $500, you can claim the selling price or the vehicle's fair market value up to $500. You can calculate the fair market value by checking prices online for vehicles of the same make, model, year and condition as your car.
Of course, you can claim a bigger tax deduction if your vehicle sells for more than $500. If you have further questions on this subject, contact us or call 866-540-5069. You may also want to take a look at our FAQs page here.
So there you have it! You get rid of an unwanted car, you help patients with it, and you get to receive tax deductions for it! It seems like you've just found the perfect car donation program in the area.
What Other Rewards Can I Get from Sandy Springs, Georgia Car Donations?
Aside from the tax deduction, you will get other rewards for donating to our Sandy Springs, Georgia car donations program. These are:
Freeing yourself from the burden of maintaining a no-longer-used car
A stress-free and efficient donation process
Extra space for your garage or yard
Freedom from the hassles of the selling process
Free towing and pickup of your vehicle
No need to make deals or negotiations with random people in trying to sell your car
A sense of fulfillment knowing that your Sandy Springs, Georgia car donations will make a difference in the lives of breast cancer patients
What Vehicles Qualify for Breast Cancer Car Donations?
Another reason why it makes so much sense to work with us is the fact that we accept many types of vehicles, even ones that are in poor running order. So whether you plan to give us a barely-functioning SUV or an old trailer that's in an excellent condition, we will be more than happy to have it in our Sandy Springs, Georgia car donations program.
We're not only limited to car donations such as vans, trucks, or minivans, but we also accept motorcycle, RV, watercraft, and aircraft donations. And of course, Breast Cancer Car Donations always has room for specialty vehicles that may be in the form of snowmobiles, motorized wheelchairs, or riding lawnmowers.
In case you might be feeling unsure about your car's eligibility for our Sandy Springs, Georgia car donations program, just call us. Talk to us about your concern and we'll be glad to help you out.
Help Breast Cancer Patients in Sandy Springs, Georgia Today
Have you already made the decision to take part in the battle against breast cancer? Donate to our Sandy Springs, Georgia car donations program now. Give us a quick call at 866-540-5069.
We look forward to working with you. Through your little act of charity, some lives in Sandy Springs, Georgia will be saved.
or Call Us Now at 866-540-5069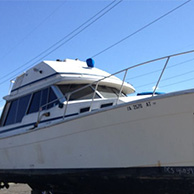 Excellent customer service!