Rochester, New York Car Donations
Donate Your Vehicle and Save Lives!
Give Breast Cancer Victims That Spark of Hope Through Rochester, New York Car Donations
Do you have an old and beat-up car that you no longer want? Are you looking for the best way to dispose of it? Let Breast Cancer Car Donations help you. What you can do is to donate it to our Rochester, New York car donations fundraiser instead of just dumping it in the junkyard.
You not only free yourself from the hassle of getting that clunker out of your property, you'll also be supporting a worthy cause: saving the lives of your fellow Americans stricken with breast cancer.
How We'll Use Your Car Donation to Save Lives
Once you decide to take part in our Rochester, New York car donations program, we'll tow your car and send it to the best auction house in the city. With our long years of experience in selling preloved cars and our extensive network of used car buyers, we can easily sell your car at its highest possible price.
Once your car is sold to the highest bidder, we'll transfer the proceeds from the sale to our nonprofit organization partners. They will use the funding to sustain and expand their various programs and breast health services, including:
Financial assistance to uninsured and underserved breast cancer patients to cover the cost of their chemotherapy and radiation treatments, including surgical procedures, oncology services, hospital fees, and outpatient medication;
Free physician consultations, labs, and mammogram for five years following breast cancer remission;
Financial assistance to individuals seeking mammograms, ultrasound tests, and lab works;
Counseling for breast cancer patients and their families;
Educating the public on the importance of breast cancer preventive measures and early detection;
Providing funds for the continued research for more advanced breast cancer treatment that will pave the way for the discovery of the ultimate cure for the disease.
All You Need to Know About Our Donation Process
You can easily join our Rochester, New York car donations program. We will make sure that you will not experience any difficulties. We will cover everything for you. Here is a quick guide to our three-step car donation process:
You can do it by either filling out our online donation form or calling us directly at 866-540-5069. Tell us your contact information and basic details on the vehicle you're donating such as its make and model, year, current mileage, VIN, general condition, and title availability.
After verifying the information you shared, we'll call you back and schedule your car's pickup at a date, time, and place most convenient for you. We'll assign a professional towing company to do the job. Before the truck leaves with your vehicle, you will receive a towing receipt that releases you from any liabilities on your vehicle, allowing you to legally cancel its registration and insurance coverage.
After your car gets sold at auction, we will mail you your 100-percent tax-deductible sales receipt, which shows your donated vehicle's selling price. The amount shown will serve as the basis of your tax deduction claim when you file your itemized federal tax return. Generally speaking, if your vehicle was sold for more than $500, that will be the exact amount you can claim as your tax deduction. If it was sold for less than $500, you can claim either its selling price or its fair market value not exceeding $500, whichever is higher.
If you have questions about our car donation process and other matters, don't hesitate to give us a call at 866-540-5069. We have donation specialists trained to answer all your questions.
The Types of Vehicles We Accept
If you are having second thoughts on whether your vehicle is acceptable to our Rochester, New York car donations fundraiser, worry no more! At Breast Cancer Car Donations, we accept nearly all types of motor vehicles plus boats and planes.
You can donate even a vehicle that is not in good running condition as long as we deem that it still has a good enough cash value. However, we have to turn down vehicles that are so heavily damaged that they hold little to no value. We likewise cannot process for donation vehicles that are either stolen or abandoned because they lack titles or proof of ownership, which is needed in selling vehicles.
We accept:
General vehicles such as cars, SUVs, trucks, vans, minivans, or motorcycles;
RVs, campers, motorhomes, travel trailers, toy haulers;
Special vehicles such as golf carts, snowmobiles, motorized wheelchairs, and all sorts of farm equipment;
Various boats and watercraft such as fishing boats, sailing boats, pontoon boats, motor boats, yachts, and jet skis;
Fleet vehicles and non-commercial aircraft.
Give Your Full Support Now!
Your participation in our Rochester, New York car donations program is crucial in providing breast cancer victims that spark of hope that they could win their battle against the Big C. If you are ready to help save lives, contact us at 866-540-5069 and get started with your car donation!
or Call Us Now at 866-540-5069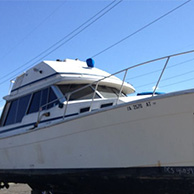 Excellent customer service!