Pennsylvania Car Donations
Donate Your Vehicle & Transform Lives!
Saving Lives Through Pennsylvania Car Donations
Breast cancer is one of the leading causes of death among women and even men in the United States. When a woman discovers her breast cancer at an early stage, there is a 95 percent success rate for treatment.
Treatment for breast cancer is easy because it usually only takes pills instead of chemotherapy, which makes use of a poisonous liquid as well as painful radiation sessions. For women with breast cancer, it is suggested that they get mammogram test each year and clinical breast examination every three years once they turn 20 years old.
Screening is very important to detect cancer, and this is where Breast Cancer Car Donations comes in to make people realize the significance of early detection and treatment.
Breast Cancer Car Donations is a nonprofit organization that provides funding sources to trusted charitable institutions that help spread awareness about breast cancer and also helps individuals get screened, diagnosed, and treated.
Pennsylvania: The 'Keystone' State
Pennsylvania is known as the Keystone State. That is because it is the middle colony of the 13 British colonies on the east coast of North America that declared independence in 1776 and formed the United States of America. The nickname is also appropriate since Pennsylvania holds a major position in terms of social, economic, as well as political development in the United States.
Do you know that three of the nation's most valued documents — the Declaration of Independence, the US Constitution, and the Gettysburg Address — were written in Pennsylvania? Pennsylvania is home to the Philadelphia Zoo, which is the country's very first zoo.
The State boasts of the nation's finest museums including the Houdini that is devoted to a legendary magician. It is also in Pennsylvania where you can find the National Aviary located in Pittsburgh. The state has many amusement parks, including the Kennywood Park and Dutch Wonderland.
Breast Cancer Statistics in Pennsylvania
As of 2016, Pennsylvania has an estimated population of 12.8 million, registering just a slight increase from the population back in 2010, which was 12.7 million. Of this number, 6.5 million are women.
In Pennsylvania, breast cancer is the most common type of cancer with an incidence of 11,151 more than any other type of cancer. On average, 31 females are projected to be diagnosed with breast cancer every single day.
How to Make a Vehicle Donation in Pennsylvania
Pennsylvania Charitable Car Donations has partnered with trusted charities and introduced a new way to increase awareness about breast cancer, empowering women battling with breast cancer to continue fighting.
The organization works hard to encourage people to participate in car donations in PA to help save lives. The process involved in donating old vehicles or trucks is as easy as 1-2-3.
Call us or fill out the online vehicle donation form and our dedicated staff will take it from there.
Set up a pickup time and day that you feel is most convenient to have your car towed, and we will handle the rest of the tasks, from paperwork to auctioning and selling your donated vehicle.
Once your donated car is successfully sold, we will mail you a tax receipt for documents as well as tax deduction purposes.
Consider a boat donation or RV donation today! Many types of vehicles including boats, RVs, SUVs, trucks, motorcycles, and vans qualify for Pennsylvania car donations. Interested donors may also donate airplanes, golf carts, and riding lawn mowers.
Why Join Pennsylvania Car Donations
No material thing in this world can give you the kind of happiness and sense of fulfillment that you get when you contribute to charities that have noble purposes. The reasons that come with vehicle donation in Pennsylvania are limitless. When you donate a junk car or old vehicle, you will be able to:
Help save the lives of those afflicted with breast cancer
Receive a tax write-off
Do away with an old useable car that takes space in your garage or backyard
Pennsylvania Car Donations: What happens next?
As soon as the donated car in Pennsylvania is sold, the donor will have the opportunity to enjoy a handsome tax deduction. If the vehicle is sold for less than $500, the donor can obtain the selling price or the fair market value of up to $500. On the other hand, if it is sold for more than $500, the donor may obtain the exact amount for which the vehicle is sold. All proceeds will go to nonprofit organizations dedicated to fighting breast cancer.
Donate a Car Now and Make a Difference
There are millions of women suffering from breast cancer and we can no longer afford to add more cases of deaths due to this dreadful illness. Help Breast Cancer Car Donations spread the word about Pennsylvania car donations.
Call us now at 866-540-5069.
Donate a Car to Pennsylvania Breast Cancer Nonprofits Today!
Looking for more information about donating in a particular area of Pennsylvania? Click on one of the cities closest to you from the list below.
or Call Us Now at 866-540-5069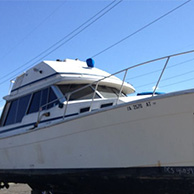 Excellent customer service!