Pittsburgh, Pennsylvania Car Donations
Donate Your Vehicle and Save Lives!
Pittsburgh, Pennsylvania Car Donations: Become a Hero, Help Save Lives of Breast Cancer Victims
Our Pittsburgh, Pennsylvania car donations program enables you to practice charity in your own city. We at Breast Cancer Car Donations provide a platform for kind-hearted residents of Pittsburgh to quickly and conveniently donate vehicles for the benefit of indigent breast cancer patients in their city.
Your support is badly needed because the lack of financial resources is often the cause of breast cancer deaths in America. Breast cancer remains as one of the leading causes of death among women in America. Impoverished women have a higher chance of death simply because they could not afford the high cost of treatment.
Poor women don't have the money to pay for cancer screening. They don't visit clinics to check for early signs of breast cancer. Once they find out they have the dreaded disease and with no one to support them, they just allow the cancer cells to spread in their body, leading to inevitable death.
This is the reason why Breast Cancer Car Donations is here: to generate funds through our car donation programs to enable our charity partners to provide direct financial and medical assistance to poor breast cancer patients with the ultimate goal of saving their lives.
How You Can Help Save Lives
Since our donors are the lifeblood of our charity, we treat them with utmost respect and provide them with all the perks allowed by the law. When you donate a vehicle to Breast Cancer Car Donations, we will try our very best to give you the most pleasant car donation experience. After you contact us, we'll handle everything else, from picking up your car to mailing you your tax-deductible sale receipt. Here's how our car donations in the area process works:
Step 1. Contact us.
Fill out our online donation form or call 866-540-5069. We'd gather a few basic details like your contact information, your vehicle's make, model and year, mileage and its working condition.  We'll set up a time at your convenience to haul your vehicle away.
Step 2. We pick up your vehicle for free.
We will arrange with an affiliate towing company in your area for the pickup. At your preferred time, date and place, technicians from that company will promptly show up and get your car donation quickly. No need to pay for anything and no need to be there when we haul your car away. We will even give you a donation receipt that will allow you to de-register your vehicle, dispose of your license plates properly, and cancel your insurance coverage. Keep the receipt since you may need it for tax purposes.
Step 3. Receive your tax-deductible receipt.
Within 30 days after your vehicle gets sold at auction, you will receive from us your 100-percent tax-deductible receipt by mail bearing the actual sale price of your vehicle. To claim this benefit, you need to itemize your deductions on your federal tax return.
How Your Donations Will Be Used to Save Lives
Breast Cancer Car Donations operates car donation programs on behalf of IRS-certified 501(c)3 non-profit organizations. We raise funds to sustain, develop, and improve the comprehensive breast health services provided by our charity partners to all individuals who need them. We are the proud partners of American Breast Cancer Foundation (ABCF) and Women Involved in Nurturing, Giving, Sharing, Inc. (WINGS).
ABCF seeks to make breast cancer diagnosis and treatment accessible and available among the uninsured and the underserved in every locality. ABCF directs its efforts in giving education, medical access and financial assistance to every person, particularly the poor.
On the other hand, WINGS gives financial assistance for breast cancer treatment including surgery, oncology services, hospital fees, outpatient medication, as needed. It is also actively involved in outreach programs and is one of the dedicated advocates of raising public awareness for breast cancer prevention.
How Your Car Donations Will Benefit You
Yes, that's right. Your participation in our Pittsburgh, Pennsylvania car donations program will not only benefit destitute breast cancer patients but also you yourself, our dear donor!
Expect to receive these perks once your car donation process gets underway:
Donating your car qualifies you for a top tax deduction if you itemized your taxes.
Extra space in your garage or driveway
Donating the old and unwanted vehicle stuck in your garage or driveway gets you the extra space you've always wanted.
No more need to repair, maintain, and insure a vehicle you don't want
When you donate your car, you can stop paying for all those expensive repairs, maintenance cost, and insurance. You can use the money you'll save to buy a new car.
The most rewarding part of donating a car is knowing that you helped fund a worthy cause – one meant to save people's lives.
The Types of Vehicles You Can Donate
We accept almost every type of vehicle on the face of the earth in our Pittsburgh, Pennsylvania car donations program. You can also donate as many vehicles as you want.
We accept for donation the following vehicle types:
Cars: sedans, vans, SUVs, trucks, motorcycles
Boats: sailboats, motorboats, fishing boats, yachts, pontoon boats, houseboats, personal watercraft (like jet skis)
RVs: recreational vehicles, motorhomes, campers, travel trailers, pop-up trailers, 5-wheelers
Specialty vehicles: ATVs, snowmobiles, motorized wheelchairs, riding lawn mowers, tractors, farm equipment
Fleet vehicles: cars, passenger vans, cargo vans, SUVs, pickups, trucks, buses
The only vehicles that we can't process for donation are the abandoned ones since they obviously don't have titles, and we cannot sell vehicles without titles or proof of ownership. In case you lost your title, call us and we can help you secure your replacement title quickly.
Donate Now!
You will feel like a hero when you donate your car to Breast Cancer Car Donations. This is because you will be helping a lot of needy breast cancer patients, helping save their very lives! Call us now at 866-540-5069 and get started with your Pittsburgh, Pennsylvania car donations!
or Call Us Now at 866-540-5069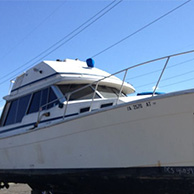 Excellent customer service!