New Rochelle, New York Car Donations
Donate Your Vehicle and Save Lives!
Stop Breast Cancer from Claiming More Lives With Your New Rochelle, New York Car Donations
Does your old car have defects that keep coming back even after numerous repairs? Are you already tired of it gobbling your hard-earned money? Keeping this up would eventually wipe out all your income and even put you in debt.
If you are ready to let go of that car, let Breast Cancer Car Donations help you. Instead of throwing it in a junkyard, you can donate it to us instead.
We have set up our New Rochelle, New York car donations program where your car donation will help save the lives of breast cancer victims.
'What Will Happen to My Car?'
When you donate your car to us through our New Rochelle, New York car donations fundraiser, we will auction it off, with the proceeds from the sale of your car going to our nonprofit organization partners, the American Breast Cancer Foundation (ABCF) and Women Involved In Nurturing, Giving, Sharing, Inc. (WINGS). These nonprofits will use the funding to carry out their various breast health programs that deliver essential services to all individuals who need them.
These services include:
Financial assistance to indigent breast cancer patients to cover the cost of their chemotherapy and radiation treatments, including surgical procedures, oncology services, hospital fees, and outpatient medication;
Free physician consultations, labs, and mammogram for five years following breast cancer remission;
Financial assistance to individuals seeking mammograms, ultrasound tests, and lab works;
Counseling for breast cancer patients and their families;
Educating the public on the importance of preventive breast cancer measures and early detection;
Financing research for an improved breast cancer diagnosis and treatment that will hopefully lead to the discovery of the ultimate cure for the disease.
'How Can I Donate My Car?'
Participating in our car donations fundraiser in the area is easy as pie! You can do it anywhere and anytime you like. Here is our simple three-step guide to our donation process:
First:
You need to contact us. You can do it by filling out our online donation form or by calling us at 866-540-5069. Tell us your contact information and basic details about the car you're donating such as its make and model, year, VIN, general condition, and title availability.
Second:
We'll process your car donation application and set up a schedule for your car's pickup based on your preferred date, time, and location. We'll assign a professional towing company to do the job. You'll receive a towing receipt before the truck tows your car away. This receipt will release you from any liabilities on your car and allows you to cancel your car's insurance coverage and registration.
Third:
We'll send your car to the best auction house in the city. Within 30 days after your car is purchased, we will be mailing you your car's 100-percent tax-deductible sales receipt. The amount indicated in the receipt will serve as the basis of your tax deduction claim when you file your itemized IRS income tax return for the next tax season.
Don't hesitate to call us at 866-540-5069 if you have questions about our car donation process and other related matters. We are here for you! Let's talk!
'What Vehicles Does Breast Cancer Car Donations Accept?'
We accept not just cars but nearly all other types of motor vehicles plus boats and airplanes in our New Rochelle, New York car donations program. Even if the vehicle you're donating is not in perfect condition, we'll still take it.
However, please take note that we don't accept vehicles that are so heavily damaged that they have little or no value at all. We also cannot accept stolen or abandoned vehicles because they obviously have no title or proof of ownership, which is a requirement in selling vehicles.
In case you've lost your vehicle title, call us and we'll help you secure a replacement title quickly, so you can proceed with your car donation.
Here are some samples of the vehicle types we gladly accept for donation:
Cars
SUVs
Trucks
Motorcycles
Boats
RVs
Campers
Farm equipment
Non-commercial aircraft
Snowmobiles
Golf carts
Visit our Accepted Vehicles page for more information on the vehicles you can donate.
Do It Now!
If you're ready to become one of our numerous donors who have made a difference in the lives of breast cancer victims, contact us at 866-540-5069 now! Support our worthy cause and get free towing services, maximized tax deductions, and other rewards for your New Rochelle, New York car donations!
or Call Us Now at 866-540-5069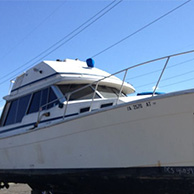 Excellent customer service!