Nashville, Tennessee Car Donations
Donate Your Vehicle And Save Lives!
Nashville, Tennessee Car Donations: Save Lives of Breast Cancer Victims at Zero Cost
Donating to charity has never been easier, never been more impactful, and never been more meaningful than now with our Nashville, Tennessee car donations for the benefit of the hundreds of thousands of Americans battling breast cancer.
Without spending a dollar, without taking much of your time and energy, you can save the lives of breast cancer patients, including those from your own community, by simply calling us and telling us your willingness to donate your car for their benefit.
Our Breast Cancer Car Donations charity organization will turn your Nashville, Tennessee car donations into sources of funds to support the work of our non-profit partners — the American Breast Cancer Foundation (ABCF) and Women Involved in Nurturing, Sharing, Giving, Incorporated (WINGS, Inc.) – that are currently undertaking programs in support of breast cancer sufferers. Specifically, these two nonprofits provide assistance to breast cancer patients who cannot avail themselves of federal government medical aid due to lack of health insurance. Their programs are geared towards achieving these objectives:
Provide uninsured and underserved breast cancer patients access to screening, diagnosis, and effective treatment
Help in empowering breast cancer victims and survivors, together with their families, by encouraging them not to lose hope and to find ways to make life bearable despite their condition
Help breast cancer patients in managing the unwanted side effects of their treatment
Provide funds for research for breast cancer cure
Raise awareness about the breast cancer prevention and early signs detection of breast cancer
Where Donation Is a Rewarding Experience
Not only is it easy to take part in Nashville, Tennessee car donations program, it is also a rewarding experience in the literal sense. You can actually get a sizeable portion of your car's cash value since your donation will entitle you to a top tax deduction when you file your itemized income tax return. And that's just one of the benefits you'll get. You will also:
Free yourself from costly repairs and maintenance, and payment of insurance premium since your car will be out of your hands
Free yourself from worrying about the time-consuming paperwork involved in trying to sell your car
Get rid of an unwanted vehicle without lifting a finger and without paying even a dime
One Call to Start the Car Donation Ball Rolling
To get all these benefits while providing meaningful and significant support to breast cancer victims, all you have to do is fill out our online vehicle donation form. You can also just give a call at 866-540-5069 and tell our donors' reception desk officer that you are donating your car to Nashville, Tennessee car donations. Our staff will gladly walk you through the donation process. You will have to share with us three details about the vehicle you're donating:
Your car's make and model
Your preferred time and date for pick-up and towing
Your vehicle's location
After we verify the information you provided, we will get the services of a tow company to pick up your vehicle at zero cost to you. Within 24 to 48 hours after you first contacted us, or during your appointed date and time for pick-up, technicians from the towing company will be at your doorstep to inform that they will be towing your donated car. They will give you a receipt, which would release you from all liabilities. You may also use the receipt for tax purposes.
We will then auction off your car. Once your car is sold, we will inform you about it through a letter that will contain your vehicle's final selling price and a tax receipt for your Nashville, Tennessee car donations. You will need this tax receipt to avail yourself of large enough tax deduction when you file your itemized income tax return.
Cancer's Ancient Roots and the Current Situation in America
Cancer has been with us since the dawn of history. The first cancer cases were reported in Egypt in 3000 BC. This was revealed in an artifact known as the Edwin Smith Papyrus, a preserved page of an ancient Egyptian textbook on surgery. In that ancient document, eight cases of women having breast tumor were recorded.
In the United States, breast cancer continues to exact a heavy toll on its victims:
Breast cancer remains the most commonly diagnosed cancer among women and the second leading cause of cancer death among women, according to the National Breast Cancer Foundation, Inc.
On a yearly basis, over 252,710 women in the United States are expected to be diagnosed with breast cancer with more than 40,500 dying from the disease.
Breast cancer is not a disease exclusive for women. To a much lesser degree, the disease also his the male population. More than 2,470 men in the United States are expected to be diagnosed with breast cancer yearly and approximately 460 will die each year.
Every two minutes, a woman is tested positive for breast cancer with one woman dying of breast cancer every 13 minutes.
One in eight women will be diagnosed with breast cancer in her lifetime.
On a positive note, more than 3.3 million breast cancer survivors are alive today because of more effective treatment and early detection.
Help us in saving lives today through your generous donations to Nashville, Tennessee car donations. Call us now at 866-540-5069.
or Call Us Now at 866-540-5069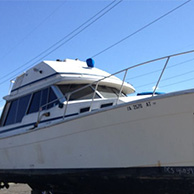 Excellent customer service!