Car Donations In Miramar, FL
Fight the Illness by Donating to Breast Cancer Car Donations
Thinking about selling your old automobile in Miramar, FL? If so, vehicle donation may be an option you should consider. At Breast Cancer Car Donations, we accept vehicles of all types and in any condition to help fight this deadly disease, and your generous contribution can help save lives. We serve the entire state of Florida, including nearby cities such as Fort Lauderdale.  
When you donate your car, we'll first perform a thorough assessment and then sell it at auction. The profits fund nonprofit organizations that are battling breast cancer. These include American Breast Cancer Foundation (ABCF) and Women Involved In Nurturing, Giving, Sharing, Inc. (WINGS). These organizations then help boost awareness about breast cancer and raise funds for prevention, screening and diagnosis, and treatment and cures. 
Your vehicle donation helps support breast cancer research so that a cure can be found. It'll also provide financial assistance to underserved and uninsured patients who are battling the ailment, as well as boost public awareness on the causes, symptoms, prevention and detection. 
How to Donate a Car to Charity in Miramar
We pride ourselves on providing a quick and easy car donations process. Simply follow the steps below to get started: 
Step 1: Get in touch with our team. Once you decide vehicle donation is the right choice, let us know. Call us at 866-540-5069 or fill out our online form. We'll need your personal contact information as well as the car's year, make and model, mileage, condition and title. 
Step 2: Arrange your free car pickup

. A professional towing company will pick up your car for free at your preferred time, date and location. 

Step 3: Acquire your IRS tax-deductible receipt.

After the car is sold at auction, we'll send you an IRS tax-deductible receipt in the mail. 
The Perks of Contributing to Our Vehicle Donation Program
Contributing to our car donation program means you'll receive many benefits. These include the following: 
The rewarding feeling you get knowing you've helped breast cancer patients

No paperwork — we'll complete it for you

Avoid the hassles of selling your automobile

Save money by not paying for car maintenance, repair and insurance

More space in your garage 

A tax deduction
Learn More About Miramar, FL
Situated on the Atlantic coast, Miramar is home to some of the best cancer treatment centers. These include the Memorial Cancer Institute, Integrated Oncology of South Florida and Memorial Hospital West-Cancer Support Services. 
Residents in this diverse beach neighborhood enjoy many activities, from antique shopping to beach volleyball. The area also boasts many attractions, including the Miramar Regional Park, Flamingo Gardens and Monster Mini Golf.
or Call Us Now at 866-540-5069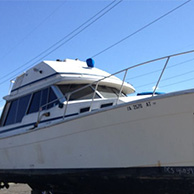 Excellent customer service!