Manchester, New Hampshire Car Donations
Donate Your Vehicle and Save Lives!
Help Save Lives of Breast Cancer Victims With Your Manchester, New Hampshire Car Donations
If you're figuring out a simple way to extend assistance to breast cancer patients in the country, taking part in our Manchester, New Hampshire car donations program is definitely one such simple yet highly effective way. While your old and dusty car that you hardly use anymore may no longer mean much to you, it is like a gold mine for thousands of indigent women who struggle every day with the deadly disease.
Breast cancer has claimed so many thousands of lives in the U.S., making it the second leading cause of cancer deaths among women. Despite a significant 39 percent decline in death rates among afflicted women from 1989 to 2015, many patients are still in dire need of financial and medical assistance. Not everyone gets the chance to receive treatment because many breast cancer patients can't afford the high cost of medicines and professional medical services.
This is the reason why Breast Cancer Car Donations exists. We operate vehicle donations on behalf of our certified 501(c)3 nonprofit organization partners to generate funds for their programs that provide free and accessible comprehensive breast health services all over the United States. These services are geared towards breast cancer prevention, early detection, treatment and/or cure. We use the car donations we receive to fund the programs of our two nonprofit partners, the American Breast Cancer Foundation (ABCF) and Women Involved in Nurturing, Giving, Sharing, Inc. (WINGS).
By teaming up with us, you enable these charities to provide assistance to save the lives of individuals afflicted with the deadly disease.
At the same time, your charitable act of donating a vehicle to us enables you to reap certain rewards, including a substantial tax deduction.
How Does Our Donation Process Work?
When you decide to collaborate with us at Breast Cancer Car Donations by taking part in our car donations program in the city, you will save yourself from the hassles of a complicated donation process. With us, you would not deal with piles of paperwork or find yourself going around town to look for a cheap towing company. We will be the one to take care of those two things among others.
As our way of showing gratitude for your generosity, we offer you a donation service that's truly convenient. All you have to do is inform us about your decision to donate a car to support our cause. From that point on, you can leave the rest of the work to us.
Here's a quick step-by-step guide on what it's like to donate to us:
You contact us, either by making a phone call or by filling out our online donation form. We'll ask certain details about the car you plan to donate, including its make and model, mileage, and vehicle identification number. We will then arrange a time and place for its pickup.
A licensed towing company will come to pick up your vehicle on the agreed schedule. You don't need to be present at the time of the pickup. You also don't need to pay for it because the towing is on us. We will issue you a donation receipt that will allow you to de-register your vehicle, dispose of your license plates properly, and cancel your insurance coverage.
We'll auction off your donated vehicle and transfer the proceeds to our nonprofit organization partners that will use the funding to sustain the programs and services they provide to cancer patients and their families. We will also send you by mail the 100-percent tax-deductible sales receipt of your donated car. You will need this receipt to support your tax deduction claims when you file your federal income tax return.
That's pretty much everything there is to know about our car donation process. If you're looking for a car donation program in Manchester, New Hampshire that offers a fast and simple process, it makes perfect sense to choose us. Donate to us today at 866-540-5069!
The Vehicles That You Can Donate to Us
At Breast Cancer Car Donations, we accept many types of vehicles. We even take vehicles that are no longer in running condition as long as they still have some significant cash value left in them. Just talk to us if you're uncertain about the eligibility of the vehicle you wish to donate.
For our Manchester, New Hampshire car donations program, we welcome vehicles such as:
Common cars: vans, SUVs, sedans, trucks
Motorcycles: dirt bikes, scooters, touring motorcycles, sports bikes
Recreational vehicles: motorhomes, pop-up trailers, hybrid trailers, campers
Specialty vehicles: golf carts, riding lawnmowers, motorized wheelchairs, farm equipment
Watercraft: personal boats, cruise ships, yachts, catamaran boats
Aircraft: non-commercial planes, helicopters
Fleet vehicles: cars, passenger vans, cargo vans, SUVs, pickups, trucks, buses
Thinking of donating an old car and a no-longer-needed motorcycle at the same time? Feel free to do so! We're more than happy to accept multiple vehicle donations!
The Benefits you Get for Donating a Vehicle to Us
Apart from the fact that you'll go through a stress-free donation process with us, there are several other perks in store for you when you contribute to our Manchester, New Hampshire car donations program. Here are some of them:
You have the opportunity to receive tax deductions greater than $500
You get rid of an unwanted vehicle at no cost to you
You free yourself from the burden of having to unnecessarily spend for your car's insurance and registration fees
You no longer need to waste your time and effort in trying to sell your automobile
You can finally clear up your garage for the brand-new car you intend to buy
You feel good about yourself knowing that your car donation will make a significant impact on the lives of breast cancer patients.
Help Us Fight Breast Cancer Today!
That old malfunctioning car that's just giving you trouble on the road can help pay for the treatment of at least one breast cancer patient, leading to her full recovery. Make good use of your unwanted vehicle by donating it to Breast Cancer Car Donations. Contact us at 866-540-5069 to start your Manchester, New Hampshire car donations process!
or Call Us Now at 866-540-5069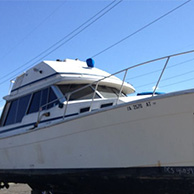 Excellent customer service!