Macon, Georgia Car Donations
Donate Your Vehicle and Save Lives!
Macon, Georgia Car Donations: Save Lives of Struggling Breast Cancer Patients
Our Macon, Georgia car donations program is our fund-generating campaign to boost the fight against breast cancer and to save the lives of thousands of its sufferers. Breast Cancer Car Donations uses the funds we generate to support the programs of our leading breast cancer non-profit organization partners so that they could concentrate on their mission of providing assistance to uninsured and underserved individuals seeking breast cancer screening, diagnosis, and treatment.
We transfer the proceeds of your Macon, Georgia car donations to American Breast Cancer Foundation (ABCF) and Women Involved in Nurturing, Giving, Sharing, Inc. (WINGS). ABCF has a program for the early detection and diagnosis of breast cancer. Its mission is to provide funds for breast cancer screenings and diagnostic tests for uninsured individuals. On the other hand, WINGS seeks to bridge the gap between diagnosis and treatment. It has programs that are geared toward the prevention, screening, diagnosis, and treatment of breast cancer.
Macon, Georgia: 'The Heart of Georgia'
The city of Macon is located in the center of Georgia, thus giving the city its nickname, "The Heart of Georgia."  It is in Bibb County and is the fourth largest city in the state of Georgia.
The history of Macon goes back to the 18th century when Creek Indians lived around the area of Ocmulgee Old Fields.
The government of Macon City established a trading post to make trades with Native Americans. Fort Benjamin Hawkins is where Macon developed. The fort was named after Benjamin Hawkins, a superintendent of Indian Affairs for 20 years.
After Europeans settled in the area in the early 1820s, Macon City was chartered as the county seat of Bibb County. The name of the city became official in 1823, in honor of Nathaniel Macon, a statesman of North Carolina.
One of the best places to visit when you happen to be in Macon City is Cannonball House on Mulberry Street. The origin of the historic site's name is based on the cannonball-inflicted damage during the Civil War. The house was constructed in 1853 built in Greek Revival Architectural style.
You may also visit Macon City's Museum of Arts and Sciences located on Forsyth Road. The museum started as a room in Wesleyan Conservatory and in 1964, it was moved on Forsyth Road. After it was settled in the location, the construction of the site's planetarium, gallery, and workshop began.
Benefits for Donors of Macon, Georgia Car Donations
When you donate your vehicle to Breast Cancer Car Donations Program in Macon, Georgia, you will help in saving and transforming the lives of breast cancer sufferers.
However, the benefits are not limited to breast cancer patients. Donors to Macon, Georgia car donations also stand to receive benefits, including:
Top tax deductions – You can receive more or less $500 in tax deduction depending on your vehicle's sale price after it is auctioned.
No more costly repairs, worries – You can free yourself from costly repairs and maintenance, and insurance payment as well as worries on what to do with your old car. By simply donating your car to our Macon, Georgia car donations program, you will liberate yourself from all these concerns.
Breast Cancer Car Donations will process all the required paperwork and pay for the towing of your car. We accept almost all types of vehicles for donation, whether in running or non-running condition.
Car Donations Process in Macon, Georgia
You can take advantage of the benefits available for donors of Macon, Georgia car donations by filling out our online donation form or calling us at 866-540-5069. Our helpful donations specialists will explain everything about the donation process and answer all your questions. You need to provide us only the make and model of the car you are donating, your preferred time and date for the pickup and towing, and your vehicle's pick-up location, whether in your home or somewhere else.
We will then contact a professional towing company. The tow truck from that company will pick up your car on the agreed date, time, and place. We will give you a towing receipt to release you from liabilities that will free you from payment of your insurance and car registration.
We will then put your Macon, Georgia car donations on the auction block. At least 30 days after your car is sold at its highest possible price, we will send you a 100 percent tax-deductible sales receipt indicating the sale price of your vehicle. If your vehicle sells for less than $500, you can claim as a tax deduction the selling price or the vehicle's fair market value up to $500, whichever is higher. You can calculate the fair market value of your car by checking the prices online for vehicles of the same make, model, year and condition as your car.
If your vehicle sells for more than $500, you can claim only the exact amount for which it was sold, even if the fair market value is greater than the selling price.
Donate your car today to our Macon, Georgia car donations program and save the lives of struggling breast cancer patients. Contact us at Breast Cancer Car Donations in Macon, Georgia now at 866-540-5069 to donate.
or Call Us Now at 866-540-5069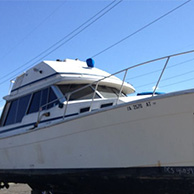 Excellent customer service!