Laurel, Maryland Car Donations
Donate Your Vehicle and Save Lives!
Laurel, Maryland Car Donations: Turn Your Vehicle into a Lifesaver
With your Laurel, Maryland car donations, you will help us generate funding to save the lives of our fellow Americans who are undeservingly suffering from breast cancer.
Your very old car may not be useful to you anymore, but once you donate it to us at Breast Cancer Car Donations, it will attain a level of significance that you cannot probably even imagine. That car will play a big role in the treatment and recovery of at least one breast cancer victim.
'What Do You Do With My Car Donation?'
When you take part in our Laurel, Maryland car donations fundraiser, be assured that your donated car will be in good hands. We will make sure that your car will be fully utilized to provide for the needs of breast cancer sufferers.
Your car will be taken to the city's best auction house where we will exert our best efforts to try and sell it at its highest possible price that approximates its fair market value.
N
Once your car is sold, we will immediately transfer the proceeds to our nonprofit organization partners—the American Breast Cancer Foundation and Women Involved In Nurturing, Giving, Sharing, Inc. These nonprofits use the funding to carry out their various programs that provide essential breast health services to all people who need them, particularly those afflicted with breast cancer. The services include:
Providing financial assistance to needy breast cancer patients to help them pay for their treatment including surgery, oncology services, hospital fees, and outpatient medication;
Providing individuals easy access to health facilities, clinics, and hospitals that provide breast cancer screening, diagnosis, and treatment;
Raising public awareness on the signs and symptoms of breast cancer to promote early detection;
Supporting breast cancer research to find new and better ways to prevent, detect, manage, and treat the disease with the ultimate objective of finding a cure for it.
'How Do I Make My Laurel, Maryland Car Donations?'
We've made our Laurel, Maryland car donations process as fast, easy, and convenient as possible for the benefit of our donors. The process involves three simple steps:
Give us a few details about your car such as its make and model, year, mileage, VIN, general condition, title availability as well as your contact details.
Your car is towed away for free.
After we verify the information you told us, we will arrange the schedule for your car's pickup based on the date, time, and place most convenient for you. We will instruct a professional towing company to tow your car for free. Your vehicle can be out of your property in as fast as one or two days after you've given us the go signal to get your car. If you're not going to be there during the pickup, it's okay. Just notify us and assign someone to represent you. A staff from the towing company will issue you a tow receipt. This document releases you from all liabilities on your car, allowing you to cancel its registration and insurance coverage.
Your car will then be auctioned. Within 30 days after your car has been sold, you will receive from us via mail your car's 100-percent tax-deductible sales receipt. This document shows the final selling price of your car, an amount that will serve as the basis of your tax deduction claim when you file your itemized IRS income tax return for the next tax-filing season.
If you have questions on our Laurel, Maryland car donations process, do not hesitate to call us at 866-540-5069. You can also go to our FAQ's page for more information.
 'What Other Vehicles Do You Accept?'
Are you not sure if the vehicle you intend to donate is acceptable to us? That's not going to be a problem since we accept nearly all types of motor vehicles plus boats and planes in our Laurel, Maryland car donations fundraiser. Even if the vehicle you're donating is not in good running condition, has dents or scratches or has a few missing or defective parts, we would still gladly accept it for donation.
We only decline vehicles that are so badly damaged that they have little value and those that have been stolen or abandoned. We can't sell these vehicles because they have no title or proof of ownership.
You can donate a car, truck, SUV, motorcycle, RV, camper, riding lawn mowers, motorized wheelchairs, golf carts, and many more! If you want to see a full list of accepted vehicles, click here!
Donation Time Is Now!
Now that you know how a car donation to Breast Cancer Car Donation will create a huge and lasting impact on the lives of breast cancer patients and their families, why not put your old car to good use right now? Contact us at 866-540-5069 and get started with your Laurel, Maryland car donations!
or Call Us Now at 866-540-5069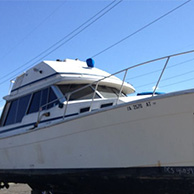 Excellent customer service!