Lakewood, Colorado Car Donations
Donate Your Vehicle and Save Lives!
Lakewood, Colorado Car Donations: Change the Course of a Woman's Breast Cancer Journey
If you have clapped-out cars that are thinning your fat wallet because of costly maintenance and repair, then consider donating it to Breast Cancer Car Donations through our Lakewood, Colorado car donations program. You'll not only get your clunker out of your backyard fast, you'll also help other people in Lakewood who are battling one of the toughest challenges a person could ever face: breast cancer. So, before you think about selling or trading in your run-down car, read on and discover why Lakewood, Colorado car donations could be your best choice.
All About Lakewood
Lakewood is a city found in the foothills of the Rocky Mountains. It's known to be one of the best resort spots in the country where people could enjoy the outdoors with the breathtaking view of the mountains all year-round. Based on the U.S. Census Bureau as of 2016, Lakewood has an estimated population of 154,393 residents – more than half of which are females.
According to the National Breast Cancer Foundation, Inc., each year, approximately 252,710 women in the U.S. would develop breast cancer and more than 40,500 women will lose their lives to it. To give you a clearer picture, on average, a woman is diagnosed with breast cancer every two minutes, while another woman dies of it every 13 minutes. Furthermore, one in every eight women in the U.S. would develop this disease within the course of her lifetime.
What is Breast Cancer?
Almost everyone has heard about breast cancer. It's a deadly disease that's characterized by an abnormal cell growth on the breast tissues that would eventually form a malignant tumor. It's the second most common cause of cancer deaths among women.
Its usual cause is a predisposition involving an abnormality in a person's genetic material that's inherited from a parent, or both. Breast cancer can also develop as a result of a person's normal aging process.
Like most cancers, breast cancer is most treatable at its initial stages. One way to increase a person's chances of breast cancer survival is to have the tumor removed during this period. Conversely, the prognosis would be poor if the cancer is discovered in the later stages.
To help more individuals steer clear of breast cancer, accessible local facilities that offer comprehensive breast health services need to be set up, sustained and improved in every community. This wouldn't be made possible without adequate funding. This is where Lakewood, Colorado car donations come to play.
How Can We Beat Breast Cancer?
When you donate your unwanted vehicles to Breast Cancer Car Donations, you take part in the fight against breast cancer in your locality. The proceeds from the sale of your donated vehicle will go directly to our non-profit organization partners to sustain their programs that are geared towards breast cancer prevention, early diagnosis, treatment, and cure. You can be sure that all your Lakewood, Colorado car donations processed through our service will be handled with utmost efficiency and professionalism.
Our two non-profit partners are:
The American Breast Cancer Foundation (ABCF)
ABCF is dedicated to financing for the early detection and prevention of breast cancer. They connect breast cancer patients to local health facilities for high-standard health services and support. Another good thing about their program is that they give financial assistance to those who are underserved and uninsured, regardless of age, gender, and color.
Women Involved in Nurturing, Giving, Sharing, Inc. (WINGS)
The people behind WINGS have been providing comprehensive breast cancer treatment to the underserved and the uninsured since 1999. Their offered services include surgery, oncology services, hospital fees, outpatient medications, and consultation fees. They are also active in facilitating outreach programs and information drives to raise awareness.
If you think that this is a cause that's worth fighting for, then donate your car by calling 866-540-5069 now!
You Could Donate Other Vehicle Types!
You can donate almost all types of vehicles that you have lying around your backyard as long as they come with your proof of ownership. We can't sell them at auction without a title on hand. However, if you have lost your vehicle's title, our team would gladly help you get a replacement title.
Also, there's no limit to the number of vehicles you'd wish to donate! We love multiple Lakewood, Colorado car donations simply because they help us reach more people with breast cancer within your local community. Check out this list of vehicles that we receive from our donors:
Cars: sedans, vans, SUVs, trucks, motorcycles
Watercraft and aircraft: sailboats, motorboats, fishing boats, yachts, pontoon boats, houseboats, personal watercraft (like jet skis), non-commercial airplanes and helicopters
RVs: recreational vehicles, motorhomes, campers, travel trailers, pop-up trailers, 5-wheelers
Specialty vehicles: ATVs, snowmobiles, motorized wheelchairs, riding lawn mowers, tractors, farm equipment
Fleet vehicles: cars, passenger vans, cargo vans, SUVs, pickups, trucks, buses
Get Ready to Donate!
To demonstrate our appreciation for your generosity, it's our delight to give you the best giving experience you'll ever have. We do this by making sure that our donation process would leave no room for inconvenience and hassle on your part. All you have to do is follow these three simple steps and we're done:
You can choose to fill out our online donation form or contact us at 866-540-5069 to give us your contact information and your car's year, make, model, mileage, vehicle identification number (VIN), availability of a title, overall running condition.
Schedule your vehicle's FREE pick-up.
You can give your preferred date, time and place for your vehicle's pickup so that we'd have the local professional towing company haul your car away at no cost to you! You don't even have to be present on the day of pickup!
A tax-deductible receipt which reflects your donated vehicle's actual sale price will be sent to you by mail within days after we sell it at auction. You'll use this document to itemize your deductions on your federal tax return.
The Perks of a Vehicle Donor!
The wonderful thing about going for Lakewood, Colorado car donations is that you benefit more from it than you think! With Breast Cancer Car Donations, you, as the donor, won't walk away empty-handed! Let's dive in and take a closer look at the perks you'll be enjoying when you donate your unwanted vehicle:
The donation process is quick and painless!
Our donation process is practically effortless on your part! Plus, it won't take more than five minutes of your time!
Get 100% FREE pickup and towing!
You heard it right: Towing's on us! You'll finally get that eyesore out of your backyard at no cost to you, with no hassle and in no time!
Potential top tax deductions!
Because we work with registered 501(c)3 nonprofit organizations, your donation would qualify you for a healthy tax write-off! You can be sure that we'll work hard so that you'd get the best value for your donated vehicle.
Quit paying for maintenance and repairs!
Keeping a car that's as old as a senior citizen would undoubtedly burn huge holes in your pockets. The wider the oil slick grows on your parking spot, the more it's in the shop. Don't drive it until it drops – donate it today!
No need to go through the long and painful process of selling a car!
If you don't want to go through the process of running ads, haggling with potential buyers, showing your car, taking calls and responding to inquiries or waiting for a decent offer, then donating your unwanted car is the best way to go.
We won't let you handle the paperwork!
You can count on us to cover all required documentation from start to finish. You won't have to stress yourself over title transfer completion and the issuance of your tax-deductible receipt!
Help Ease Somebody Else's Burden
When you help ease the burden of a person with breast cancer, you make the world a much better place to live in. Car donations aren't just convenient ways to get rid of a car you don't need. They're also powerful ways to change the course of a woman's breast cancer journey, ultimately leading her to a place of wholeness, health, and breast cancer survival.
Contact us at 866-540-5069 and get free towing services for your Lakewood, Colorado car donations!
or Call Us Now at 866-540-5069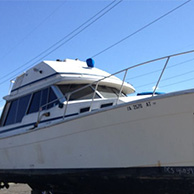 Excellent customer service!