Knoxville, Tennessee Car Donations
Donate Your Vehicle and Save Lives!
Knoxville, Tennessee Car Donations Can Save Thousands of Lives
Your clunker may seem worthless to you, but to breast cancer patients, it could be their only chance to outlive their disease. You don't really want to see your unwanted vehicle gather more dust and rust as it stays stuck in your garage, do you? The best and fastest way to get it off your property for free is to give it away to charity or to our Knoxville, Tennessee car donations program.
We at Breast Cancer Car Donations will convert your old and unwanted car into a financial resource that our nonprofit organization partners will use to deliver comprehensive breast health services to people who need them, particularly those diagnosed with breast cancer. Moreover, your car donation will also help fund groundbreaking research that aims to find new and more effective breast cancer diagnosis and treatment methods that would hopefully lead to the discovery of its long-sought cure.
What You Need to Know About Breast Cancer
The occurrence of an uncontrollable cell growth that eventually forms into a tumor in a person's breast tissues is known as breast cancer. The disease remains as the second leading cause of cancer deaths among women and the most commonly diagnosed form of cancer in American women.
In fact, the National Breast Cancer Foundation reports that every year based on average, 252,710 women in the United States are diagnosed with breast cancer and over 40,500 lose their lives to it. According to the Tennessee Cancer Consortium, in 2013, the Black women in the state landed ninth in the national ranking for breast cancer mortality. Furthermore, the same source reveals that in terms of breast cancer incidence, Tennessee ranks 27th nationally.
Why Breast Cancer Patients Would Appreciate Your Car Donations
Setting up fundraisers such as our Knoxville, Tennessee car donations on behalf of IRS-certified 501(c)3 nonprofit organizations is what we at Breast Cancer Car Donations are great at. Proceeds from the sale of donated cars will be used for the following:
Breast cancer research;
Financial assistance for screening and diagnostic procedures;
Cost-free breast cancer treatment such as chemotherapy, radiation, and surgery;
Five-year follow-up care for breast cancer patients following remission;
Distribution of breast health resource tools.
You can help us reach more people whose lives have been touched by breast cancer if you'll join our car donation fundraiser. You can make a difference today by donating your clunker! Call 866-540-5069 now!
How to Take Part in Knoxville, Tennessee Car Donations
We pride ourselves on having a straightforward and easy car donation process that wouldn't leave our donors confused or impatient. To give you a clear idea about what we're talking about, here's an overview of how you can participate in our fundraiser.
You can fill out our online donation form or call us at 866-540-5069 to fill us in with your contact details and the basic information about your clunker (year, make, model, current mileage, running condition, availability of the title, and its location.)
Schedule your vehicle's FREE pick-up!
As soon as we verify the information that you've shared with us, we'll ask for your preferred time and date for your car's pickup. Remember, you won't have to pay for your towing services because we'll have this covered. A professional towing company would make sure that you'll receive a towing receipt on the day of pickup. You can use this to cancel your car's insurance and registration.
Your donated vehicle will be sold at auction for the best price. If it sells for $500 or less, you'll be allowed to claim your car's actual selling price or its fair market value up to $500. If it sells for more than $500, you can claim only its selling price even if its fair market value is greater.
Acceptable Vehicles for Donation
The good news is, you don't have to worry if your clunker doesn't run or if it has missing parts. We'll still take it! You can also give away more than a single vehicle if you like.
Here are the other types of vehicle that we'd be more than happy to accept in our car donations program in the city:
Cars, vans, SUVs (sport utility vehicles), trucks, motorcycles
Fleet cars, passenger vans, cargo vans, pickups, trucks, buses
Sailboats, motorboats, fishing boats, yachts, pontoon boats, houseboats, personal watercraft (i.e. jet skis)
Recreational vehicles (RVs), motorhomes, campers, travel trailers, pop-up trailers, 5-wheelers
ATVs, snowmobiles, motorized wheelchairs, riding lawn mowers, 4x4s, tractors, farm equipment
Non-commercial airplanes, helicopters, other personal aircraft
You Gain More than You Lose
With our Knoxville, Tennessee car donations, you can enjoy these awesome rewards:
Free pick-up and towing
Get a meaningful tax break!
We'll handle the paperwork for you!
Skip the need to sell your vehicle!
What Are You Waiting For?
Contact us at 866-540-5069 and get free towing services for your Knoxville, Tennessee car donations!
or Call Us Now at 866-540-5069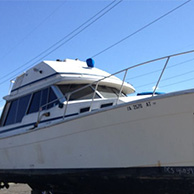 Excellent customer service!