Kansas Car Donations
Donate Your Vehicle and Save Lives!
Kansas Car Donations: You Can Play a Key Role in Breast Cancer Awareness
When breast cancer hits, it can be devastating. The greatest impact of this deadly illness is the loss of daughters, wives, friends, and mothers. For women in the United States, death rates related to breast cancer are higher compared to other forms of cancer, besides lung cancer, according to Breastcancer.org.
As a matter of fact, one in every eight women in the United States will potentially develop breast cancer throughout her lifetime. Sadly, not everyone afflicted with this disease has the capacity to fund their treatment.
While this disease can be prevented through increased awareness, breast cancer organizations lack the funding they need to boost their public awareness campaign and other related projects. They need your financial support.
This is the reason why we at Breast Cancer Car Donations have come up with our Kansas car donations program to encourage people to join the fight against this malevolent disease. By donating your car, you will be supporting charitable institutions that are heavily engaged in this fight. As one of your rewards for your charitable act, you will obtain a handsome tax deduction.
If you have an old vehicle or truck you wish to donate, consider giving it away to us at Breast Cancer Car Donations through our Kansas car donations program. We assure that your donation will go a long way in fighting breast cancer and in helping the victims of this terrible disease.
Kansas: The Sunflower State
Kansas, also known as the Sunflower State, is recognized as the birthplace of eGovernment. In 1991, the State started one of the most prosperous business models in the country called the "self-funding portal." The model is presently utilized in various states across America.
A prominent wheat-growing state, Kansas also grows sorghums, oats, corn, soybeans, barley, and potatoes. Kansas also stands high in petroleum production as well as mines coal, salt, zinc, and lead. It is also the nation's primary producer of helium. Wichita is one of the nation's leading aircraft-manufacturing centers, ranking first in production of private aircraft.
Breast Cancer Statistics in Kansas
Breast cancer is the most diagnosed form of cancer among women in Kansas. It is the leading cause of death as well. While men can also have breast cancer, this is not a common incidence.
In 2013, 3,096 new cases of breast cancer were diagnosed in the state. As of 2016, there are about 2.9 million people living in Kansas. Of this number, roughly 1.4 million are women.
Several factors contribute to the development of breast cancer including increasing age, female gender, early menstrual period, sedentary lifestyle, change in breast cancer genes, and family or personal history of breast cancer.
Why Donate an Old Car in Kansas
Whether it is a new boat, Jet Ski or car, or even an old pickup truck that you want to get rid of, when you contribute to our Kansas car donations program, you play a critical role in spreading breast cancer awareness.
Our Kansas car donations process is quick and easy, and it will give you a meaningful experience. At the same time, you stand to receive rewards for your charitable act. Here are some of the benefits you can expect to receive:
All logistics are handled by us at Breast Cancer Car Donations.
We pick up your car free of any charge.
We send you by mail your 100 percent tax-deductible sales receipt, which you can use to claim a tax deduction.
You become free from any responsibility related to maintenance, storage, and insurance of your car.
You give hope and help save the lives of women suffering from breast cancer.
Cars You Can Donate to Fight Breast Cancer
If you're not sure whether your vehicle is acceptable for our Kansas car donations program, the good news is that our Kansas car donations program accepts almost all types of vehicles. And since we pick up your vehicle once you decide to donate it, you don't need to be worried about its condition. We will refurbish your donated car and put it up for sale.
The types of vehicles that we accept for donations include vans, sports cars, cars, trucks, SUVs, motorcycles, jet skis, riding lawn mowers, boats, and planes.
How Kansas Car Donations Process Works
Breast Cancer Car Donations works together with other nonprofit organizations in helping uninsured and disadvantaged breast cancer patients and in promoting breast cancer awareness to reduce cancer mortality rates in the country.
If you are contemplating on donating your car to our Kansas car donations program, you would be glad to know that we have made the donation process completely hassle-free.
Contact us by calling or filling out our online donation form.
Then, let us pick up your vehicle. We will arrange for the towing of your vehicle and this will not cost you anything.
After we've sold your vehicle through auction, we will send you your tax-deductible sales receipt by mail. The amount indicated there would serve as the basis of your tax deduction claim when you file your itemized income tax return.
You can be certain that we will forward all the proceeds from the sale of your donated car to our nonprofit partners that will use the funds to help poor breast cancer patients and raise breast cancer awareness.
Save Lives, Fight Breast Cancer
Donating a car to our Kansas car donations program is a powerful and effective way to save lives and fight breast cancer. Are you interested in donating your old car or truck to save the lives of your fellow Americans struggling with breast cancer?
Contact us at 866-540-5069 and join our Kansas car donations program. We assure that you will enjoy a well-structured donation experience from beginning to end.
Donate a Car to Kansas Breast Cancer Nonprofits Today!
Looking for more information about donating in a particular area of Kansas? Click on one of the cities closest to you from the list below.
or Call Us Now at 866-540-5069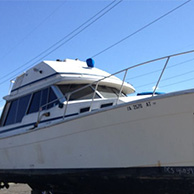 Excellent customer service!