Wichita, Kansas Car Donations
Donate Your Vehicle and Save Lives!
Wichita, Kansas Car Donations: Help Breast Cancer Patients Survive the Disease!
Do you know that a car donated to our Wichita, Kansas car donations program could give hope to the hopeless and spell the difference between life and death?
Your old rusty car may be a piece of junk to you now. However, to those whose lives have been hijacked by breast cancer, it's priceless because it can help them escape from the disease's deadly grip. Donating your car to us will make you look like a superhero in the eyes of destitute breast cancer victims whose treatment will be partly funded by your car donation.
We at Breast Cancer Car Donations support certified 501(c)3 non-profit organizations by operating vehicle donations all over the country, including here in Wichita, Kansas. We generate funds for breast cancer programs on behalf of the American Breast Cancer Foundation (ABCF) and Women Involved in Nurturing, Giving, Sharing, Inc. (WINGS).
Specifically, ABCF provides medical access and financial assistance to underserved and uninsured women in every state to enable early detection and treatment of their breast cancer.
On the other hand, WINGS provides comprehensive breast health services, taking care of its beneficiaries' surgery, oncology services, hospital fees and medication. WINGS is also involved in breast cancer awareness campaigns and outreach programs.
How to Donate a Car and What Happens Next
We've made our car donations process in the area as convenient as possible for our donors. In just three quick and simple steps, you can get rid of that clunker in your garage while supporting a good cause. Here's how you do that:
Call us at 866-540-5069 or fill out our online donation form. Tell us your vehicle's make and model, year, and other basic details. This will take not more than five minutes of your time.
Allow us to take away your car for free.
After verifying the information you gave, we'll make an arrangement with a licensed towing company to pick up your vehicle at the date, time, and place you want. We will be the one to pay the tow company for this service. We will give you a donation receipt, a document that frees you from all liabilities on the car you're donating, allowing you to de-register your vehicle, dispose of your license plates properly, and cancel your insurance coverage. Keep the receipt since you may need it for tax purposes.
Receive your tax-deductible sale receipt.
Lastly, after your vehicle is sold at auction, we'll send you by mail your IRS tax-deductible sale receipt. You'll need this when claiming your top tax deduction as you file your itemized federal income tax return. By this time, the proceeds from the sale of your car donation will have reached our charity partners and will have been used to provide free services to women seeking breast healthcare.
The Perks You'll Get for Your Car Donation
What's truly special about our Wichita, Kansas car donations program is that the benefits go both ways – to our breast health service beneficiaries and to our donors as well. We already mentioned that in return for your car donation, you will enjoy our fast and easy car donation process, free towing services, and maximized tax deduction. Those are just for starters. You will also enjoy the following:
No paperwork for you – we'll be the one to take care of all required documentation on your car donation, including tax-deductible receipt issuance.
Free yourself from car repair and maintenance expenses as well as registration and insurance payments.
No need to go through the hassle of selling your car – we'll sell your car at auction for you.
Regain that space in your garage where you can now park your brand-new car.
We Accept these Types of Vehicles
Here's a list of the vehicle types we accept for Wichita, Kansas car donations:
Cars: sedans, vans, SUVs, trucks, motorcycles
Boats: sailboats, motorboats, fishing boats, yachts, pontoon boats, houseboats, personal watercraft (like jet skis)
Specialty vehicles: ATVs, snowmobiles, motorized wheelchairs, riding lawn mowers, tractors, farm equipment
Fleet vehicles: cars, passenger vans, cargo vans, SUVs, pickups, trucks, buses
Non-commercial aircraft
If you can donate more than one vehicle, we'd gladly accept them all. Multiple donations mean more funds for the benefit of breast cancer victims.
We require proof of ownership or the title to the vehicle since we're going to sell it. However, you don't have to worry if you can't find your title. Give us a call and we'd be glad to help you get a replacement title.
Help End Their Nightmares!
Being diagnosed with breast cancer is truly nightmarish and one of the worst misfortunes that could happen to anyone. With your car donations, however, you can somehow ease the suffering of breast cancer victims by giving them hope and better chances of surviving the disease. Call us at 866-540-5069 and get started with your Wichita, Kansas car donations!
or Call Us Now at 866-540-5069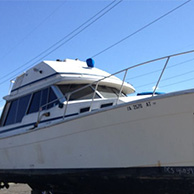 Excellent customer service!