Indiana Car Donation
Save Lives By Donating Your Vehicle!
Indiana Car Donation
That vehicle sitting in your driveway might be causing you a headache, but it can make a huge impact on someone else's life in Indiana. By donating your vehicle to Breast Cancer Car Donations, you help support Breast Cancer organizations in their quest to prevent and cure Breast Cancer.
By making a Breast Cancer car donation in Indiana, you are literally saving lives. Breast Cancer organizations depend on funding to continue their research, but this funding is often limited. Your contribution helps these organizations continue their research and work closer toward a cure for Breast Cancer.
If you have been thinking about making a difference in someone's life, here is an opportunity to help – and it won't cost you a thing!
Benefits of Making a Car Donation in Indiana
Vehicles are essential to our lives. But they don't last forever. Once your vehicle starts giving you trouble and is too expensive to fix, you can donate it. This saves you from the hassle of repairing and selling your vehicle, and you can feel good about where it's going. It's a great feeling to be part of something bigger!
The benefits of vehicle donation in this state include:
Fast, easy donation process
All paperwork managed by us
Free pickup and towing of your vehicle
No more repairs or upkeep needed
No need to pay for insurance or registration
Help save lives by funding breast cancer research
Types of Vehicles Accepted
We are happy to accept most vehicles in most conditions. If your vehicle is not running, that's no problem for us! We can take it off your hands and have it towed at no cost. Give us a call if you're unsure whether your RV donation in Indiana will qualify.
Below are the types of donations we accept.
Cars
Trucks
Motorcycles
RVs
Riding lawn mowers
Tractors
How a Charitable Car Donation in Indiana Makes a Difference
Breast Cancer receives a lot of attention in October during Breast Cancer Awareness Month, but organizations work year-round to raise funds for the prevention and treatment of Breast Cancer. Our role is to work directly with these organizations and help them raise money to continue their work. We also manage all car and boat donations in Indiana so that Breast Cancer charities don't have to.
Through your donation, you're helping in a couple of ways. First, proceeds from your vehicle's sale go to organizations battling Breast Cancer. This money is used to discover faster and more efficient ways of detecting cancer as well as ways to prevent it. Breast Cancer organizations also use the funds to research treatment options, and hopefully, a cure one day.
I Want to Donate My Car in Indiana. How Do I Start?
If you are ready to donate that old vehicle that's been sitting in your Indiana garage and taking up space, getting started with your car donation is easy!
Fill out our online form or call us at 866-540-5069. We want to know more about your car (i.e., year, make, model).
Schedule your pickup at a time that is convenient for you. You don't need to be home and towing is free.
We manage all of the paperwork and send you a receipt in the mail once your vehicle sells. You may then use this receipt to claim your tax deduction.
Are you ready to contribute to the mission of saving lives from Breast Cancer? Give us a call or fill out our simple form to start!
Donate a Car to Indiana Breast Cancer Nonprofits Today!
Looking for more information about donating in a particular area of Indiana? Click on one of the cities closest to you from the list below.
or Call Us Now at 866-540-5069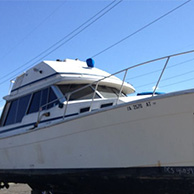 Excellent customer service!