Independence, Missouri Car Donations
Donate Your Vehicle and Save Lives!
Independence, Missouri Car Donations: Help Save Lives of Breast Cancer Victims
If your old car is already too much of a burden for you because of its very expensive repairs, you would do well to donate it instead to us at Breast Cancer Car Donations through our Independence, Missouri car donations program. It's time to let go of that old car! Let's help you take it off your hands in the most convenient and most rewarding way possible.
Instead of taking your car to the repair shop for the nth time where you would waste more hard-earned money, send it to an auction house instead through us. We would try to get the best selling price for your car despite its defects and use the proceeds to support the treatment of breast cancer patients. We would not leave you empty-handed. We'll give you a package of rewards for your generosity. Read on to find out what these rewards are.
Donate a Car the Easy Way
We made our Independence, Missouri car donations process as quick and easy as possible for the convenience of our donors. You'll be amazed at how quickly we can get this done. The process consists of just three steps, only one of which needs a little effort on your part:
First, you will need to give us a call at 866-540-5069 or else fill out our online donation form. We will then ask a few questions on how we can contact you and on the make, model, and mileage of your car.
We then schedule the fast and free pick-up of your vehicle at your earliest convenience. We'll immediately arrange for a local towing company to get your vehicle for you. You don't have to be present during the towing. The towing company will give you a towing receipt that releases you from all liabilities on your car, giving you the right to cancel and stop paying for your car insurance and registration.
Lastly, you will receive your IRS tax-deductible sales receipt in the mail after your vehicle is sold at auction. You'll need the receipt to support your top tax deduction claim when filing your federal tax return.
Easy enough right? If you have more questions, just give us a call and we'll do the best we can to answer them. You can also check our frequently asked questions page.
The Types of Vehicles We Accept
We accept nearly all types of vehicles in our Independence, Missouri car donations program as long as they come with titles to show proof of ownership. Vehicles without titles cannot be sold at auction. If you've misplaced your title, no worries! Just call us and we will help you secure a replacement title as fast as possible.
We also accept multiple Independence, Missouri car donations. That would delight us more since the more vehicles we sell at auction, the more funds we can generate for the benefit of breast cancer sufferers. Here is a partial list of common vehicles we accept in the area:
Cars: sedans, vans, SUVs, trucks, motorcycles, buses, pickups
Boats and planes: sailboats, motorboats, fishing boats, yachts, pontoon boats, houseboats, jet skis, non-commercial airplanes
RVs: recreational vehicles, motorhomes, campers, travel trailers, pop-up trailers, fifth wheelers
Specialty vehicles: ATVs, snowmobiles, motorized wheelchairs, riding lawn mowers, tractors, farm equipment.
Where Your Car Donations Will Go
The proceeds of your Independence, Missouri car donations will go straight to our two charity partners — the American Breast Cancer Foundation (ABCF) and Women Involved In Nurturing, Giving, Sharing, Inc. (WINGS). These are two of the nation's most trusted non-profits. They use the funding we give to them to sustain and improve these existing services, such as:
Providing financial assistance to uninsured and underserved breast cancer patients, covering their surgery, oncology services, consultation, hospital fees and outpatient medication;
Connecting these patients to local facilities that offer free and accessible resources, information and other comprehensive breast health services;
Raising public awareness on breast cancer prevention, diagnosis, and treatment;
Pursuing research on prevention, screening, diagnosis, and treatment of breast cancer; and
Sponsoring charity and outreach events for the benefit of breast cancer patients
Benefits that Await You as Car Donor
Aside from the inner joy you'll feel at the thought that you will be helping save lives, you will also enjoy the following benefits:
Hefty tax deduction – You can use the sale value of your donated vehicle to claim your tax deduction when you file your itemized federal tax return.
No hassle — You won't need to dispose of or sell your car by yourself.
Get rid of an old unwanted car that's stuck in your garage.
Quit paying for insurance and maintenance on a vehicle that you don't use anymore
No paperwork – We'll do it for you.
Free pickup or towing – We'll be the one to pay for this service.
Help Save Lives Now!
With all the information we just shared, you should be ready now to take part in our Independence, Missouri car donations program. Contact us at 866-540-5069 and help save the lives of breast cancer victims. Donate now!
or Call Us Now at 866-540-5069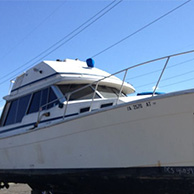 Excellent customer service!