Honolulu, Hawaii Car Donations
Donate Your Vehicle and Save Lives!
Join the Fight Against Breast Cancer With Your Honolulu, Hawaii Car Donations
Do you want to get rid of your old and malfunctioning car? Spending long and tedious hours of trying to sell your car can really be tiring—especially if it all ends up with no one buying it. You can dump it in the junkyard and get a measly amount out of it. However, is that what you really want?
You might think that you have run out of options for your car—but not really. There is one option that you can do where it will be easy, fast, hassle-free, and will surely not tire you out. That option would be to donate your car to Breast Cancer Car Donations through our Honolulu, Hawaii car donations program.
When you donate your car to us, you will not only get rid of an already unwanted vehicle but also help a lot of people struggling with breast cancer.
The proceeds from the sale of your donated car will be delivered directly to our nonprofit organization partners. The funding will enable them to continue delivering breast health services such as breast cancer screening, diagnosis, and treatment to all who need them but don't have the means to pay for them.
Our charity partners also use the funding to launch various charity events and programs that benefit breast cancer victims and their families.
They also use the funds to sponsor research on more effective methods to detect, prevent, and treat breast cancer and, hopefully, find the ultimate cure for the terrible disease.
All About Honolulu, Hawaii
Honolulu is the largest and the capital city of the state of Hawaii in the United States. It is located on Oahu's southern coast in Hawaii. It was discovered in 1778 by British Captain James Cook and in 1898, President William McKinley declared it as a U.S. territory.
The city is a major center for international businesses, military defenses, various East-West and Pacific culture, cuisines, and traditions.
Here are a few interesting facts that you might or might not know:
Honolulu means sheltered labor and it came from the Hawaiian language.
The only royal palace in the U.S. is located in Honolulu which is the Iolani Palace. It has well-lit electric lights four years before the White House had them.
The first revolving restaurant in the U.S. is La Ronde in Honolulu, Hawaii. It was designed by John Graham and was built in 1961. It is the third in the world, the other two being the Florian Tower and Cairo Tower.
The oldest cathedral that is still in use in the U.S. is found in Honolulu, which is the Our Lady of Peace.
More than 33 Buddhist temples are located in Honolulu.
Heenalu is a Hawaiian word that means surfing, specifically "hee" for slide and "nalu" for wave. Thousands of years ago, Polynesians, who were the first settlers in Hawaii, invented surfing.
How to Join Honolulu, Hawaii Car Donations
Donating a car to Breast Cancer Car Donations through our Honolulu, Hawaii car donations program is very easy and fast! We assure you that it will take just a few minutes of your time.
The first thing you need to do is contact us. You can either call us at 866-540-5069 or fill out our online donation form. After that, we'll agree on the date, time, and place of the pickup.
We'll assign a licensed towing company in your city to tow your vehicle at your convenience. You'll receive a donation receipt, a document that releases you from all liabilities on the car you donated, allowing you to de-register your vehicle, dispose of its license plates properly, and cancel your insurance coverage. Keep the receipt since you may need it for tax purposes.
Once your car gets towed, we'll put it on the auction block where we will try our best to sell at its highest possible price point. However, it will depend on the car's value.
After someone buys the car, the proceeds will be used by our nonprofit partners to provide assistance to victims of breast cancer.
At the same time, you'll be receiving a 100-percent tax-deductible sales receipt in your mailbox within 30 days following the sale. The receipt shows your car's final selling price, which is the tax deduction you may claim when you file your itemized federal tax return for the next tax-filing season.
You can call us at 866-540-5069 if you have questions about our donation process. Don't think twice about calling because we are here for you. You can also check our FAQ's page.
The Types of Vehicles You Can Donate
We accept almost every type of vehicle in our Honolulu, Hawaii car donations program. Even if the car you're donating to us is not in good running condition and has many scratches, we will still take it!
Here are some examples of the vehicles we accept for donation:
Cars
SUVs
Trucks
Vans or minivans
Campers
RVs
Boats
Yachts
Jet skis
Farm equipment
Golf carts
Help Save Lives!
Take part in our Honolulu, Hawaii car donations program now and help save the lives of breast cancer victims! Contact us at 866-540-5069 and get free towing service and a maximized tax deduction with your car donation.
or Call Us Now at 866-540-5069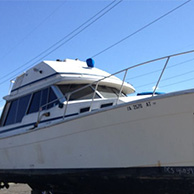 Excellent customer service!