Hawaii Car Donations
Donate Your Vehicle and Save Lives!
Hawaii Car Donations: Help Save Lives of Thousands Afflicted With Breast Cancer
With an act as simple as donating your old car to our Hawaii car donations program, you'll be making a huge impact in the lives of women with breast cancer. Making a breast cancer car donation out of an unwanted vehicle means more than just ridding yourself of a burden. In fact, an old car of yours can be used to find a cure for the deadly disease.
By working with Breast Cancer Car Donations, you give affected women and their loved ones hope and a positive outlook in life. Through your donated vehicle or Hawaii boat donations, you enable reputable cancer nonprofit organizations to support patients as well as boost their research on the screening, diagnosis, and treatment of the disease.
If you've always wanted to take part in the fight against breast cancer and donate a car in Hawaii, there's no better time than now. A dusty motorcycle that's been sitting still in your garage can find its rightful place in our Hawaii car donations program. You'll never know how meaningful it can be to these struggling women.
How Our Donation Process Works
If you're looking for a car donation program in Hawaii that provides the donors quality service, looks like you've just found it! Whether you want to donate your RV or donate a junk car, here at Breast Cancer Car Donations, we see to it that you won't go through a stressful and complicated donation process. Here's what we're talking about.
Don't have time to find an affordable towing service? Not a fan of paperwork? Choose us, and you won't be dealing with any of these problems.
All you need to do is to contact us at 866-540-5069 once you've made up your mind to contribute to our Hawaii car donations program. Either call us or fill out our online donation form, through which you'll provide us certain details about your vehicle. We'll then arrange a date and place for its towing.
When the tow truck we hired comes to haul your vehicle away, you don't have to be present if you have to be somewhere else. And even better, you don't have to pay for it. We will also hand you a donation receipt that will release you from all liability and allow you to de-register your vehicle, dispose of your license plates properly, and cancel your insurance coverage, thus saving you money.
Your donated car will be placed for auction, with the proceeds going to local nonprofits that have dedicated themselves to fighting breast cancer and helping its victims.
After we sold your vehicle, we will mail you your 100 percent tax-deductible sales receipt, indicating your donated vehicle's sale price. If your vehicle was sold for less than $500 but your vehicle's fair market value was more than that but not exceeding $500, you can base your tax deduction claim on the higher price. You can calculate the fair market value of your car by checking the prices online for vehicles of the same make, model, year and condition as your car.
If your vehicle was sold for more than $500, you can claim the sale price as your tax deduction. In this case, your vehicle's fair market value can't be used in determining your tax deduction.
And that's how you donate to our Hawaii car donations program! You get rid of an unwanted car for a good cause, you make these women and their families happy, and you receive a sizeable tax deduction as a reward!
Types of Vehicles Qualified
Regardless of your vehicle's age or state, Breast Cancer Car Donations is more than willing to take it. Not sure about donating because of the poor condition of your car? Our hired tow truck will come to pick it up for you, so you don't have to worry about it.
From land automobiles to watercraft and even aircraft, we'll be happy to have whatever it is that you wish to donate. As long as we know that it'll be able to generate funds for breast cancer patients, there's no reason for us to refuse it. You can always give us a call if you're having uncertainties about the eligibility of your automobile.
Here are examples of what vehicles we usually accept in our car donations program here in this state:
Cars
Trucks
Vans or minivans
Motorhomes
Pop-up trailers
Motorbikes
Scooters
Boats
Jet skis
Planes
ATVs
Motorized wheelchairs
Wondering if you can make multiple Hawaii car donations? Sure you can! We love that!
Perks of Hawaii Car Donations
Do you want to know why it makes complete sense to work with Breast Cancer Car Donations? Apart from the fact that you get to experience a fast and hassle-free donation process, there's also a big chance for you to receive a large tax deduction. Of course, these two aren't the only good things to come out of your Hawaii car donations.
Whether you plan to contribute an old car or donate your boat to charity, you'll be expecting these benefits:
Free towing and pickup of your vehicle
More space for your garage, yard, or driveway
Freedom from the hassles of advertising, negotiating, selling, and handling paperwork
No need to pay for your car's insurance and maintenance
No need to give out private information about yourself
Get a feeling of joy knowing that your Hawaii car donations will make a difference in the lives of breast cancer patients
Hawaii: The Aloha State
Whether it's the fact that Hawaii is the only state to grow coffee, or that it's the only state entirely made up of islands, we can't deny that there are lots of things that make the Aloha State an interesting one.
Here's a list of 10 fascinating facts about the paradise state and its cities:
It contains the most number of wildlife species in the country.
Oahu is home to the Dole Plantation, known to have the world's largest pineapple maze.
Hawaii is the youngest state in the U.S.
It's also the only state to honor a monarch.
It's the only place in the world where you can find the "Happy Face Spide," a spider with a back part that resembles a smiling face.
There are no racial majorities in Hawaii, with 33 percent of the population being Caucasians, also 33 percent of the Japanese race, 16 percent of Filipino-Americans, and 5 percent Chinese-Americans.
Moloka'i is the site of the world's highest sea cliffs.
People from Hawaii don't observe daylight saving time, as they apparently have their own time zone.
Honolulu is home to the country's oldest Catholic Cathedral, the Cathedral of Our Lady of Peace.
The state boasts Kilauea Iki, the world's largest and most active volcano.
Help Us Fight Breast Cancer Today
Ready to dispose of your car for something good? Donate your junk car to our Hawaii car donations program and help us save thousands of lives. Call us now at 866-540-5069.
Donate a Car to Hawaii Breast Cancer Nonprofits Today!
Looking for more information about donating in a particular area of Hawaii? Click on one of the cities closest to you from the list below.
or Call Us Now at 866-540-5069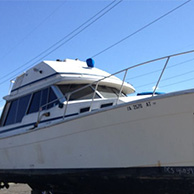 Excellent customer service!