Hanover, Maryland Car Donations
Donate Your Vehicle and Save Lives!
Save Lives through Hanover, Maryland Car Donations
When you've got a problem in the form of a clunker that's been sitting in your garage since your high school glory days, there's no other practical way to deal with it than to join our Hanover, Maryland car donations program. When you donate a car to us at Breast Cancer Car Donations, you'll not only get rid of a car you don't want, you'll also help breast cancer patients within your area and across the United States to get free access to breast health resources and facilities.
What is Breast Cancer and What Are Its Risk Factors?
Everybody must have heard about this deadly disease. You may even know someone who's been diagnosed with it. The fact of the matter is, breast cancer isn't rare, and if not detected early, it could mercilessly take away the life of the person it affects.
When malignant cells develop into a tumor in a person's breast tissues, this is identified as breast cancer. It's the most common cancer type that occurs in women all over the world. The National Breast Cancer Foundation, Inc. confirms that in the United States alone, one in every eight women is bound to develop breast cancer within her lifetime.
The likelihood of having breast cancer is high among women over 50 years old, those who have a first-degree female relative who's been diagnosed with breast cancer, those who are overweight, those who haven't had any children or had them over the age of 35, those who started menstruation before the age of 12, those who drink alcohol heavily, and those who've been exposed to birth control pills within the past 10 years.
Breast Cancer in Maryland
Do you know that according to a report released by Fortune on Nov. 13, 2017, Maryland ranks ninth in the top 10 states with the highest rates of breast cancer? In November 2017, the Maryland Department of Health reported that breast cancer is the second most common cause of cancer death among the women in the state with over 862 reported deaths attributed to the disease in 2014. In the same year, there were also approximately 4,771 new breast cancer cases in Maryland.
Now that we know about how breast cancer affects our community, we can't afford to just turn a blind eye to these numbers when we know in our heart of hearts that we could do something about it.
How You Can Help Breast Cancer Patients
We at Breast Cancer Car Donations have partnered with two of the nation's top breast health-focused nonprofit organizations—the American Breast Cancer Foundation (ABCF) and Women Involved In Nurturing, Giving, Sharing, Inc. (WINGS)—to serve those who need breast health services, particularly uninsured breast cancer victims who do not have the means to pay for their treatment. Through our Hanover, Maryland car donations fundraiser, we seek to raise funds so that our certified 501(c)3 nonprofit partners can continue delivering comprehensive breast health programs and services to all individuals who need them regardless of gender, age, ethnicity, educational attainment, and socio-economic background.
The services they provide include:
Reduced fees for mammograms and ultrasounds;
Free Newly Diagnosed Patient Kits containing the basics about breast cancer, treatment options, financial assistance, counseling, networks of survivors, videos of people who are going through the disease, information about where to get items such as wigs, prosthesis/bras, and lymphedema garments;
Nurse Navigators who'll provide guidance when it comes to choosing the best facilities and providers of care;
Financial aid for the cost of chemotherapy, surgical procedures, radiation, doctor visits, and lab work;
Follow-up care for five years after remission, which includes lab work, annual mammogram, and doctor visits.
We encourage you to pitch in so that we could serve more breast cancer patients all over the United States. Join our Hanover, Maryland car donations program to help beat breast cancer in your area! Call 866-540-5069 and donate your clunker today!
How to Make a Difference
First, you need to be the owner of any unwanted vehicle. Breast Cancer Car Donations doesn't limit donors to giving away cars only. We accept other vehicle types such as trucks, SUVs, vans, motorcycles, riding lawnmowers, motorized wheelchairs, RVs, motorhomes, buses, ATVs, jet skis, snowmobiles, tractors, boats, yachts, airplanes, helicopters, and a whole lot more! If you want, you can give away more than a single vehicle at one time.
Check out these three basic steps in joining Hanover, Maryland car donations:
Confirm your intent to donate by filling us in with your basic contact details and information about your vehicle (year, make, model, mileage, VIN, running condition, and availability of title).
Schedule your FREE pickup.
Let us know your preferred time, date, and location for the pickup so that we could arrange for a professional towing company in your area to get the job done at NO COST to you. You'll be given a towing receipt on the day of pickup. You can use this to cancel your car's insurance coverage and registration.
Receive your tax receipt by mail.
Once your vehicle gets sold at auction, you'll receive a 100-percent tax-deductible sales receipt by mail. You'll need this to support your tax deduction claims when you file your itemized IRS income tax return for the next tax-filing season.
Fight Breast Cancer with Your Clunker
You can't even begin to imagine how massive an impact your donation would make on those who have been diagnosed with breast cancer. With your help, these individuals could find hope and a real chance of surviving this disease.
Don't pass up the chance to do something great. Contact us 866-540-5069 to get free towing services and tax benefits for joining our Hanover, Maryland car donations fundraiser!
or Call Us Now at 866-540-5069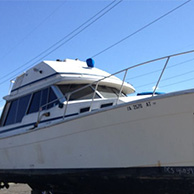 Excellent customer service!