Greenville, South Carolina Car Donations
Donate Your Vehicle and Save Lives!
Greenville, South Carolina Car Donations: Help Save Lives of Breast Cancer Victims and Get Rewards!
Do you have an old and unwanted vehicle that is just clogging up your garage or driveway in Greenville, South Carolina? Consider donating it to us at Breast Cancer Car Donations. The proceeds from the sale of your donated vehicle can fund the treatment of an indigent breast cancer patient that will enable her to survive the ordeal.
Join us in our relentless campaign to mitigate the effects of this devastating disease, the most common cancer in American women next to skin cancers and the second leading cause of cancer death in women in the United States next to lung cancer.
We have set up our Greenville, South Carolina car donations program to serve as a convenient platform for residents of the city to donate their vehicles for the benefit of indigent breast cancer patients in Greenville.
All About Greenville, South Carolina
Greenville is the largest city and the seat of Greenville County, South Carolina. Here are quick facts about Greenville:
The city was known as the Textile Center of the World in the early 1900s.
The city's name before is Pleasantburg until it was changed in 1831.
Until 1776, Greenville County was part of the Cherokee Nation's protected lands.
The city was first spelled as Greeneville after the revolutionary hero, Nathaniel Greene.
Whether you're a nature lover, a history buff, art aficionado, or a foodie, Greenville has something great for you. Here are some fun things to do in Greenville.
If you want to have a picnic, a walk in the park, or just be with family and friends, then Falls Park on the Reedy is clearly for you. It is a favorite of both locals and visitors. It is located in the heart of Downtown. The park features walking trails, amazing waterfalls, gorgeous stonework, abundant gardens, picnic areas, and many more.
If you're an art lover then The Greenville County Museum of Art is for you. It is located on the Heritage Green cultural campus in the heart of Downtown. Greenville is home of the world's largest public collection of watercolors by artist Andrew Wyeth. The museum also offers a visual representation of the Southern experience, from the colonial period to the present.
Where Your Car Donations Will Go
When you donate a car to our Greenville, South Carolina car donations program, you will get an assurance that the proceeds from your donation will go directly to breast cancer charities and programs that provide life-sustaining services to uninsured and underserved breast cancer patients.
Our non-profit partners also make use of the funds we generate by enabling research on more effective breast cancer treatment and cure and spreading public awareness on the causes, prevention, and detection of breast cancer.
Benefits for Car Donors
Aside from the satisfaction you will get for serving as a hero to breast cancer victims, you will also enjoy the following benefits when you take part in our Greenville, South Carolina car donations program:
Tax deduction — the sale value of your donated vehicle is deducted on your itemized tax return.
You won't need to dispose or sell your car by yourself – less hassle!
Get rid of the unused car that's stuck in your garage.
Quit paying for maintenance, registration, and insurance on a vehicle you have not been using.
No paperwork – we'll do it for you.
Free pick-up and towing
Types of Vehicles We Accept For Donation
We accept almost all types of vehicles for Greenville, South Carolina car donations as long as they come with your proof of ownership. We need this document so that we could sell it at auction.
We love multiple car donations because they mean more funds for the benefit of breast cancer patients.
Here is a list of vehicle types that we gladly accept for donation:
Cars: sedans, vans, SUVs, trucks, motorcycles, buses, pickups
Boats and planes: sailboats, motorboats, fishing boats, yachts, pontoon boats, houseboats, jet skis, non-commercial airplanes
RVs: recreational vehicles, motorhomes, campers, travel trailers, pop-up trailers, 5-wheelers
Specialty vehicles: ATVs, snowmobiles, motorized wheelchairs, riding lawn mowers, tractors, farm equipment.
Our Fast and Easy Car Donation Process
We have devised a quick and simple Greenville, South Carolina car donations process for the convenience of our donors.
First, you can either fill out our online donation form or call us at 866-540-5069. Tell us a few basic details about your car and your contact information.
Second, we haul away your car for free at a date, time, and place of your own choosing. The licensed towing company that we are affiliated with will give you a towing receipt that will release you from any liabilities on your car. This means you can now cancel and stop paying for your car's registration and insurance coverage.
Third, we will sell your car at auction. Within 30 days after your car gets sold, we will send you by mail your tax-deductible sale receipt that shows your car's final selling price. If your car was sold for more than $500, you can claim that exact amount as your tax deduction. If $500 or below, you have the option to base your tax deduction on your car's fair market value not exceeding $500 if the latter is higher than its selling price.
Enjoy a Rewarding Donation Experience!
Join our Greenville, South Carolina car donations program and enjoy a most rewarding donation experience! Contact us at 866-540-5069 and help save lives!
or Call Us Now at 866-540-5069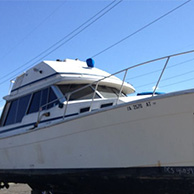 Excellent customer service!