Glen Burnie, Maryland Car Donations
Donate Your Vehicle and Save Lives!
Help Us Raise Breast Cancer Survival Rates With Your Glen Burnie, Maryland Car Donations
If you think that your clunker has become a huge financial burden and an eyesore in your driveway, then taking part in our Glen Burnie, Maryland car donations program would make sense to you. What could be better than getting your hands off it for good to help breast cancer patients in your own community? When you donate a vehicle to Breast Cancer Car Donations, you become a part of something that's greater than yourself.
Breast Cancer at a Glance
Breast cancer is a deadly disease that's greatly feared by people, mostly women, from all walks of life. It remains as the second leading cause of cancer death among women in every state. When a malignant tumor that takes form in the breast tissues is left untreated, it spreads to other parts of the body until the affected person loses her life to it.
Although it mainly affects women, some men actually get affected by it as well. In fact, according to American Cancer Society, about 460 men die each year due to breast cancer.
The American Cancer Society reported that in 2014 alone, 252,710 new invasive breast cancer cases were recorded in the country. Furthermore, the same source also revealed that in the state of Maryland, 41 percent of those who were diagnosed with this disease were uninsured women between the ages of 40 and 64.
Let's Fight Breast Cancer Together!
We at Breast Cancer Car Donations have been working with certified 501(c)3 nonprofit organizations to raise breast cancer survival rates in America. We operate fundraisers such as Glen Burnie, Maryland car donations on behalf of our charity partners so that they can devote more of their time on their life-saving programs that deliver vital breast health services to needy individuals. The services include:
Financial assistance to uninsured and underserved breast cancer-stricken Americans;
Effective treatment and rehabilitation of breast cancer victims;
Promoting breast cancer prevention measures and need for breast cancer screening;
Counseling services for breast cancer patients' families and providing support systems;
Research funding for breast cancer treatment
Proceeds of every donated vehicle will be used to sustain and develop these services to reach more individuals whose lives are touched by breast cancer. We encourage you to join Glen Burnie, Maryland car donations to help us beat this disease. You can speak to one of our donors' reception officers by calling 866-540-5069 today!
How to Join Our Car Donation Fundraiser
You'll be amazed at how easy, fast, and hassle-free our Glen Burnie, Maryland car donations process is! All you need to do is contact us and we'll take care of the rest while you just wait for your car to be sold. Here's how it works:
First, get in touch with us.
This step will barely take five minutes of your time. You can choose to call us at 866-540-5069 or you can fill out our online donation form. We'll need your personal contact details and a few bits of information about the vehicle you're donating such as its make, model, year, mileage, overall condition, and title availability. We'll get back to you as soon as we receive your accomplished donation form – usually within 24 hours or even as soon as you enter the "Donate" button!
Next, enjoy FREE towing service.
After you complete the first step, a schedule for your vehicle's pick-up will be arranged based on your most convenient time and date. A professional towing company in your area will handle the pickup, and you don't even have to be there during the process. Best of all, the service is FREE OF CHARGE! We will hand you a towing receipt, a document that releases you from all liabilities on the car you donated, allowing you to de-register your vehicle, dispose of its license plates properly, and cancel its insurance coverage. Keep the receipt since you may need it for tax purposes.
Wait for your tax deduction paper.
Once we get your car sold at auction, we'll send you by mail your car's 100-percent tax-deductible sales receipt that shows your car's final selling price, where you will base your tax deduction claims. In a nutshell, a vehicle that sells for more than $500 will give you a tax deduction corresponding to the exact selling price of the vehicle. If it sells for $500 or less, you can claim its final selling price or its fair market value, whichever is greater.
Donating More Than One Vehicle?
Breast Cancer Car Donations welcomes multiple contributions to our Glen Burnie, Maryland car donations program.
We accept many different vehicle types for donation including cars, vans, SUVs, motorcycles, trucks, golf carts, motorized wheelchairs, fleet vehicles, snowmobiles, RVs, riding lawn mowers, boats, jet skis, helicopters, airplanes, and many more.
It doesn't even matter if the vehicle you're donating is not in good running condition. If your old clunker has a faulty engine, a missing wheel, a huge dent or whatnot, we'll still take it for as long as it has good enough cash value.
It's A Win-Win Solution!
Say hello to your benefits for contributing to our Glen Burnie, Maryland car donations fundraiser:
Get free towing services!
Avoid the hassles of selling your used vehicle!
Eliminate the need for burning cash on insurance and maintenance of a vehicle that you've been planning to get rid of for quite some time now!
Experience a sense of fulfillment knowing that thousands of breast cancer patients will get a second chance in life because of you!
Don't Waste Another Minute
Give back to your community by donating your clunker today. Contact us at 866-540-5069 now and save lives with your Glen Burnie, Maryland car donations!
or Call Us Now at 866-540-5069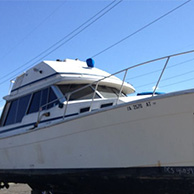 Excellent customer service!