Fort Collins, Colorado Car Donations
Donate Your Vehicle and Save Lives!
Fort Collins, Colorado Car Donations: Help Save Lives of Breast Cancer Victims and Get Rewards for Your Deed
Taking part in our Fort Collins, Colorado car donations program is a win-win solution: You are able to provide life-sustaining assistance to women afflicted with breast cancer while at the same placing yourself in a position to receive significant rewards – including a potential top tax deduction!
Dubbed as the second most common type of cancer among American women next to skin cancers, breast cancer continues to make its presence felt across the nation.
On average, women in the United States have roughly a 12 percent risk of developing breast cancer in their lifetimes. According to the American Cancer Society, this means that there is a one in eight chance an American woman will develop breast cancer in her lifetime.
In its latest report, the Society estimates that about 266,120 new cases of invasive breast cancer will be diagnosed in women in 2018, excluding about 63,960 new cases of non-invasive cancer, also known as carcinoma in situ or CIS. About 40,920 women will die from breast cancer this year, the report states.
Why We Are Here
Breast cancer is the second leading cause of cancer death in women, next to lung cancer. The chance that a woman will die from breast cancer is about one in 38 or about 2.6 percent.
The killer disease strikes anywhere and everywhere in the United States. That's why we at Breast Cancer Car Donations have set up our Fort Collins, Colorado car donations program and other similar programs in other cities and towns in the country to help our suffering breast cancer-afflicted fellow Americans.
Here in Fort Collins, we encourage residents to lend a helping hand to breast cancer patients in their city who are struggling to beat the disease for lack of financial resources. By donating your old vehicles to us, we will be able to generate funds to help in the treatment of these patients. We made your donating experience a special one by providing attractive rewards for donors, including hefty tax deductions!
Breast Cancer Car Donations works in partnership with other reputable non-profit organizations that have specific programs geared at providing assistance to uninsured and underserved breast cancer patients and their families and in fighting breast cancer through research and public awareness campaigns.
Fort Collins: The Craft Beer Capital of Colorado
Located at the slopes of the Rocky Mountains, Fort Collins, Colorado is home to remarkable recreational opportunities, varied cultural attractions, an exciting nightlife, and great family fun. From the King of Beers to Fat Tire, the city is home to various craft breweries including one of the largest breweries in the world, Anheuser-Busch.
Fort Collins lavishly justifies its reputation as the social capital of northern Colorado. It has six live theaters, an orchestra symphony, art dance troupe, and opera company in addition to choral gatherings. Fortress Collins is likewise home to one of the biggest football stadiums in the country, the Hughes Stadium.
As of 2015, Fort Collins had a population of 161,854. It is the fifth biggest city in Colorado and one of the fastest growing cities in the United States.
Breast Cancer in Colorado
In recent years, the cancer death rates in Colorado have remained moderately low, due to several factors such as cancer detection at an early stage of the illness, progress in cancer treatment, enhanced treatment options, cessation of smoking, and other preventive measures.
Regardless of these improvements, however, since 2004, the major cause of death in Colorado has been linked to cancer. In Colorado, the two most commonly diagnosed types of cancer are breast cancer in women and prostate cancer in men.
For 2018, the Cancer Statistics Center of the American Cancer Society estimates 3,630 new cases of breast cancer in Colorado with 580 estimated deaths.
Rewards for Car Donors
Plenty of rewards await donors to our Fort Collins, Colorado car donations program. Here are some of them:
Receive a handsome tax deduction for your donation
More space in your backyard or garage to house your new car
The donation process only takes a few minutes of your time
We'll pay for the pick-up and towing of the vehicle you're donating
Avoid the hassles in selling a car
No need to bother with paperwork – we do that for you
Save money by not paying any more for car repairs, registration, and insurance
Support a worthy cause that will give you a deep sense of personal satisfaction
How Our Car Donations Process Works
We follow a quick and simple process in our Fort Collins, Colorado car donations program. Here is how it's done:
Get in touch with us either by filling out our online donation form or calling us at 866-540-5069. Tell us about the details of your vehicle – year purchased, model, brand, and a few more details.
After we receive your request, you can schedule the fast and free pick-up of your vehicle at your convenience. We'll immediately arrange for a local towing company to get your vehicle for you. We will give you a donation receipt that releases you from all liabilities on your car, giving you the right to cancel your car insurance and registration.
Lastly, you will receive your IRS tax-deductible receipt in the mail after your vehicle is sold. You'll need the receipt to support your top tax deduction claim when you file your federal tax return.
You can be sure that the proceeds from the sale of your donated vehicle will be used to support the different programs of our charity partners intended to fight breast cancer, increase breast cancer awareness, and provide assistance to needy breast cancer patients.
The types of vehicles we accept for Fort Collins, Colorado car donations include cars, trucks, vans, sports cars, SUVs, motorcycles, riding lawnmowers, jet skis, and other types of watercraft.
Join the Battle against Breast Cancer
Join us in our battle against breast cancer by donating a vehicle to our Fort Collins, Colorado car donations program. Contact us at 866-540-5069 and enjoy a most rewarding donation experience. Donate today!
or Call Us Now at 866-540-5069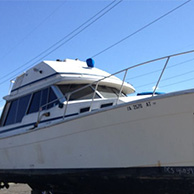 Excellent customer service!