Concord, North Carolina Car Donations
Donate Your Vehicle and Save Lives!
Concord, North Carolina Car Donations: Help Us Beat Breast Cancer
Thousands of lives in the country can be supported when you take part in our Concord, North Carolina car donations program. When you donate a car that you no longer want or need, you make it possible for nonprofit breast cancer organizations to discover a cure for a disease that has claimed the lives of countless women. Through your car donations, you allow prestigious nonprofits to support needy breast cancer patients and their families.
Researchers and scientists who specialize in breast cancer have given their best effort into finding treatment for the deadly disease. Unfortunately, nothing has been proven to be 100 percent effective yet. By contributing your old car to us at Breast Cancer Car Donations, however, you'd be providing us funds that we will channel to our partner nonprofit organizations to support their research and other programs to fight breast cancer.
We have teamed up with trusted charities like the American Breast Cancer Foundation (ABCF) and Women Involved in Nurturing, Giving, Sharing, Inc. (WINGS). This should give you peace of mind knowing that your donated vehicle will be used for a good cause. Donating to our Concord, North Carolina car donations program means more than just freeing your garage from an unwanted car. It can actually make a huge difference for women struggling with breast cancer.
Just by the small act of handing a vehicle to Breast Cancer Car Donations, you will be playing a crucial role in the fight against this devastating disease.
Perks of Working with Breast Cancer Car Donations
Still not sure to what charity you would donate your car in the city? How about choosing one that provides you tons of benefits to enjoy? With Breast Cancer Car Donations, your vehicle not only makes patients and their families happy; you also get to have a fair share of joy from it.
Other than getting rid of an unwanted car for free, you'll also be experiencing these incentives when you donate to Concord, North car donations:
A fast-paced and hassle-free donation process
No need to pay for the towing
No need to look for potential buyers or make negotiations
No need to spend on your car's repair or insurance fees
More space for your driveway, yard or garage
Receive a possible top tax deduction
Sense of fulfillment knowing that you're making a difference in the lives of cancer patients with your Concord, North Carolina car donations
Vehicle Types that Qualify as Concord, North Carolina Car Donations
Here at Breast Cancer Car Donations, we accept almost all kinds of vehicles. We accept even non-running automobiles, so there's no reason for you to worry about the state of your car. So if you plan to donate a van that doesn't appear to run well anymore, don't hesitate to place it on our Concord, North Carolina car donations program.
We're not choosy when it comes to vehicle types. Whether you wish to donate a land vehicle or some type of a watercraft, we'll be more than glad to have it with us. Here's a list of what we normally take as vehicle donations:
Cars: trucks, SUVs, convertibles
Specialty vehicles: snowmobiles, farm equipment, motorized wheelchairs
Motorcycles: sports bikes, cruisers, dirt bikes
RVs: motorhomes, pop-up trailers, travel trailers
Watercraft: jet skis, yachts, cruise ships
Aircraft: planes, helicopters
Having uncertainties about your vehicle's eligibility for our vehicle donation program? Why don't you give us a call? You can also have a look at our FAQs page here.
Enjoy a Convenient and Stress-free Donation Process
What's great about donating to us is the fact that you do not have to go through a donation process that involves a lot of hard work. If you dread the thought of paperwork, or if you think that it's unreasonable to pay huge for towing, then you're in for a treat with Breast Cancer Car Donations. Let us do the complicated things while you sit back and relax.
Once you're ready to donate to Concord, North Carolina car donations, let us know right away. Contact us by phone or you may also choose to fill out our online donation form. We'll be asking some details about your vehicle, after which we will agree on a certain date and place to pick it up.
When the time comes for our tow truck to haul your car away, you don't need to be around. Feel free to be wherever you want to be!
We will transfer the funds we generate from our Concord, North Carolina car donations to our partner nonprofits that are devoted to fighting breast cancer. Through your vehicle, these organizations will be able to move forward with their research on the treatment of the disease.
As our way of giving thanks, we will send you a towing receipt that will release you from all liability, including the payment of your car's insurance and registration.
At least 30 days after selling your donated vehicle at its highest possible price, we will send you a 100 percent tax-deductible sales receipt indicating the sale price of your vehicle. If your vehicle sells for less than $500, you can claim as tax deduction the selling price or the vehicle's fair market value up to $500, whichever is higher. You can calculate the fair market value of your car by checking the prices online for vehicles of the same make, model, year and condition as your car.
If your vehicle sells for more than $500, you can claim only the exact amount for which it was sold, even if the fair market value is greater than the selling price. For more information on this, please call us at 866-540-5069.
That's basically how it is to contribute to our Concord, North Carolina car donations program. An old automobile of yours gets to help save lives and you get tax deductions from it. Sounds like a win-win situation!
Be a part of the healing process for breast cancer patients in Concord, North Carolina today. Help us beat breast cancer with your car donations. Donate to us at 866-540-5069.
or Call Us Now at 866-540-5069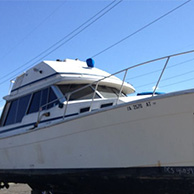 Excellent customer service!