Columbia, Maryland Car Donations
Donate Your Vehicle and Save Lives!
Columbia, Maryland Car Donations: Donate a Car to Charity and Help Fight Breast Cancer
 Help us free the world from breast cancer by going for Columbia, Maryland car donations. The proceeds of your donated vehicle will be used to fund breast cancer screening, lab tests, treatment, and the on-going research for breast cancer.
Although breast cancer has a cure if detected at an early stage, many of the individuals suffering from the disease can't afford the treatment on their own. Among the challenges that newly diagnosed breast cancer patients face is the cost of the treatment of the disease. There are various government programs that provide assistance for individuals suffering from breast cancer. Unfortunately, not all of these people benefit from them.
The job of our organization, as well as our partners, is to be able to help those individuals with little or no access to treatment. With the funds generated from the sales of the donated vehicles, we would be able to provide financial assistance to indigent breast cancer patients such as the basic lab tests, chemotherapy, radiation therapy, and surgery.
Breast Cancer Car Donations has partnered with reputable non-profit organizations dedicated to fighting breast cancer. We manage the vehicle donations so that they can focus on the services they provide to uninsured and underserved breast cancer patients and other related activities. The proceeds from the sale of each donated vehicle will generate funds for programs that provide financial support to unfortunate individuals who don't have the resources needed for the proper and recommended treatment of the disease.
Best Place to Live
Columbia, Maryland is a planned community in Howard County that prizes economic and social diversity. It was built on the idea that by creating a city, the residents' quality of life would be enhanced. Since its creation, the population has never stopped increasing.
As of 2016, it has reached a population of 102,221. Columbia, Maryland was also ranked as #1 in CNN Money's Best Place to Live in 2016.
To maintain its success, Maryland continues to fight breast cancer, which has affected many of its residents. Maryland has been ranked fifth for breast cancer mortality rates in the nation.
With the donations made to our Columbia, Maryland car donations program, we will surely be able to bring forth positive changes to breast cancer patients not just in Maryland, but to the whole nation as well.
Why Donate Your Car to Charity?
We understand that parting ways with a car that's become a part of your life could be emotionally difficult for you. If you are still weighing the pros and cons of donating, here are some points that might help you see why donating an old car is your best choice:
Experience a fast and easy donation process!
You can get rid of your old and unwanted car within the comforts of your own home by donating it for a worthy cause. You also save yourself from the trouble of listing, showing, and negotiating for the sale of your car. Just follow our three easy donation steps and you will be good to go!
Towing won't cost you a dime!
We'll have a professional towing company pick your car up at your preferred time, date, and location for free! Your presence isn't even required on the day of pickup if you just tell us where we could locate your title and keys inside your vehicle!
No insurance liabilities from the day of pickup!
Once we get our hands on your vehicle, our insurance coverage applies to it!
We won't let you handle the paperwork!
You don't need to worry about the paperwork because we got this covered – from the title transfer to tax-deductible receipt issuance! If you lost the title of your vehicle, you'd only need to give us a call and one of our title clerks will be happy to assist you in getting a replacement title.
You'll get a healthy tax write-off!
Since we partner with 501 (c) (3) certified non-profit organizations, your Columbia, Maryland car donations will qualify you to receive 100-percent top tax deductions when you file your itemized federal tax return using the receipt we'd mail you after your car gets sold.
No more expensive maintenance and repairs!
Once you get your hands off your clunker, you'll save the money that was originally meant for maintenance and repairs!
You get to have your extra garage space! You finally have the space you need for that new car you've been planning to buy!
Breast Cancer Can't Shatter Hope
When you donate an unwanted vehicle to Columbia, Maryland car donations, you give a thousand others the chance to survive breast cancer. You'd live your life knowing that your single act of generosity has tremendously helped a person, a family and a community within Columbia, Maryland.
Contact us at 866-540-5069 and get free towing services for your Columbia, Maryland car donations!
or Call Us Now at 866-540-5069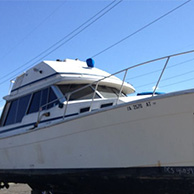 Excellent customer service!