Colorado Springs, Colorado Car Donation
Donate Your Vehicle and Save Lives!
Colorado Springs, Colorado: Find Great Satisfaction in Making a Big Difference in the Lives of Breast Cancer Victims
Do you want to get rid of an old and unwanted car in Colorado Springs, Colorado? Why not donate it instead to us at Breast Cancer Car Donations through our Colorado Springs, Colorado car donations program? We assure you that you will find great satisfaction in donating your car.
When you donate your car to us, you will make a big difference in the lives of breast cancer patients and their families in your city.
You will help the non-profit organizations that we have partnered with in their ongoing mission to find new and better ways to prevent, screen, diagnose, and treat breast cancer.
Knowing Colorado Springs
Colorado Springs is located in the Rocky Mountains near east of Pikes Peak and south of Denver. It is the second largest city in Colorado after Denver. It is also the 40th most populous city in the U.S. with a population of 465,101 in 2016.
The city is known for its amazing Red Rock Canyon and mountain scenery. It attracts numerous tourists.
Here are some of the things that you can do in Colorado Springs:
You can reach the summit of Pikes Peak. It may not be the highest, but it is the most popular. It measures over 14,100 feet high. You can either go through Pikes Peak Highway, the Cog Railway, or by foot via Barr Trail to reach the summit.
Visit the Garden of the Gods. It is a famous public park and National Natural Landmark in the city. It has over 300 sandstone formations and tremendous views of snow-topped peaks in the background.
The park is considered the most popular tourist spot in the region. It also offers exhibits that explain its unique geology and the causes of its different formations.
You can visit the Cheyenne Mountain Zoo. They give out educational exhibits and have play areas for children. There is also a sky ride that will give an overview look of the whole zoo.
If you are into arts, then Colorado Spring Fine Arts Center is the place to be. It has a classy collection of Latin American art, Mexican clay, and abstract prints from local artists.
Our Fast and Easy Car Donation Process
Our Colorado Springs, Colorado car donations process is fast and easy. This is how it works:
Visit our website and fill out our online donation form to give us a quick background about yourself and your car (year, make, model, mileage, general running condition, availability of title). You can also call us at 866-540-5069.
Get your fast and free vehicle pickup.
Once we receive your request for pick-up, a local towing company that we are affiliated with will give you a call. Then you can arrange a schedule for the free pick-up. You may choose the date and time that's most convenient for you. You will get a towing receipt that will release you from any liabilities on the car you're donating it, enabling to cancel and stop paying for your car's registration and insurance coverage.
Receive your IRS tax-deductible sales receipt.
After the sale of your donated car at auction, we will mail to you the receipt of your IRS tax deduction. We will handle all donations professionally and efficiently. Once your donation has been processed, it will be sold at one of the best auction houses within our network. All proceeds from that sale will then be forwarded to our affiliate non-profit organizations.
The Vehicles We Accept for Donation
We accept nearly all types of vehicles in our Colorado Springs, Colorado car donations program. Even if the vehicle you're donating is not in running condition or has dents and scratches, we will still accept it. We will refurbish your car before sending it to one of the auction houses so it can fetch a good price.
Here are some of the vehicles we accept:
Cars
SUVs
Trucks
Motorcycles
RVs
Campers
Trailers
Boats
Jet skis
Buses
Riding lawn mowers
Golf carts
And a whole lot more!
The Benefits That Await You as Car Donor
When you donate your car to our Colorado Springs, Colorado car donations program, you will be helping people in your city who badly need help in their fight against breast cancer. The benefits go two ways as you will also have your own set of perks. They include:
Potential top tax deduction
Get rid of an unwanted vehicle for free and with just little effort
Enjoy easy and fast donation process
Avoid hassle in trying to sell your car
No paperwork
Free pickup and towing of your car
The joy of knowing you made an impact in the battle against breast cancer
Contact us at 866-540-5069 and make your Colorado Springs, Colorado car donations. Together, we can effectively fight breast cancer!
or Call Us Now at 866-540-5069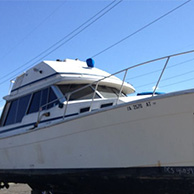 Excellent customer service!