Catonsville, Maryland Car Donations Car Donations
Donate Your Vehicle and Save Lives!
Catonsville, Maryland Car Donations: Help Fight Breast Cancer and Get Yourself a Big Tax Cut
We at Breast Cancer Car Donations seek to save and improve the lives of people afflicted with breast cancer. We have created numerous vehicle donations programs all over the country that have already helped hundreds of thousands of breast cancer victims in various locations in the United States, including here in Catonsville, Maryland.
Your Catonsville, Maryland car donations will serve as a means of funding our nonprofit organization partners that have dedicated themselves to fighting breast cancer and providing support to its victims. These nonprofits operate breast cancer support programs that provide for the needs of individuals, particularly the uninsured and underprivileged. Among the services they render for free are:
Providing financial assistance for screenings, diagnostic tests, and treatments
Helping manage the unwanted side effects of breast cancer treatment
Raising awareness on how important early detection and prevention is to a person's survival
Funding breast cancer research to discover more effective treatment options for breast cancer and hopefully the ultimate cure for it.
How to Begin Your Catonsville, Maryland Car Donations
We've made sure that our car donors would not encounter any complications or difficulties. We have created a fast and easy three-step car donation process in Catonsville, Maryland so as not to waste our donors' time.
Step 1:
Contact us by either filling out our online donation form or calling us directly at 866-540-5069. Either way, you need to provide inputs to the following: your contact details, car's year, make, model, mileage, vehicle identification number, general condition (if it runs or not), and availability of title.
Step 2:
After verifying the information you shared, we'll make an arrangement with an affiliate towing company in your area to pick up your car. The company will call you to ask for your preferred date, time, and place for the pickup. Their tow truck will arrive on the agreed schedule. Before hauling off your car, the company representative will give you a tow receipt, a document that releases you from all liability on your car from then on, enabling you to cancel your car's registration and insurance coverage.
Step 3:
We will then send your car to the best auction house in your area. We will try our best to get the highest possible selling price for it. Within 30 days of the purchase date, we will be sending you through mail your car donation's 100-percent tax-deductible sales receipt that shows your car's final selling price. You will need the receipt in claiming your tax deductions when you file your itemized federal income tax return for the next tax-filing season.
How Tax Deduction Works for Your Car
If your vehicle is sold for $500 or less, you can claim as your tax deduction either its final selling price or its fair market value up to $500, whichever is higher. You can easily find out the fair market value of your car by using a reliable source for used-car price guide such as the Kelley Blue Book.
If your vehicle is sold for greater than $500, you can only get the precise amount for which your car was sold even if the fair market value is higher than the selling price.
You can learn more about tax deductions for your car donation by clicking here.
The Other Rewards That Await You as Donor
Aside from the maximized tax deduction you'll get from us, more perks await you when you contribute to our Catonsville, Maryland car donations program. This is our way of saying "Thank you" to you for your kindness and generosity.
Easy-to-do donation process
Everything is handled for you
No need to do any paperwork
We will pay for the pickup and towing of your car
No need to stress yourself in trying to sell your car
No more need to pay for your car's insurance and registration as well as costly repairs
More space for your garage, backyard, or driveway
The Types of Vehicles We Accept for Donation
We do not restrict ourselves in accepting only certain types of vehicles. Breast Cancer Car Donations accepts nearly all types of motor vehicles, boats, and even airplanes. We believe we have greater opportunities for helping more people if we accept more vehicle types for our Catonsville, Maryland car donations program.
We also accept vehicles that are not in good running condition anymore. If the vehicle you're donating has dents, scratches, broken lights or whatnot, don't worry; we'll still accept it. Better still, we'll take care of refurbishing it before taking it to the auction house. This way, it can fetch a higher selling price.
However, we cannot process for donation vehicles that are stolen or abandoned because they lack a title or proof of ownership, a requirement in vehicle donation. We also have to turn down dilapidated vehicles that have little or no cash value anymore.
Here's a list of some of the vehicle types we accept:
Cars
SUVs
Trucks
Motorcycles
Motorhomes
RVs
Boats
Jet skis
Farm equipment
Golf carts
ATVs
Snowmobiles
Call us if the vehicle you intend to donate is not on this list. Chances are, we'll take it.
Together, We Can Make It Right
Your participation in our Catonsville, Maryland car donations program will give new hopes to breast cancer patients who are in the biggest fight of their lives. Lend them a hand. Contact us at 866-540-5069 and donate your car now to Breast Cancer Car Donations!
or Call Us Now at 866-540-5069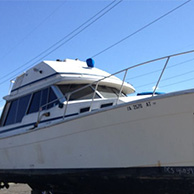 Excellent customer service!