Car Donation Westchester, NY
Donate Your Vehicle and Save Lives!
Bring Hope and Joy to Breast Cancer Victims with Your Westchester, New York Car Donations
You have the power to bring hope and joy to those who are struggling with breast cancer when you donate a car in Westchester County. Many of those who have been diagnosed with breast cancer tend to seek comfort by connecting with friends, family, as well as support groups.
However, there are breast cancer victims who choose to suffer alone. They hide their ailment even from their own family members, not wanting them to worry about their situation, especially when discussing prognosis and treatment, and the latter's high cost. Without treatment, the victims eventually succumb to the disease.
In America, millions of individuals are suffering from this frightening illness. This disease knows no age or gender. It can bring havoc to anyone. Some of those individuals diagnosed with breast cancer are lucky enough to have been diagnosed earlier. Hence, they have a greater possibility of survival.
For lack of funding for the high cost of treatment, so many lives are being lost to breast cancer. This is the primary reason why Breast Cancer Car Donations is here. Together with our fully committed nonprofit organization partners, we seek to save the lives of breast cancer victims who do not have the money to pay for the cost of their treatment.
We are able to do this through our various car donation programs all over the country. We work hard in seeking more funding for the breast health services that our nonprofit partners provide. We encourage everyone to support Breast Cancer Car Donations. You can help save lives when you choose to make a car donation in Westchester, NY. Call us at 866-540-5069 to show your support to our cause.
Donate Your Car in Westchester, NY to Help Breast Cancer Victims
When you donate your old and unwanted vehicle to our car donations program in the community, you'll help our charity partners as they deliver these programs and services:
Early detection and diagnosis of breast cancer as well as effective treatment and prevention measures;
Financial assistance to the uninsured, underserved and their families;
Easy access to health facilities, clinics, and hospitals; and
Breast cancer research to find the best ways to prevent and cure it.
Benefits in Store for Our Westchester County Car Donors
Indeed your Westchester, New York car donations will greatly benefit breast cancer patients and their families. What's even better is that you also stand to receive your own set of rewards for supporting our cause. Here are the perks you'll get for your car donation:
No more repairs and maintenance expenses
Pick up and towing is free
All paperwork will be handled by us
You won't have to try to sell your car
Vehicle Types You Can Donate
We accept almost all types of vehicles in our Westchester, New York car donations program as long as they come with titles or proof of ownership. A vehicle cannot be sold at auction without a title.
We very much welcome multiple car donations.
Here are the general types of vehicles we accept for donation:
On a case-to-case basis, even if your car doesn't run anymore or its headlights are busted, you can still donate it.
However, we cannot process for donation abandoned or stolen vehicles or those that are so badly damaged that they have little cash value.
How Our Car Donation Process Works in Mount Vernon and Westchester County, NY
We have come up with the simplest and quickest way to donate a car to charity. Our Westchester, New York car donations program consists of just three easy steps:
Once you're ready to make a donation, pick up your phone and give us a call at 866-540-5069. You may also fill out our online donation form to begin the process. Tell us some information about your car and yourself.
Step 2: Schedule the pickup.
We'll arrange with an affiliate towing company in your area to pick up your vehicle based on your preferred date, time, and place. Please note that this is absolutely free of charge. We will issue you a tow receipt during the pick-up. This will relieve you from any liabilities on your vehicle and gives you the right to cancel your car registration and insurance coverage and stop paying for them.
Step 3: Receive your tax deduction.
Within days after we auction off your vehicle, we'll send you your donated car's 100-percent tax-deductible sales receipt, indicating its final selling price. This will serve as the basis of your tax deduction claim when you file your itemized federal tax return for the next tax-filing season.
Join the Fight Against Breast Cancer!
Join the fight against breast cancer and provide vital assistance to victims of the killer disease through your Mount Vernon and Westchester, New York car donations. Contact us at 866-540-5069 and start enjoying a most rewarding donation experience!
Breast Cancer Car Donations: Mount Vernon, New York and Westchester County, New York
33 N 3rd Ave, Unit 7E
Mount Vernon, NY 10550
Phone: (866) 540-5069
or Call Us Now at 866-540-5069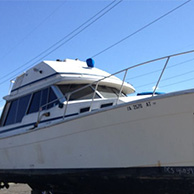 Excellent customer service!