Bowie, Maryland Car Donations
Donate Your Vehicle and Save Lives!
Bowie, Maryland Car Donations:  Show You Care for Fellow Americans Struggling With Breast Cancer
Did you know that every year in the United States, about 252,710 women will be diagnosed with breast cancer and over 40,500 will die? Even though breast cancer is rare among men, about 2,470 men will be diagnosed with breast cancer and 460 will die. Those figures came from the National Breast Cancer Foundation, Inc.
Even higher and more frightening numbers have been cited by the American Cancer Society in its latest report.  It says about 266,120 new cases of invasive breast cancer will be diagnosed in women in 2018, excluding about 63,960 new cases of non-invasive cancer, also known as carcinoma in situ or CIS. About 40,920 women will die from breast cancer this year, the report states.
In Maryland, the American Cancer Society estimates that 5,940 breast cancer cases will be diagnosed in 2018, with 810 victims expected to die.
The figures presented are shocking indeed. However, hope springs eternal. We at Breast Cancer Car Donations still believe that with concerted effort and the support of the public, we can still bring these numbers down. That's why we are intensifying our car donations campaign all over the country to generate more funds for use in fighting breast cancer.
By donating your car to our Bowie, Maryland car donations program, you will be able to help a lot of needy breast cancer patients and their families in fighting the disease.
If you want to help your fellow Americans conquer this horrible disease, we invite you to join our Bowie, Maryland car donations program.
Simple and Easy Way to Donate a Car
We provide you an easy, simple, and convenient way to donate a car. The only thing you need to do is call us. We'll take care of the rest. We will handle the towing of your car and any paperwork involved. No fees whatsoever will be collected from you. Here are the steps in our Bowie, Maryland car donations process:
First, you either call us at 866-540-5069 or fill our online donation form. You will need to provide your car and personal information.
We then arrange for a licensed towing company in your area to pick up and tow your car at your preferred time, date, and place. You need not be present during the actual towing, but please don't forget to place your vehicle's title and keys inside the car. We will give you a donation receipt before we take away your car. That receipt will release you from all liabilities on your car. This means you can now scrap your car registration and insurance and stop paying for them.
After we tow away your car, we will sell it at auction. Once your car is sold, we will send you by mail within 30 days your tax-deductible sales receipt. The selling price of your car is indicated there, and that will be the basis of your top tax deduction claim when you file your federal tax return.
The Types of Vehicles We Accept
We at Breast Cancer Car Donations accept nearly all types of vehicles in our Bowie, Maryland car donations program. We accept not just road vehicles but also those that float on water and fly in the sky. As long as your vehicle has a title to prove that you own it, we will accept.
Please take note that we don't accept abandoned vehicles and those that are a total wreck since they cannot be sold anymore at auction. If you lost your vehicle's title, don't worry. We will help you secure a replacement title so you can donate it.
If you have more unused vehicles that are just gathering dust in your garage, we'd also be happy to accept multiple Bowie, Maryland car donations! Just call us and we'll be happy to walk you through the process of donating multiple vehicles. Meanwhile, here's a partial list of the vehicle types we accept for car donations.
Cars: sedans, vans, SUVs, trucks, motorcycles
Boats: sailboats, motorboats, fishing boats, yachts, pontoon boats, houseboats, personal watercraft (like jet skis)
RVs: recreational vehicles, motorhomes, campers, travel trailers, pop-up trailers, five-wheelers
Specialty vehicles: ATVs, snowmobiles, motorized wheelchairs, riding lawn mowers, tractors, farm equipment
Fleet vehicles: cars, passenger vans, cargo vans, SUVs, pickups, trucks, buses
Where Your Car Donations Will Go
Breast Cancer Car Donations has teamed up with two of America's most trustworthy non-profit organizations. They are consistently doing whatever they can to help in the battle against breast cancer. These non-profits are the American Breast Cancer Foundation (ABCF) and Women Involved In Nurturing, Giving, Sharing, Inc. (WINGS).
The proceeds from the sale of your car donations will be used to raise funds for our charity partners to help sustain their programs for the benefit of breast cancer patients. The funding will also be used to boost research on breast cancer treatment and possible cure and to promote public awareness of the disease, including its early signs.
Benefits for Car Donors
Aside from helping out thousands of fellow Americans that have breast cancer, donating a car to our Bowie, Maryland car donations will enable you to receive plenty of benefits. Here are some of them:
A direct and easy donation process
We take care of everything, including the towing of your car, and paperwork
Avoid the hassle of trying to sell your old car
No need to pay for car insurance, maintenance, and storage
Easily gets rid of your old car
Free up your garage space for a new car
Bowie, Maryland: Things You Know
The city of Bowie is in the Prince George County in Maryland. It has grown from a little railroad stop to the state's largest municipality. It is the third largest city by area and the fifth most populous in Maryland.
In 1870, people gathered and formed a community around a local railroad stop. The railroad station was named after a local resident who later became Governor Oden Bowie.
However, the city that surrounds it was called Huntington City. In 1874, it was incorporated as a town but its grant was revised to change its name to Bowie.
The city of Bowie offers an amusing historical and cultural heritage, which is mirrored in the city's historic locations.
The Belair Mission, Belair Stable Museum, Bowie Railroad Station and Huntington Museum are some places you can enjoy if you want a taste of Bowie's history.
There are also other tourist spots that are popular with tourists. These are the Bowie Ice Arena, Bowie Playhouse, Amphitheater at Allen Pond Park, and Bowie Skate Park among others.
Join the Fight Against Breast Cancer
We seek your support so we can continue providing hope and sustenance to the poor women here in Bowie who are making a gallant stand against breast cancer. Contact us at 866-540-5069 and donate your car to Bowie, Maryland car donations for the benefit of breast cancer patients who do not have the financial resources to fight the disease.
or Call Us Now at 866-540-5069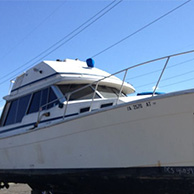 Excellent customer service!