Boston, Massachusetts Car Donations
Donate Your Vehicle and Save Lives!
Boston, Massachusetts Car Donations: Join the Fight Against the Ancient Scourge of Breast Cancer
Breast cancer is a horrific disease that has been afflicting mankind since ancient times – 3000 BC to be exact! That was the age when the first recorded cases of breast cancer were found on papyrus. Called the Edwin Smith Papyrus, the unearthed artifact was part of an ancient Egyptian textbook that describes eight cases of tumors of the breast that were removed by cauterization with a tool called the fire drill.
Thousands of years later, the disease is still with us, raging like wildfire, killing millions all over the world. This year alone, 2017, in the United States, more than 252,000 women are expected to be diagnosed with invasive breast cancer. More than 40,000 of them are expected to die from the disease, according to the American Cancer Society. The chance that a woman will die from breast cancer has been placed at one in 37!
That's alarming by any standard. The question is: Will you just bury your head in the sand and pretend that the problem does not exist, or will you do your share in fighting this global scourge in your own community?
If you're not the ostrich-type, then join our Boston, Massachusetts car donations program. When you donate your old vehicle to Breast Cancer Car Donations, you will be helping save the lives of your fellow Americans suffering from breast cancer. It will cost you nothing to do this meaningful charitable act.
Say Good Riddance to Your Clunker
The old beat-up car you will be donating will be good riddance anyway since it's just occupying space in your garage or backyard and it makes no sense to have it repaired or refurbished. Thus when you donate that clunker, you will actually be freeing yourself from costly repairs, maintenance, insurance payment, and storage fees.
Don't worry that your vehicle might not qualify for Boston, Massachusetts car donations. We accept almost all types of vehicles, including those that are not running anymore.
You also don't have to worry about paperwork and towing fees because we will process everything for you for free and we will pay the towing fee as well.
You will certainly not miss your old car when you donate it to our Boston, Massachusetts car donations program. The charitable act will give you an innate sense of joy for having done something wonderful to your fellowmen who badly needed your help.
Rewards for Your Charitable Act
The good stuff does not end there. Donating your vehicle to the Boston, Massachusetts car donations program will also enable you to reap rewards! You can actually get a part of the cash value of your donated car in the form of a sizeable tax deduction.
Through your minimal efforts, you will become a hero to the beneficiaries of your donations. We will pass on the proceeds of the sale of your vehicle to our partners — the American Breast Cancer Foundation (ABCF) and Women Involved in Sharing, Nurturing, Giving, Incorporated (WINGS, Inc.). Your donation will fund their breast cancer programs that will help save lives of cancer patients, particularly those who do not receive support from the government.
Boston, Massachusetts Car Donations Process
We value your time and effort, and that is why we have come up with quick and easy steps in our donation process. Follow the steps below and be a step closer to saving someone's life:
Step 1:
Visit our website and fill out our online vehicle donation form. In lieu of that, you may call us at 866-540-5069. One of our helpful phone representatives will answer all your questions and guide you through the Boston, Massachusetts car donations process.
Step 2:
We will verify the vehicle information you provided. Afterward, we will make arrangements with a local tow company for your free pick-up.
Step 3:
Your car will be picked up by the local tow company. You will be given a receipt that releases you from any liability. You may use the receipt to file your tax deductions.
Your vehicle will then be auctioned off. Once it sells, we will mail you a letter to inform you of the final selling price. We will also include your tax receipt that will entitle you to a sizeable tax reduction when you file your itemized personal income tax returns.
Breast Cancer Car Donations, together with our non-profit organization partners, continues to educate the public about the risk factors in breast cancer as well as provide tips on how to avoid the horrific disease. Our organization also helps in providing funds for breast cancer cure research and assisting underserved and uninsured women to gain a full-range access to medical health care to improve their chances of surviving the disease through our Boston, Massachusetts car donations program.
Extend a lifeline to the thousands of breast cancer sufferers today by taking part in Boston, Massachusetts car donations. Call us at 866-540-5069 now to donate.
or Call Us Now at 866-540-5069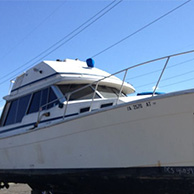 Excellent customer service!