Bonita Springs, Florida Car Donations
Donate Your Vehicle and Save Lives!
Bonita Springs, Florida Car Donations: Turn Your Car into a Weapon Against Breast Cancer
A generous act of donating your car to Bonita Springs, Florida car donations can save the lives of thousands of cancer-stricken women in the country, believe it or not. By giving away an old and idle automobile, you make it possible for cancer researchers to move further to finding a cure for the devastating disease.
Breast Cancer Car Donations gives you the opportunity to be a hero to these women. Your donated vehicle becomes a source of funds for nonprofit organizations to pursue their research on the early detection, prevention, screening, and treatment methods for breast cancer. In other words, you help them take a step forward into discovering a possible way to end the disease. We serve the entire state of Florida, including nearby cities such as Fort Myers.
Removing a useless car from your garage can mean so much more when you do it for a worthy cause, don't you think? Instead of going through the hassles of selling and negotiating with questionable people, you might as well contribute it to our Bonita Springs, Florida car donations program. That way, you'll be making a difference in the lives of breast cancer sufferers and have your tax deductions as well.
Learn More About Bonita Springs
Bonita Springs is known for its Gulf Coast beaches, parks and sand dunes. Explore nature and wildlife at Barefoot Beach Preserve; see the botanical gardens at Everglades Wonder Gardens; catch a show at Riverside Park; or tee off at Bonita Fairways Golf Course. If you want to take your furry friend for exercise, try the Bark-N-Play Park. This wooded park covers about six acres and has three fenced areas for different sized canines.
The area also has some of the best cancer treatment centers. These include Florida Cancer Specialists on Bonita Beach Rd and GenesisCare on Brighton Ln.
Why Choose Breast Cancer Car Donations?
It makes complete sense for donors to pick a donations program in the community that provides them rewarding benefits. Working with Breast Cancer Car Donations not only helps patients but also gives you tons of reasons to be happy about. And no, it's not just being able to get rid of an unwanted car for free or possibly getting huge tax deductions.
When you decide to join our Bonita Springs, Florida vehicle donation program, don't be surprised to experience good things such as:
Enjoying a fast-paced and simple donation process
Providing more space for your garage or driveway
Freedom from paying for your car's insurance or maintenance
Freedom from advertising or looking for buyers
Freedom from dealing with paperwork
Feeling of joy knowing that your contribution to Bonita Springs, Florida

car donations

will be making an impact on the lives of cancer patients and their loved ones
Experience a Worry-free Donation Process
In donating a car in Bonita Springs, Florida, it's only reasonable to choose a program that offers the donor a donation process that's without complications. That's why Breast Cancer Car Donations sees to it that you won't be going through a stressful experience when you donate to Bonita Springs, Florida car donations. Count on us to manage everything, including the paperwork and the free towing of your automobile.
Once you've made up your mind to donate a car for charity that you no longer use, let us know about it. Whether you decide to fill out our online donation form or give us a call, we'll be asking several details about your vehicle, including its make and model. We will then schedule a date and time to have your Bonita Springs, Florida car donations towed away at no cost.
There's no need for you to be around when our tow truck arrives at your place. There's no reason for you to miss an important meeting because of us! We will hand you a towing receipt that will release you from all liability. You can now terminate your car's insurance and registration, saving you a considerable amount of money.
We generate funds from your donated car by putting it up for auction, with the proceeds going directly to our partner cancer-fighting nonprofits. Your car supports these organizations into providing assistance to patients and their families.
Check your mailbox for a sales receipt from Breast Cancer Car Donations at least 30 days after we sell your donated vehicle. The sales receipt will indicate the sale price of your vehicle. If it sells for less than $500, you can claim as tax deduction the selling price or the vehicle's fair market value up to $500, whichever is higher. You can calculate the fair market value of your car by checking the prices online for vehicles of the same make, model, year and condition as your car.
If your car sells for more than $500, you can claim only the exact amount for which it was sold, even if the fair market value is greater than the selling price. For more information on this, please call us at 866-540-5069.
So that's pretty much the flow of our entire donation process. Have any more questions? Check out our FAQs page here!
What Vehicles Qualify as Bonita Springs, FL Car Donations?
Another great thing about working with Breast Cancer Car Donations is the fact that we accept almost all sorts and types of vehicles. We accept even cars that aren't running anymore, thanks to our tow truck. Just call us if ever you feel uncertain about the condition of your vehicle, and we'll get to you as quickly as we can.
From campers to boats to snowmobiles, we'd be glad to have whatever you wish to offer. Check out the list below to have an idea of what vehicles we usually take as Bonita Springs, Florida car donations:
Of course, Breast Cancer Car Donations is more than willing to accept multiple Bonita Springs, Florida car donations in case you might be wondering. That is definitely an offer we won't refuse!
Help Us Find a Cure for Breast Cancer Today
Are you ready to use your car as a weapon against breast cancer? Support breast cancer patients now with your Bonita Springs, Florida car donations. Donate your car for charity by calling us at 866-540-5059.
or Call Us Now at 866-540-5069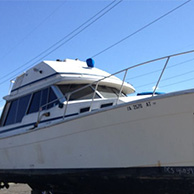 Excellent customer service!