Bolingbrook, Illinois Car Donations
Donate Your Vehicle and Save Lives!
Bolingbrook, Illinois Car Donations: Extend Lifeline to Breast Cancer Sufferers
Do you have an old car that's not running anymore and just lying around in your backyard taking up space? Chances are repairing it would be useless and just a waste of precious money since automotive defects tend to pile up with age. Since you can't possibly expect a good buyer for a car already in a state of disrepair, why don't you just donate to a worthy cause?
Breast Cancer Car Donations would be glad to get that car off your property and use the proceeds from its auction to support nonprofit organizations that are waging a comprehensive campaign against breast cancer.
Free yourself from bondage to that car by donating it to our Bolingbrook, Illinois car donations program. The real beauty of this donation is that while you're helping yourself, you are also extending a lifeline to fellow Americans afflicted with breast cancer. All you have to do is give us a call, set a date, and we'll get your vehicle towed for free.
By taking part in Bolingbrook, Illinois car donations, you will be making a difference in the lives of needy breast cancer patients, increasing their chances of survival and helping rebuild their lives.
Where Your Donation Will Go
When you donate an auto, it will be a big boost to our two breast cancer charity partners, the Women Involved in Nurturing, Giving, Sharing, Incorporated (WINGS, Inc.) and the American Breast Cancer Foundation (ABDF). These two nonprofits are dedicated to providing complete breast health services to uninsured and underserved individuals regardless of their age and gender.
The proceeds from your vehicle donation will be used to support programs that are envisioned to achieve the following objectives:
Help patients gain access to better medical treatment and diagnosis
Fund research for better breast cancer cure and treatment
Provide assistance to financially struggling breast cancer patients, survivors, and their families
Educate the public about the causes and prevention as well as detection of breast cancer
Even though the U.S. federal government continues to look for more potent ways to fight cancer, the horrific disease continues to claim thousands of lives every year. The thousands of uninsured and underserved cancer patients are particularly hard hit. That is why we are continually in need of financial support from the public so that we can help fund programs meant to help these patients. Through your Bolingbrook, Illinois car donations for cancer, we would be able to help cancer sufferers who have no one else to turn to for support. We serve the entire state of Illinois, including nearby cities such as Naperville.
Easy, Convenient, and Rewarding Donation Process
We made our Bolingbrook, Illinois car donations process easy, convenient, and rewarding for the donors. The most attractive feature of our donations program is that even as you get a free pick-up and towing of your unwanted vehicle, even as you free yourself from the expenses associated with this vehicle, you will even receive a bonus! Just imagine the multiple benefits you will get topped off by the hefty tax deduction you will be entitled to for your donation.
Here are the three easy steps to join car donations for breast cancer in the area:
Step 1:
Visit our website and fill out our online vehicle donation form. You can also call us at 866-540-5069. Our friendly staff will answer all your questions and walk you through the donation process.
Make sure to have these details ready so you can provide it to our staff, details such as:
Your car's make and model
Your preferred time and date for towing and pick-up
Your vehicle's location for pick-up
Step 2:
After we verify the information you provided, we will make arrangements with a local tow company for your free pick-up and tow. Within 24 to 48 hours, the local tow company will call you to provide you additional information about the towing process.
Step 3:
Your car will be picked up and the local tow company will give you a receipt to free you from all liabilities.
Your vehicle will then be auctioned. Once your vehicle is sold, we will send you a letter by mail containing your tax receipt that will entitle you to file for a top tax deduction.
Cancer Treatment Centers in Bolingbrook
This southwest suburb of Chicago is one of the fastest developing communities in DuPage County. Aside from The Promenade, it's also home to local cancer treatment centers. These include the AMITA Health Medical Group on Schmidt Road and the Illinois Cancer Specialists on Remington Boulevard.
Breast Cancer In America and Its History In Brief
Breast cancer is the second leading cause of cancer death in women, next only to lung cancer, in the United States, according to the American Cancer Society. The chance that a woman will die from breast cancer is about one in 37. For this year, 2017, more than 252,000 women are expected to be diagnosed with invasive breast cancer, with over 40,000 of them dying from the disease.
Breast cancer has been plaguing mankind since the dawn of history, with the first cases recorded on papyrus in ancient Egypt in 3000 BC. Called the Edwin Smith Papyrus, the unearthed document was part of an ancient Egyptian textbook that describes eight cases of tumors of the breast that were removed by cauterization with a tool called the fire drill.
The first reported successful treatment of breast cancer was done in 1882 by Dr. William Halsted, a young surgeon at Johns Hopkins Hospital in Baltimore, Maryland, who performed the first radical mastectomy. This surgical operation became a standard procedure until the 20th century.
In 1895, the first X-ray was taken to detect breast cancer; it was later called mammograms.
Choose to be a hero. Fight breast cancer with us by donating your vehicle to the Bolingbrook, Illinois car donations program. Call us now at 866-540-5069 to donate a car for charity.
or Call Us Now at 866-540-5069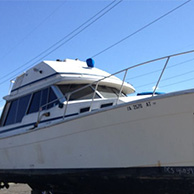 Excellent customer service!