Birmingham, Alabama Car Donations
Donate Your Vehicle and Save Lives!
Birmingham, Alabama Car Donations: Show Kindness and Live a Life of Purpose
 If you're tired of burning cash on your ancient vehicle's maintenance and repair costs, you might want to consider donating it to our Birmingham, Alabama car donations program. Aside from the fact that giving your car away to charity is the quickest way to get rid of it without spending a single cent, your donation would make a lasting impact on those people who are going through their breast cancer journey in Birmingham.
Breast Cancer and the City of Birmingham, Alabama
Birmingham was founded in 1871 during the Reconstruction Era. The city gained its nickname "Magic City" during the height of its manufacturing age in the 1920s because of the fast growth of its population.
Birmingham happens to be the most densely populated city in the U.S. state of Alabama. Currently, its estimated population has reached 212,237.
According to the American Cancer Society, 3,760 women are expected to be diagnosed with breast cancer in Alabama this 2018 and 670 are going to die because of it.
In case you don't know, breast cancer is the most common form of cancer next to skin cancer and the second-leading cause of death in women in the United States after lung cancer. Every woman is at risk for breast cancer. It is estimated that 1 out of 8 women would develop breast cancer in her lifetime – that's roughly 12% of the entire female population in the country.
Although the actual cause of breast cancer is not yet fully understood at present, factors such as age, hormones, exercise, diet, family history, environmental factors, and mutated genes can contribute to the development of breast cancer in a person.
Who We Are and What We Do
Breast Cancer Car Donations is an organization that has partnered with two reputable non-profit organizations whose goal is to help fight breast cancer across America. These two nonprofits are:
American Breast Cancer Foundation (ABCF)
ABCF is a certified 501 (c)3 charity that aims to provide financial assistance for screenings and diagnostic tests to uninsured individuals who are battling breast cancer regardless of age and gender by connecting them with local facilities, enabling them to gain access to the resources they need. The generous sponsors of the ABCF provide both their time and resources for the fundraising events.
Women Involved in Nurturing, Giving, Sharing, Inc. (WINGS)
Founded in 1999 by a breast cancer patient and her surgeon, WINGS' primary mission is to provide quality healthcare services to all uninsured women who are suffering from breast cancer. It aims to fill in the gap between the early detection and treatment of the disease. WINGS has been able to help more than 900 women, with the number rising every year.
With your Birmingham, Alabama car donations, we can help increase the chances of survival of breast cancer victims in Birmingham, Alabama as we spread breast cancer awareness to its growing population.
Our Hassle-Free Donation Process
Breast Cancer Car Donations make it a priority to take care of our donors in an effort to show them our appreciation for their generosity. We do this by implementing the easiest, most hassle-free donation process so that you would have the best giving experience ever. Following these three simple steps will have your shabby car out of your property in no time:
Let us know you want to donate.
You may call us at 866-540-5069 or you can fill out our online donation form, which you can find all over our website. We'd only need to know about your basic information, the make and model of your car, year, location and other necessary details.
Schedule your fast and free pickup.
Once you give us your vehicle's location and your preferred time for pickup, we'll coordinate with a local towing company to get the job done. Towing's on us, so you don't have to bring cash when we haul your car away. In fact, you don't even have to be there when we do it!
Check the mail for your tax-deductible receipt!
You'll be entitled to get a top tax deduction if you itemize your taxes because we partner with 501 (c)(3) non-profit organizations. Once your car is sold at an auction, your tax-deductible receipt will be mailed to your address within 30 days of the sale of your donated car. You could call us anytime you want to check your donation status.
The Types of Vehicles We Accept
Breast Cancer Car Donations accepts a wide range of vehicles in our Birmingham, Alabama car donations program. You could donate that floating vehicle you have or that old, rusty car that has been in your driveway for years now. As long as it comes with proof of your ownership, we could sell it at auction.
Can't find your vehicle's title? No worries! Our title clerks are up and ready to assist you as you obtain your replacement title.
If you have more unused cars that are stored in your garage, we'd also be happy to accept multiple Birmingham, Alabama car donations. Just call us and we'll be happy to walk you through the process of donating multiple vehicles.
Still not sure if the clunker you're thinking of donating would make the cut? Here's a great list of vehicle types that we won't refuse:
Cars: sedans, vans, SUVs, trucks, motorcycles
Boats: sailboats, motorboats, fishing boats, yachts, pontoon boats, houseboats, personal watercraft (like jet skis)
RVs: recreational vehicles, motorhomes, campers, travel trailers, pop-up trailers, five-wheelers
Specialty vehicles: ATVs, snowmobiles, motorized wheelchairs, riding lawn mowers, tractors, farm equipment
Fleet vehicles: cars, passenger vans, cargo vans, SUVs, pickups, trucks, buses
Give Back to Birmingham!
They say that everything a person achieves lives inside him like a flame of fire. When you give back to Birmingham by donating a vehicle to our Birmingham, Alabama car donations, that flame will light the path for others in their journey with breast cancer. Doing this act of kindness will help you on the road to your ultimate goal – a life of purpose.
Contact us at 866-540-5069 and get free towing services for your Birmingham, Alabama car donations!
or Call Us Now at 866-540-5069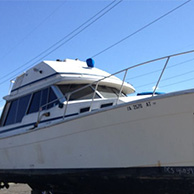 Excellent customer service!