Alabama Car Donations
Donate Your Vehicle & Transform Lives!
Breast Cancer Patients Suffer Significantly
Alabama car donations help patients fight breast cancer. A number of families all over the state are suffering from the disease and its consequences. The problem is made even worse by poverty.
Families who face breast cancer often go through a financial crisis. The patient is often subjected to expensive medical processes. Families spend a huge amount of money on treatment.
Breast cancer also takes its toll on patients. They become prone to anxiety and depression. They often think they are inflicting difficulties on their family.
Breast cancer patients are in need of constant emotional support. This can be achieved by a loving family and vigilant support groups. These social cores help the patient psychologically and even physically.
Help Breast Cancer Patients in Alabama Through Car Donations
Alabama car donations ease the lives of breast cancer patients in the state. Patients, their families, and communities are often restricted by their limited financial resources. We seek to ease their difficulties through Alabama car donations.
Alabama car donations fight cancer and the consequences that come with it. The battle against cancer can be won by giving love and financial support through car donations. You may be surprised by the lives that are saved through charity.
Breast Cancer Car Donations is a platform that is beneficial for both patients and donors. We link both of them through our convenient services. This allows us to provide communal support within the state.
Alabama is in need of modern-day heroes who are willing to donate their vehicles. If your vehicle has taken you to many places, it's high time to take it on another journey. Let your vehicle go the extra mile by helping breast cancer patients.
How to Donate Cars for Breast Cancer Patients in Alabama
Donating a vehicle for the benefit of breast cancer patients in Alabama is not complicated as it may seem. We have made sure that our process is convenient for both donors and beneficiaries. We have integrated a three-step process for your convenience.
Alabama car donations give donors a convenient way to reach out. A simple call can uplift the lives of many. Once you're ready to make a donation, pick up your phone and give us a call at 866-540-5069.
You may also fill out the donation form to begin the process. Either way, we will respond promptly.
The Alabama car donation process will require some necessary paperwork. We often require donors to present the title of the vehicle. State policies may vary. Feel free to call us at 866-540-5069 and we will answer all your questions.
Schedule the Pick-Up
You will hear from us after we've gathered all the necessary information about your vehicle. We will ask you to select the most convenient date and time for the vehicle pick-up. Please note that this is absolutely free of charge.
We will issue a tow receipt after the pick-up. This will relieve you from any liabilities of owning the vehicle. You can use the receipt in the processing of your tax deductions.
Receive Tax Deductions
Donating a car for breast cancer patients in Alabama has its perks. We will mail you the necessary documents for you to file your tax deduction. We will send the mail a couple of weeks after the vehicle's auction.
Benefits of Donating a Vehicle to Breast Cancer Patients in Alabama
Many do not expect anything in return when making donations. However, Alabama car donations offer many benefits that you can enjoy. You may be surprised to know the perks you gain by donating!
Helping Breast Cancer Patients, CONVENIENTLY
Donating a car for breast cancer patients gives you the satisfaction of helping people in need. You are given the chance to uplift people who are in dire straits. You may also find new meaning in your life after donating.
The easy and convenient donation process also benefits you. Donating to breast cancer patients is as simple as 1, 2, 3. All you have to do is call, and we'll do the rest.
Repurposing an Unwanted Vehicle
You will also give your car a new purpose. Even if your vehicle is not in good working condition, it is still useful for breast cancer patients in Alabama. You will be working to somehow ease their misery and give them a better chance of survival.
Alabama car donations also offer a convenient way for you to get rid of an unnecessary vehicle. With our help, you can do this without spending a single cent. Your dusty old pal in the garage can still have great value through car donations.
No More Pre-Selling Hassles
Alabama car donations are free of charge. You enjoy free pick-up and towing.
Apart from this, you also save yourself a lot of money. Say goodbye to ad placement fees, maintenance, repairs, and insurance. Upon pick up, you are no longer responsible for the vehicle.
You also save yourself from the hassles of trying to sell your car. You no longer have to jump from one potential client to another. You don't have to waste your time and effort in talking to hagglers.
Tax Returns!
The best part of car donations is enjoying tax deductions. You can enjoy up to $500 worth of tax deduction in your vehicle. This way, you don't go empty-handed.
Donate your vehicle to Alabama breast cancer patients! Call us at 866-540-5069 today!
Donate a Car to Alabama Breast Cancer Nonprofits Today!
Looking for more information about donating in a particular area of Alabama? Click on one of the cities closest to you from the list below.
or Call Us Now at 866-540-5069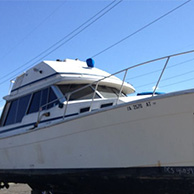 Excellent customer service!