Binghamton, New York Car Donations
Donate Your Vehicle and Save Lives!
Binghamton, New York Car Donations: Be the Person That People Afflicted with Breast Cancer Will Look Up To
Breast cancer has been and will always be a pain and burden to any afflicted person's life. It will not stop once it hits a person, culminating in death in some cases. Even for the lucky ones who survived the disease, the latter delivers pain.
The killer disease has already struck hundreds of thousands of lives all over the United States and millions of lives worldwide. In fact, according to American Cancer Society, this 2018 alone, experts have projected 266,120 new cases of invasive breast cancer and 63,960 cases of non-invasive breast cancer for women. Although breast cancer is rare for men, it is estimated that around 2,550 men would be stricken with the disease this year.
Breast cancer is expected to kill 40,920 women and 480 men this year.
Clearly, the numbers are appalling. However, we can still do something to at least reduce those numbers. A great option would be to participate in our  car donations program in the area.
How Your Car Donation Will Be Used to Save Lives
When you donate a vehicle to Breast Cancer Car Donations, you will be making an impact on the lives of many people affected by breast cancer. It will serve as a means of funding the numerous support programs of our nonprofit organization partners that provide breast health services to all individuals who need them.
Proceeds from the sale of your Binghamton, New York car donations will be used by our charity partners to provide the following services to uninsured and underprivileged individuals:
Early detection and diagnosis as well as effective treatment and prevention measures;
Breast cancer research to find the best ways to prevent and cure the disease;
Financial assistance to uninsured and underserved breast cancer victims and their families;
Easy access to health facilities, clinics, and hospitals.
We've been in the business of saving lives for more than 20 years now. You can be a part of this noble undertaking by donating your car to us.
At the same time, your charitable act will enable you to receive significant rewards, including maximized tax deductions and free towing service. Call us at 866-540-5069 to make this happen.
Our Quick and Easy Car Donations Process
We at Breast Cancer Car Donations have come up with an efficient car donation process that is designed to provide convenience to our donors. Our Binghamton, New York car donations process consists of three quick and simple steps:
You initiate the car donation process by either giving us a call at 866-540-5069 or filling out our online donation form. When you call us, one of our donation specialists will ask for your contact information and a few details about your car such as its make, model, year, mileage, and vehicle identification number.
After verifying the information you gave, we'll arrange with a licensed towing company in your area to pick up your car. The company will call you to ask when you'd like your vehicle to be towed, what time, and where. The company will then send its truck on the scheduled date and pick up your car for free. You need not be at the scene of the pickup if you have more important to do. Nevertheless, we will issue you a donation receipt that releases you from all liabilities on the vehicle you're donating, allowing you to cancel your car registration and insurance coverage.
We will mail to you the 100-percent tax-deductible sales receipt of your car within a few days after your car is sold. The receipt will show your car's final selling price. This will be the amount you are allowed to claim as tax deduction when you file your itemized federal income tax return. Keep the receipt since you will need this to support your tax deduction claims.
The Vehicle Types We Accept for Donation
You already know how our Binghamton, New York car donations process works. However, you still may have some doubts on whether the vehicle you intend to donate is acceptable to us.
Let us erase your doubts. You can actually donate nearly all types of vehicles – those used on the road, at sea, and in the air. We will take your old and unwanted vehicle as long as you are in possession of its title and as long as it has good enough cash value.
Here are examples of the various vehicle types we accept for donation:
Cars
Vans or minivans
Pickup trucks
Motorcycles
Campers
Travel trailers
Boats
Yachts
Farm equipment
Golf carts
Riding lawn mowers
Are You Ready to Donate?
We have already covered everything. You are now knowledgeable about our Binghamton, New York car donations program and how it helps the victims of breast cancer and yourself as well.
Let us know if you have decided to donate your car to Breast Cancer Car Donations. Contact us at 866-540-5069. Donate now!
or Call Us Now at 866-540-5069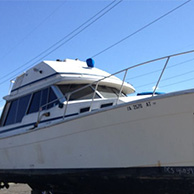 Excellent customer service!