Arvada, Colorado Car Donations
Donate Your Vehicle and Save Lives!
Arvada, Colorado Car Donations: Your Little Act of Kindness Can Make a Big Difference in the Lives of Breast Cancer Victims
A little act of kindness is good enough to make a big difference in someone's life. Remember that big things often start with small beginnings.
We can make a gesture of kindness by participating in our Arvada, Colorado car donations program. A little act like donating your car to Breast Cancer Car Donations will go a long way in uplifting the lives of people who are dealing with breast cancer.
When you donate your car to us at Breast Cancer Car Donations, you are going to make a lot of families that have breast cancer-afflicted members really happy. You are giving them a helping hand on their journey, easing the difficulties they have been through.
You will not only be helping needy breast cancer patients and their families but also contribute in the field of research on the early detection and diagnosis of breast cancer. The earlier breast cancer gets detected, the better the chance of patients to survive the deadly disease.
How We Use Your Arvada, Colorado Car Donations
Breast Cancer Car Donations works with America's eminent non-profit organizations that have dedicated themselves to fighting breast cancer. The proceeds of your Arvada, Colorado car donations will provide additional funding for their life-changing missions and research. For instance, fundraising events and programs will be made for the benefit of breast cancer patients, thanks to your kindness and generosity.
The Process of Donating a Car
When you donate a car to our Arvada, Colorado car donations program, it will only take a few minutes of your precious time. We know time is important, and we value it. All you need to do is give us a call! After that, you can sit back and relax because we are going to be handling everything from there.
Let us give you a complete breakdown of what is going to happen.
You have two options to start your donation process: You can either call us at 866-540-5069 or fill out our online donation form. You'll just need to share a few personal and car details. We will also arrange a date and time to get your car towed.
A professional towing company from your area will pick up and tow the vehicle you're donating. You can either be or not be there during the pickup. We will give you a donation receipt that will clear you of any responsibility for your car, which means you no longer have to pay for its registration and insurance.
After it gets towed, we will auction off your car. We will quickly transfer the proceeds from the sale to our non-profit partners so they cause use the funding to finance their breast cancer programs. In less than 30 days, we will send you by mail your tax-deductible sales receipt indicating your donated vehicle's sale price. This will serve as the basis of your tax deduction claim when you file your itemized income tax return.
If you have further clarifications on how the donation process works, you can just give us a call anytime. We'd love talking to you! You can also check our frequently asked questions page for possible answers to your concerns.
Donate your truck to fight breast cancer in the city.
The Types of Vehicles We Accept
We accept nearly all types of vehicles – whether used on land, air, and sea. We also don't pay too much attention to the condition of the vehicle you're donating – unless of course if it's already a total wreck with little or no value, or if it is an abandoned vehicle with no ownership.
Here are a few examples of the vehicles we accept for donation:
Cars
Trucks
Motorcycles
Campers
Trailers
Boats
Jet skis
Farm equipment
Motorized wheelchair
Snowmobiles
The Benefits You Will Get for Your Arvada, Colorado Car Donations
Joining our Arvada, Colorado car donations program will do you a lot of good! Aside from the fact that you will be helping thousands of breast cancer sufferers who are struggling to survive, you will also receive plenty of rewards for your generosity. Expect to get the following:
Free towing services
We will handle everything for you, including paperwork
Save lots of money by no longer paying for car insurance, registration, and maintenance
No more hassle in trying to sell your car
Effortlessly get rid of your old car
Let's Get Started!
Are you ready to donate? Let us know, and let's get started on your donation right away! Contact us at 866-540-5069 and join our Arvada, Colorado car donations program. Donate now!
or Call Us Now at 866-540-5069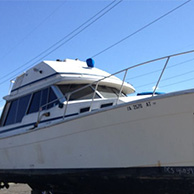 Excellent customer service!