Annapolis, Maryland Car Donations
Donate Your Vehicle and Save Lives!
Annapolis, Maryland Car Donations: Be an Anti-Cancer Hero in the Comfort of Your Own Home
You can be a hero to people suffering from breast cancer today without leaving the comfort of your home when you volunteer to participate in the Annapolis, Maryland car donations program.
By donating your car to Breast Cancer Car Donations, you enable us to generate funds for charities advocating for breast cancer patients. We do this by selling your car and then passing on the proceeds to our leading breast cancer organization partners. The funds we pass on will help support their programs that are geared to achieve the following goals:
Help manage the unwanted side effects of breast cancer treatment
Provide funds for research for breast cancer cure
Provide breast cancer patients access to screening, diagnosis, and effective treatment
Raise awareness about the breast cancer prevention and early signs detection of breast cancer
Help empower breast cancer survivors, patients, and their families
Our leading breast cancer organization partners are:
American Breast Cancer Foundation — This organization directs its efforts towards early detection and diagnosis of breast cancer. It provides assistance to uninsured and underserved people regardless of their age and gender.
Women Involved in Nurturing, Giving, Sharing, Incorporated — This organization provides health services to women who are uninsured.
Breast Cancer in America: Over 250,000 Cases Expected This Year
About 12 percent of the female population in the United States is predicted to develop invasive breast cancer over the course of each woman's lifetime, according to Breastcancer.org. In its latest report, the non-profit organization says this year, it expects 252,710 new cases of invasive breast cancer to hit the country's female population and 2,470 new cases of invasive breast cancer among men.
Breast cancer is the second leading cause of cancer deaths next to lung cancer. Two in three breast cancer patients are women over 55 years old. Over the past 60 years, the rate of breast cancer survivors has increased by 3 percent, according to the National Cancer Institute.
An Ancient Disease That Still Haunts Us
The history of breast cancer goes back to 1600 BC and was first recorded on Edwin Smith Papyrus, a famous ancient Egyptian medical text, named after the dealer who bought it in 1862. There were eight cases recorded where tumors and ulcers of the breast were described in minimal details. On several pages of the papyri, the disease was said to have no cure, according to Breastcancer.org.
Donor's Benefits from Annapolis Car Donations
There is no need for you to get your car repaired before donating it to Annapolis, Maryland car donations program. We accept most types of vehicle, either in running or non-running condition. After we verify your vehicle's information, we can book your vehicle for a free pick-up and tow.
Even if the car taking up space in your garage does not run anymore and has busted headlights and flat tires, we will still accept it as your donation. Think about it: It would cost you plenty of money to have your old clunker repaired. Even if the repair was successful, your vehicle would most likely break down again due to old age. So, why not just donate it to save yourself from all those hassles and expenses?
Moreover, when you participate in Annapolis, Maryland car donations, you will be eligible for hefty tax deductions. You can have tax deductions of $500 or even more when you donate your car to us.
Fast and Easy Car Donation Process
We made the Annapolis, Maryland car donations process fast and easy because we value your time. Just follow the three steps below to join the fight against breast cancer without leaving the comfort of your home:
The first step is visiting our website and filling out our online vehicle donation form. You may also give us a call at 866-540-5069 to indicate your participation in the Annapolis, Maryland car donations program. Our friendly phone representative will help you through the process and will answer all your questions related to your car donation.
Make sure to have these details handy so you can provide them to our phone representative:
Your vehicle's make and model
Your preferred time for pick-up
Your car's location for pick-up and towing
The next step is the verification process. We will verify the information you provided via online or phone and will arrange transactions with a local towing company for your free tow. The tow company will call you within 24 to 48 hours to verify your Annapolis, Maryland car donations pick-up date and location.
The last step is the towing process. The local tow company will pick-up your vehicle and will provide you a receipt to release you from any liability. You may then use the receipt to file your tax deductions for your car donation.
After these processes, your vehicle will be auctioned. After your car sells, we will either mail or email you a letter to inform you of the final selling price. The proceeds will be forwarded to our nonprofit Annapolis, Maryland car donations partners so they can use it to support their programs to fight breast cancer.
Call us now at 866-540-5069 to donate at Breast Cancer Car Donations in Annapolis, MD.
or Call Us Now at 866-540-5069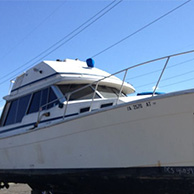 Excellent customer service!