Adelphi, Maryland Car Donations
Donate Your Vehicle and Save Lives!
Help Keep Breast Cancer Patients Alive with Your Adelphi, Maryland Car Donations
If there's one simple way to help women who have been diagnosed with breast cancer, it's definitely by contributing to our Adelphi, Maryland car donations program.
We at Breast Cancer Car Donations have committed ourselves to the mission of supporting breast cancer patients in the best possible way we can. We convert old vehicles into funds needed by charities that are devoted to supporting these patients. By teaming up with two of the nation's top nonprofit organizations dedicated to fighting breast cancer — American Breast Cancer Foundation (ABCF) and Women Involved in Nurturing, Giving, Sharing, Inc. (WINGS) — we give these women hope and assurance that they will beat the deadly disease.
How Your Car Donation Will Help Cancer-Stricken Women
An old truck that you haven't used for months could be the catalyst for one breast cancer patient's survival. Your Adelphi, Maryland car donations will enable our charity partners to sustain and expand their programs that render such services as:
Financial assistance to uninsured and underserved breast cancer patients, covering their surgery, oncology services, consultation, hospital fees and outpatient medication;
Help connect these patients to local facilities that offer free and accessible resources, information and other comprehensive breast health services;
Raise public awareness on breast cancer prevention, diagnosis, and treatment;
Pursue research on prevention, screening, diagnosis, and treatment of breast cancer; and
Sponsor charity and outreach events for the benefit of breast cancer patients
Our Quick and Efficient Donation Process
Consider yourself really lucky if you choose to work with us. At Breast Cancer Car Donations, our donors don't have any reason to feel stressed over the process of donating.
We pretty much take care of everything involved in the donation process, from handling your tax papers to towing your car. Once you inform us about your decision to contribute to car donations program in the area, you can sit back and relax as we process your donation the fastest time possible.
Here's a quick three-step guide on what it's like to donate to us:
You reach us either by filling out our online donation form or calling us at 866-540-5069. Give us specific details about the vehicle you plan to donate. After you do, we set a place and time to tow it away.
A tow truck will come to pick up your car. Don't worry about the towing fee – it's on us! Don't worry also if you can't be around during the pickup. Just assign somebody to receive your donation receipt that we will issue before we tow your car. That receipt will release you from all liabilities on the car you're donating, enabling you to cancel and stop paying for its registration and insurance coverage.
We sell your donated car by auctioning it off. Proceeds are then used to support our nonprofit partners. Within 30 days, you will receive a 100-percent tax-deductible sales receipt from us. You'll need this receipt to support your tax deduction claims when you file your itemized federal tax return for the next tax-filing season.
If you have any questions about our donation process or any other concerns, in particular, feel free to have a look at our FAQs page or call us at 866-540-5069.
Perks to Enjoy When You Work with Us
Teaming up with Breast Cancer Car Donations allows you to reap benefits from your own charitable act. Apart from the fact that you stand a good chance of receiving a tax deduction worth more than $500, you also get to experience a stress-free and costless donation process.
That's not all! Here are the other rewards in store for you when you choose to take part in our Adelphi, Maryland car donations program:
Spare yourself from the hassles of advertising the sale of your car or negotiating with people you barely know. You no longer have to deal with individuals who may complain or argue with you about your car's selling price.
Now that your car is no longer in your hands, you can forget about paying for its costly maintenance and repairs. You can even save enough money to be able to purchase the latest car model you've set your eyes on.
Give your garage or driveway a clutter-free look. Your new Porsche might even fit perfectly!
Get rid of an old and unwanted vehicle without getting a single dollar out of your wallet.
Have a sense of fulfillment knowing that your car donation will be a big help in the treatment of breast cancer patients.
The Vehicle Types We Accept for Donation
Are you worried about getting your donation offer rejected since the car you want to donate is old and not in good running condition? Don't be! Breast Cancer Car Donations gladly accepts vehicles that are not in the best of shape.
We also accept nearly all types of motor vehicles and even all kinds of boats and aircraft in our Adelphi, Maryland car donations program. Check out the list below to have a good idea of what we usually accept for donation:
Cars: vans, SUVs, buses, trucks
Motorcycles: mopeds, scooters, dirt bikes, sports bikes
RVs: motorhomes, pop-up trailers, hybrid trailers, campers
Specialty vehicles: motorized wheelchairs, ATVs, farm equipment, snowmobiles
Watercraft: sailboats, motorboats, fishing boats, yachts, pontoon boats, houseboats, personal watercraft (like jet skis)
Aircraft: planes, helicopters, choppers
Make a Huge Change from a Simple Charitable Act
Donating a car to our Adelphi, Maryland car donations program sounds so much better when you're doing it for the meaningful purpose of saving lives. Contact us at 866-540-5069. We'll be very happy to hear from you!
or Call Us Now at 866-540-5069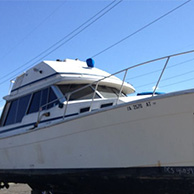 Excellent customer service!