The Villages, Florida Golf Cart Donations
Donate Your Vehicle and Save Lives!
The Villages, Florida Golf Cart Donations: Your Golf Cart Can Help Save Lives of Breast Cancer Patients
An old golf cart that's just sitting idly in your garage can become a weapon against breast cancer when you donate it to us at Breast Cancer Car Donations through our The Villages, Florida golf cart donations program. Your golf cart can play a significant role in saving the lives of individuals diagnosed with breast cancer in your own community.
Breast cancer has taken the lives of countless women in the country, with more than 320,000 new cases and over 40,000 fatalities expected this year alone.
Despite a decline in the death rate over the past few years, the issue still needs to be seriously addressed as many cancer patients remain unable to receive medical treatment due to lack of financial resources.
With your participation in our The Villages, Florida golf cart donations program, you give needy breast cancer patients the chance to get the medical assistance that could save their lives. We will sell your donated golf car at auction and use the proceeds to support the programs of our nonprofit organization partners, the American Breast Cancer Foundation (ABCF) and Women Involved in Nurturing, Giving, Sharing, Inc. (WINGS).  These nonprofits provide various breast health services to all individuals who need them. With these services, patients who do not have health insurance can avail themselves of breast cancer screening, diagnosis, and treatment.
Thanks to your golf cart, breast cancer patients will have a fighting chance to survive the disease.
Our Hassle-Free Donation Process
When you decide to collaborate with us, you'll be giving yourself a treat.  Our donation process at Breast Cancer Car Donations doesn't involve much work on the part of the donor. As a matter of fact, the only thing you'll be doing is to let us know about your decision to donate. Once you do that, you can sit back and allow us to complete the process.
We'll be the one to process all the necessary documents, including your tax papers. As for the towing service, don't bother looking for one. We have it all covered—and you don't have to pay for anything!
Here's a brief guide on how our donation process works:
Inform us about your plan to contribute to our The Villages, Florida golf cart donations program either by calling our 866-540-5069 toll-free hotline or filling out our online donation form. Give us a few details about your golf cart as well as your preferred date, time, and place for its pickup.
You don't need to be around at the time of the pickup. Just see to it that our driver get access to your golf cart's keys and title.
Get your tax deduction ticket.
We mail you your tax-deductible receipt days following the sale of your donation. You'll need this receipt to claim your tax deduction when you file your itemized federal income tax return for the upcoming tax-filing season.
That's everything you need to know about our donation process! You get rid of an unwanted golf cart, it helps breast cancer patients get the support they need, and you receive tax deductions from it!
Donate to us now at 866-540-5069!
For more information, feel free to check out our FAQs page. For inquiries, you can call us anytime, any day or write us a message online.
The Benefits that Our Donors Enjoy
While you're already aware of how your golf cart donation will impact the lives of breast cancer patients, you might have no idea yet of the perks that await you when you participate in our The Villages, Florida golf cart donations program. Here are some of them:
Enjoy our quick and convenient donation process.
Get your vehicle towed quickly and at no cost to you.
Avoid wasting your time and effort in reselling your golf cart yourself.
No need to pay for your golf cart's repair or maintenance.
No need to handle piles of documents.
Get more space in your garage.
Feel the joy of knowing how your golf cart donation will help save lives.
The Types of Other Vehicles You Can Donate
We're not only limited to golf cart donations, in case you're wondering. We at Breast Cancer Car Donations are open to all sorts of vehicles—from land vehicles such as buses, campers, motorbikes, and trucks, to watercraft and aircraft like boats, jet skis, cruise ships, yachts, non-commercial planes, and helicopters. We also accept specialty vehicles including motorized wheelchairs, ATVs, snowmobiles, and riding lawnmowers.
We welcome even vehicles that are no longer in good running condition.
Not sure about your vehicle's qualification? Contact us and let us know about your concern.
Give Your Old Golf Cart a New Purpose Today
Are you ready to give your golf cart a new purpose? When you donate it to us, it will serve as a lifesaving instrument for breast cancer patients in your community. Call us at 866-540-5069. We look forward to your participation in our The Villages, Florida golf cart donations program!
or Call Us Now at 866-540-5069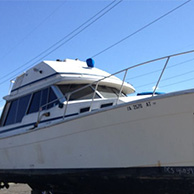 Excellent customer service!