Ohio RV Donations
Donate Your Vehicle and Save Lives!
Help Beat Breast Cancer through Ohio RV Donation
A small thoughtful gesture of participating in our Ohio RV donations program can go a long way in helping women suffering from breast cancer. By giving us an old camper that you no longer find useful, you make it possible for cancer-stricken women to beat the devastating disease.
Breast cancer has claimed countless lives in the country during the past years. Sad to say, the number of cases remains alarmingly high, with more than 250,000 new cases diagnosed in 2017 alone. No wonder, breast cancer is now the most common form of cancer among American women.
Due to the high cost of treatment and insufficient financial resources of those stricken with breast cancer, many of these victims are unable to get medical assistance. This is why we at Breast Cancer Car Donations are here: to help breast cancer patients survive the disease by ensuring they get full and proper treatment.
We collaborate with two of the nation's most prestigious nonprofit organizations that are devoted to fighting breast cancer. These are the American Breast Cancer Foundation (ABCF) and Women Involved in Nurturing, Giving, Sharing, Inc. (WINGS). We convert the vehicles donated to our Ohio RV donations program into funds that enable these nonprofits to provide comprehensive breast health services to various communities in Ohio, including the granting of financial assistance to uninsured and underserved breast cancer patients, covering their surgery, oncology services, consultation, hospital fees and outpatient medication.
These nonprofits are also engaged in raising public awareness on the causes and symptoms of breast cancer and how to prevent and detect the disease.
Your RV donation will also be used to fund research on more potent breast cancer treatment. For all you know, your car donation might even lead to the discovery of the ultimate cure for the life-threatening illness.
Thus, a motorhome that's been filling up space in your garage could serve as a lifeline to at least one breast cancer victim clinging for dear life.
A Donation Process Tailored for Your Convenience
Donating an RV in Ohio is made easier and simpler when you do it with Breast Cancer Car Donations. We want to serve our generous donors graciously by providing a donation process that's completely efficient and cost-free. By that we mean, we'll be managing all the documents and the free towing service.
As soon as you've made up your mind to contribute to our Ohio RV car donations fundraiser, contact us. You can either fill out our online donation form or give us a call at 866-540-5069. Either way, we'll be asking certain information about your vehicle such as its make and model, year, mileage, VIN, general condition, and title availability.
We'll start processing your car donation application and assign a professional towing company to pick up your car. The company will give you a call to arrange the pickup schedule based on your preference. The company's tow truck will then arrive at the agreed location on time. Before picking up your RV, a company representative will issue you a towing receipt that releases you from any liabilities, allowing you to cancel and stop paying for your vehicle's registration and insurance coverage.
We'll then send your vehicle to the best auction house in your city where it will be sold to the highest bidder. Within 30 days after the sale of your car, you'll receive from us your 100 percent tax-deductible sales receipt, indicating your RV's final selling price. This will serve as the basis of your tax deduction claim when you file your itemized federal tax income return.
Do you have questions about our vehicle donation process? Check out our FAQs page or call us at 866-540-5069 to know more about Breast Cancer Car Donations.
RV Types We Accept for Donation
Are you looking for an RV donations program in Ohio that accepts even vehicles that are no longer in good running condition? You don't have to look far now that you've found us.
Here at Breast Cancer Car Donations, we accept virtually all types of recreational vehicles, even non-running ones. As long as we see that the RV you're donating can still generate enough funds to support breast cancer patients, we'll gladly accept it.
The RVs that we normally take in our Ohio RV donations program include:
Motorhomes
Campers
Pop-up trailers
Travel trailers
Hybrid trailers
Five wheelers
If ever you plan to donate more than one vehicle, go ahead! Breast Cancer Car Donations is more than happy to take multiple donations, including other vehicle types such as cars, vans, SUVs, trucks, motorcycles, ATVs, snowmobiles, motorized wheelchairs, riding lawn mowers, tractors, farm equipment, fleet vehicles, buses, boats and non-commercial aircraft.
The Benefits of Joining Ohio RV Donations
Breast cancer patients are not the only people who would benefit greatly from your donation. You also get to enjoy special rewards when you team up with Breast Cancer Car Donations. They include:
Free towing services
Save money by no longer having to spend for your vehicle's registration, insurance, repair, or maintenance fees
Provide more space for your garage or driveway
Avoid the complicated and time-consuming process of selling
Have a sense of fulfillment knowing that your RV donation will play a huge role in the fight against breast cancer
Make a Change with Us Today
Are you looking forward to seeing your old RV used for a worthwhile cause? Call us at 866-540-5069 and get started with your Ohio RV donations!
or Call Us Now at 866-540-5069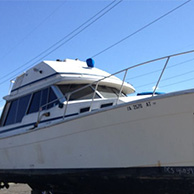 Excellent customer service!