Nevada Golf Cart Donations
Donate Your Vehicle and Save Lives!
Nevada Golf Cart Donations: A Simple Act Can Go a Long Way for Breast Cancer Patients
Do you have an old golf cart that you no longer use? Has it already broken down? Are the repairs not worth it? If you think it's time to get rid of that old one, consider donating it to our Nevada golf cart donations program instead.
We at Breast Cancer Car Donations have come up with various vehicle donation programs, including this one in Nevada, to generate more funds that will be used to provide life-saving services to victims of breast cancer.
We operate our vehicle donation programs on behalf of leading nonprofit organizations that share our cause of fighting breast cancer and saving its victims. The proceeds from the sale of golf carts and other vehicles will be used to help fund these organizations so they could sustain and expand their breast health services that our fellow Americans can take advantage of.
How Your Golf Cart Donation Will Impact Breast Cancer Patients
Taking part in our Nevada golf cart donations program will enable you to:
Help uninsured individuals gain access to breast cancer screening, diagnosis, and treatment;
Provide financial assistance to breast cancer patients, survivors, and their families;
Fund research on more effective breast cancer treatment;
Boost information campaign to educate the public on the causes, prevention, and detection of breast cancer.
A Disease We Don't Want to Mess With
For centuries, breast cancer has been tormenting people, mostly women, all over the world. In fact, the disease has been in existence since ancient times. The ancient Egyptians were the first ones to mention the disease over 3,000 years ago.
In the United States, breast cancer is not something new either. The disease is the most common cancer in American women, next to skin cancers. Breast cancer is also the second leading cause of cancer death in women after lung cancer.
According to experts, the average risk of a woman in the United States developing breast cancer sometime in her life is about 12 percent. This means there is a one in eight chance she will develop breast cancer. Meanwhile, the chance that a woman will die from breast cancer is about one in 38 or about 2.6 percent.
Based on the estimate of the National Cancer Institute, the United States will see 268,670 new cases of breast cancer this 2018, along with 63,960 new cases of non-invasive (in situ) breast cancer.
About 41,400 women in the U.S. are expected to die in 2018 from breast cancer,
This is clearly a disease that we don't want to mess with. However, there is something we can do to stop breast cancer from claiming more lives. Participating in our Nevada golf cart donations program is one of them.
The Types of Golf Carts and Other Vehicles You Can Donate
You can either donate an electric or gasoline type of cart to our Nevada golf cart donations program. You can also donate other vehicles you have that you no longer need. The more vehicles you donate, the more you can help our fellow Americans who are suffering from breast cancer.
The condition of the vehicles doesn't matter. We can accept vehicles that have not run for years or have a few missing or defective parts. For as long as they could fetch a good price at auction, we'll take them.
Here are the common types of vehicles we welcome for donation:
General vehicles: cars, SUVs, trucks, vans or minivans, motorcycles
Boats and watercraft: any type of boat, jet skis, wave runners, yachts
RVs: camper vans, trailers, toy haulers, 5 wheelers
Special vehicles: ATVs, golf carts, motorized wheelchair, snowmobile, farm equipment, non-commercial aircraft
If you want a full list of vehicles we accept, you can visit our accepted vehicles page.
What Do I Need To Do To Get Started
We will make sure that you will not be having any problems with our donation process. We are going to make it short, quick, and efficient as possible. Time is important for the both of us, let's do it right! Here are the things that would happen during donation:
You can visit our website and fill up our donation form. You can also just call us at 866-540-5069. One of our specialists will be happy to assist you throughout the whole process. We will be asking for your: contact details, golf cart's year, make, and model, your best time, date, and location for your golf cart's pickup.
We will then make the necessary verification on the details you gave. After that, we will assign a professional towing company to pick up your golf cart. We will cover the towing fee.
The company will then go to the agreed arrangement to tow away your golf cart. You will be getting a towing receipt which will allow you to cancel your golf cart's insurance and registration.
We will then auction your golf cart which it will be sold at the highest price based on its fair market value. After days of purchase, we will send a letter of acknowledgment that states the sale price of your golf cart. Along with it is a tax receipt which you will use to claim your tax deduction.
Do What Needs to Be Done
Make things right for the victims of breast cancer. Help them fight and beat the disease. Join our Nevada golf cart donations program now and enjoy free towing services, handsome tax deductions, and other rewards!
If you're ready to donate, fill out our online donation form or call us at 866-540-5069. You may also contact us in our 24/7 hotline if you have questions. We'll be glad to make things clearer for you. Donate now!
or Call Us Now at 866-540-5069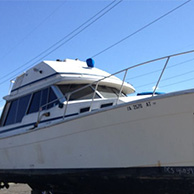 Excellent customer service!