Maryland RV Donations
Donate Your Vehicle and Save Lives!
Gladden the Hearts of Breast Cancer Patients — and Your Own — With Your Maryland RV Donations
Is keeping an old RV already a pain in the neck for you with all its costly repairs and maintenance? Have you considered getting rid of it? Why not donate it to Breast Cancer Car Donations instead! We are going to turn that old piece of junk of yours into something useful: a means to save lives!
When you take part in our Maryland RV donations program, we will turn your donated vehicle into a financial resource that will benefit victims of breast cancer. We will auction off your donated vehicle and transfer the proceeds to our reputable nonprofit organization partners that will use the funding to deliver vital breast health services to all individuals who need them. The services include:
Giving individuals free access to breast cancer screenings and diagnostic tests;
Paying for the cost of a breast cancer patient's mammograms, hospital fees, and treatment;
Allowing individuals to gain access to numerous health services and benefits regardless of their gender, age, and race;
Making people aware that early detection and diagnosis of breast cancer is important and critical as it is the key to the patient's survival;
Funding research on breast cancer to seek more potent ways to treat the disease and eventually find the cure for the malady.
The Benefits You'll Get for Your RV Donation
Expect to receive substantial rewards when you join our Maryland RV donations program! Your donation will gladden the hearts not only of breast cancer victims but your own heart as well. When you donate with us:
We are partners with 501(c)(3) certified nonprofits which makes you qualified to claim a tax deduction based on how much your donated RV was sold at auction;
You will not do anything except give us a call to start the donation process.
We will handle everything—from paperwork to the towing of your RV.
You don't need to spend for anything.
Everything is free, including the towing services for your RV.
You'll regain your garage space.
After we take away your RV, you get the clutter out of your garage, and you're now free to use it whatever way you like, perhaps turning it into an extra storage room or a beautiful garden.
You'll save plenty of money.
You don't need to pay for costly repairs anymore as well as insurance, registration, and parking fees;
You'll fill your heart with gladness.
You will feel genuinely happy knowing that you'll be making a big difference in the lives of people with breast cancer
How to Begin Maryland RV Donations
We've made our Maryland RV donations process as quick, efficient, convenient, and simple as possible for the benefit of our donors. Here's a guide to our three-step vehicle donation process:
You can do so by filling out our online donation form or just simply calling us at 866-540-5069. We will need to ask you a few things before proceeding. These are your personal contact details, your RV's year, make, model, mileage, and title availability. Once we confirm the details you mentioned, we will ask for your preferred time, date, and location for us to pick up your RV.
We'll assign a professional towing company to come pick up your RV based on your schedule. If something came up and you can't come during the pickup, it's okay. You can just tap someone to represent you. Just let us know where we can find the keys and the title. We will give you a donation receipt that releases you from all liabilities on your donated RV, giving you the right to cancel and stop paying for its insurance and registration.
Get your tax deduction receipt.
Within 30 days after we auction off your RV, we'll send you your 100 percent tax-deductible sale receipt, indicating your donated vehicle's final selling price. This will serve as the basis of your tax deduction claim when you file your itemized federal tax return for the next tax-filing season.
If you any questions regarding our donation process, please call us. We'll be glad to answer all your queries. You can also check out our FAQ's page for further details.
Other Types of Vehicles We Accept
We are not restricted to just accepting RVs, campers, trailers, toy haulers, 5th wheelers, and more in our Maryland RV donations program. We accept nearly all types of vehicles—anything you can think of! Here are a few examples of vehicles we accept aside from RVs.
Common vehicles: cars, SUVs, vans, minivans, trucks
Motorcycles: standard, cruisers, mopeds, scooters
Boats and watercraft: yachts, jet skis, sailboats, motorboats, fishing boats, pontoon boats
Special vehicles: snowmobiles, golf carts, ATVs, motorized wheelchairs, non-commercial airplanes and helicopters
Fleet vehicles: passenger van, cargo vans, buses
Is the RV you intend to donate not in good running condition and has not run for years? Does it have dents and scratches? No worries. We will still accept it regardless of its condition as long as it still has good enough cash value.
What Are You Waiting For?
Don't delay your decision on joining our Maryland RV donations program. Contact us at 866-540-5069 and get started with your RV donation.
or Call Us Now at 866-540-5069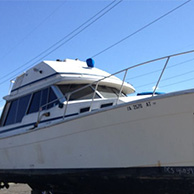 Excellent customer service!