Hail Damaged Vehicles
Donate Your Vehicle and Save Lives!
Hail Damaged Vehicles: What to Do with Them
What are you going to do with your hail-damaged vehicles? It is an unfortunate reality that hail can cause thousands of dollars' worth of damage to a single car. If you live in areas that regularly experience such storms, you know how heartbreaking this is.
Breast Cancer Car Donations offers you the best solution to your problem. If you still want to benefit from it while you conveniently get rid of it, donate your car through our service today. Thousands of breast cancer patients will thank you for your charitable contribution.
What We Do at Breast Cancer Car Donations
We at Breast Cancer Car Donations, together with two of the country's well-known certified 501(c)3 nonprofit organizations—the American Breast Cancer Foundation (ABCF) and Women Involved In Nurturing, Giving, Sharing, Inc. (WINGS)—continue to work tirelessly to support the needs of indigent individuals, particularly breast cancer patients. Through charitable vehicle donations, we are able to put together a string of effective life-saving programs that include:
Early detection and diagnosis of breast cancer
Effective treatment and prevention measures
Financial assistance to uninsured individuals and their families
Easy access to health facilities, clinic, and hospitals across the country
Funding for breast cancer research to find the best ways to prevent and cure the disease.
Take Part in Changing and Saving Lives!
Today, you can be a part of a great humanitarian mission. By simply donating hail-damaged vehicles, you get to support our programs, help fight breast cancer, and save lives! You don't need to shell out even a dollar and you don't even have to leave the comforts of your home to support our worthy cause! Just call us at our toll-free 24/7 hotline 866-540-5069 to get started with your car donation!
Top Reasons Why It's Great to Donate
More and more people are now turning to car donations as a means to actualize their intent to do the most good for others. Aside from being able to help transform lives, Breast Cancer Car Donations also rewards you favorably! Here are things you can enjoy out of it:
You get to get rid of that old clunker right away at NO COST!
You'll soon have a well-deserved space that you could make good use of!
No more additional expenses for insurance and maintenance of a car you don't want to use anymore!
You'll get to enjoy a top tax deduction. The amount of tax write-off you can claim is determined by how much your vehicle was sold at auction as per IRS rules. In general, if your vehicle was sold for more than $500, you get to claim that exact amount as your tax deduction. However, if your vehicle was sold for less than $500, you have the extra option of basing your tax deduction claim on your vehicle's fair market value not exceeding $500 if its final selling price is less than its fair market value.
You won't have to deal with heaps of paperwork. We do everything for you while you sit at home and wait for the documents to be sent to you.
Breast Cancer Car Donations will handle all the selling and your car will be auctioned to hundreds and thousands of people around the country who are actually willing to purchase old cars. This means no added stress for you in selling hail-damaged vehicles by yourself.
Selling a used car alone can be challenging. What more if the car is hail-damaged? Let the experts handle it for you!
Best of all, donating unwanted hail-damaged vehicles will help us save lives from breast cancer.
Our Fast and Simple Car Donation Process
Our car donation process consists of just three quick and simple steps:
If you think about it, this is really the only step that you will actually take – and this barely takes five minutes of your time. All you have to do is tell us who you are and what vehicle type are you planning to donate. Give us a few details about the vehicle such as its make and model, year, overall condition, mileage, and availability of title. If you've lost your title, call us and we'll help you secure a replacement title quickly, so you can proceed with your donation.
After verifying the information you gave us, we'll arrange with a licensed towing company to pick up your vehicle at NO COST to you. We'll call you back to schedule the pickup of your vehicle. We can haul away your vehicle as fast as a day or two after you contacted us. You can make your car donation anywhere in the United States since we have car donation programs in all 50 states. Before we take away your vehicle, we'll give you a towing receipt. This document releases from all liabilities on the vehicle you donated, allowing you to lawfully cancel its registration and insurance coverage and properly dispose of its license plates.
Wait for your IRS tax-deductible receipt.
We'll put your vehicle on the auction block. Within 30 days after it is sold, we will mail to you your IRS tax-deductible sales receipt, which serves as your ticket to claim your tax deduction when you file your itemized federal income tax return for the next tax-filing season.
If you have any questions regarding our car donation process or any related matter, feel free to call us at 866-540-5069. You can also visit our FAQ's page or send us a message online.
The Vehicle Types We Accept for Donation
Aside from hail-damaged vehicles, we at Breast Cancer Car Donations accept a wide range of vehicle types regardless of their age and condition. On a case-by-case basis, we can accept even heavily worn out vehicles and even those that don't run anymore.
The most common vehicles we receive for donation include:
Cars: sedans, convertibles, hatchback, coupe, hybrid or luxury cars, SUVs, vans, crossovers, family minivans
Motorcycles: cruisers, scooters, big bikes, choppers
Fleet vehicles: trucks, vans, bus
Specialty vehicles: RVs, campers, ATVs, 4x4s, trailers, riding lawn mowers, snowmobile, motorized wheelchairs
Non-commercial boats and planes: yachts, sailboats, pontoons, private jets, personal aircraft.
Let's Have Your Hail-Damaged Vehicles
Don't let those hail-damaged vehicles sit on your garage for too long! Contact us right away at 866-540-5069 to get those unwanted vehicles off your property for free!
or Call Us Now at 866-540-5069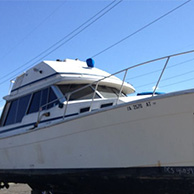 Excellent customer service!