Top 5 Used Minivans That Are Reliable and Affordable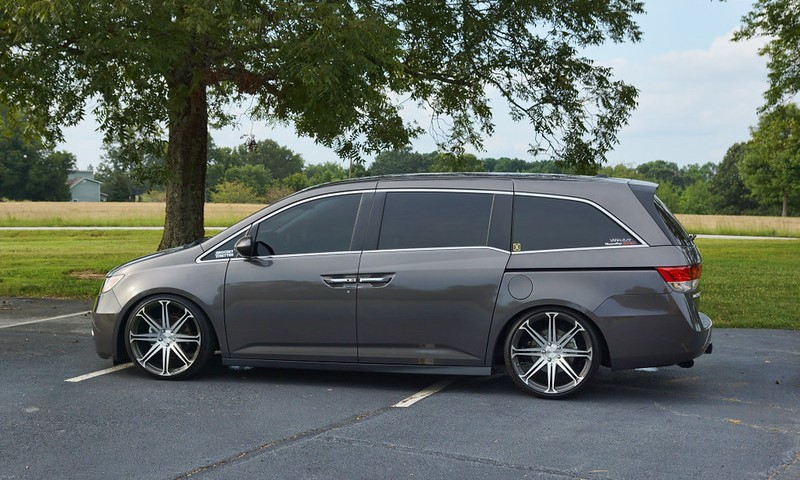 Photo by CONCAVO WHEELS under Flickr License
These Minivans Won't Break the Bank!
If you're planning to buy a vehicle that's ideal for family road trips, a used minivan won't disappoint. Although a brand-new minivan can be a bit expensive, a used one can be bought at less than the price of a brand-new car. And you'll still enjoy its spacious cargo and extra leg space just like a brand-new minivan. In other words, you don't need a big budget to buy a good minivan.
You can find an endless list of budget-friendly used minivans on the market today. Besides offering affordability, these vehicles come with features that give you the best bang for your buck. Breast Cancer Car Donations is here to help narrow down your options by pulling together the top 5 used minivans that won't break the bank.
1. 2015 Toyota Sienna
When looking for leading brands of used minivans, you can never go wrong with the 2015 Toyota Sienna (see photo above). It's one of the most reliable and fuel-efficient minivans on the market today. It has front-wheel and all-wheel drive versions that can accommodate up to 8 passengers. It also has a 6.1 infotainment screen and tri-zone air-conditioning that's perfect for summer road trips.
The price for a used 2015 Toyota Sienna ranges anywhere between $11,999 and $37,490. It's worth noting that the price will depend on the mileage and the car's trim.
2. 2015 Honda Odyssey
The 2015 Honda Odyssey has always been on the list of the most reliable and affordable cars for auto reviewers. Its strengths include a sophisticated and roomy interior that can fit up to 8 passengers as well as its impressive fuel efficiency. Honda has always been known for its superior quality vehicles with outstanding safety scores, making it the best option for families who love road trips. The price of a used 2015 Honda Odyssey currently ranges from $8,995 to $37,942, with vehicle mileage ranging from 20,934 to 205,393
3. 2019 Kia Sedona
The 2019 Kia Sedona is a worthy rival of Honda and Toyota minivans. According to Edmunds.com, the Kia Sedona is a good option for people who don't normally like minivans. On top of its chiseled exterior, the 2019 Kia Sedona offers a strong V6 engine and an interior that can easily fit up to 8 people.
The only downside of the 2019 Kia Sedona is that it lacks cargo space compared to its rivals. Despite this, it's still one of the best options for used minivans. The price of a used 2019 Kia Sedona currently ranges from $18,400 to $29,690.
4. 2011 Chrysler Town and Country
Although Chrysler has a lower reliability score than some of its competitors, it boasts a variety of features that make it a minivan of choice for car reviewers. Its trims are powered by a 3.6 liter V-6 engine that produces 283 horsepower, which is a huge upgrade compared to the older models.
In addition, one of the biggest selling points of the Town and Country minivan is its luxurious and spacious interior that features Stow n' Go second-row seats that you can fold on the floor to make room for more cargo. The best part about the 2011 model is that it has a high safety score. You can buy a used 2011 Chrysler Town and Country anywhere from $7,000 to $9,000.
5. 2015 Mazda 5
If you're looking for a used minivan that's practical, easy to drive, and perfect for everyday errands, the 2015 Mazda5 can be one of your best bets. It doesn't require a large upfront cost, and it doesn't cost much to maintain. However, the Mazda5 lacks some high-tech features. For this reason, the Honda Odyssey and Toyota Sienna might make more sense if technology matters to you in a car.  The price of a used 2015 Mazda5 currently ranges from $13,834 to $18,998.
Looking to Dispose of an Older Vehicle?
Now that you're considering buying a high-quality used minivan, you're probably ready to get rid of that older vehicle that's taking up valuable space in your garage. Hand it over to us at Breast Cancer Car Donations and we'll use it to provide much-needed medical assistance to needy breast cancer patients in your local community.
We will have your car auctioned off, with the proceeds going to reputable breast cancer nonprofit organizations that are in partnership with us. These nonprofits use the funding we give them to provide uninsured and indigent breast cancer patients with easy access to top cancer centers in the country as well as financial assistance to cover the costs of their treatments, doctor consultations, medications, follow-up care, and other essential health care services. Other beneficiaries get to receive free breast cancer screening and diagnosis, as well as prevention and education services.
As our way of saying "thank you" to you, we'll pick up and tow your vehicle for free at a date, time, and place of your choice. Be assured that we can collect your vehicle at any location in the United States.
Since our charity partners are IRS-certified 501(c)(3) nonprofits, your donation will entitle you to claim the maximum tax deduction in the next tax season.
Even more precious than these material rewards, you'll find awesome satisfaction in knowing that your donation will be used to help save lives.
You can donate almost any type of vehicle, including your deceased uncle's boat or your grandpa's ancient motorized wheelchair. The vehicle doesn't need to be in good condition. In many cases, we accept even vehicles that are no longer running.
For more information about our donation program, including our quick and convenient donation process, feel free to visit our FAQs page. Give us a call anytime through our toll-free hotline at 866-540-5069 or contact us here if you have any inquiries or concerns.
Turn Your Unwanted Car into a Lifesaver Today!
You can transform your unneeded car into a powerful tool for saving the lives of breast cancer sufferers in your area. You can do that by donating that vehicle to Breast Cancer Car Donations. Call 866-540-5069 or fill out our secure online donation form now!