How to Safely Deal with a Tire Blowout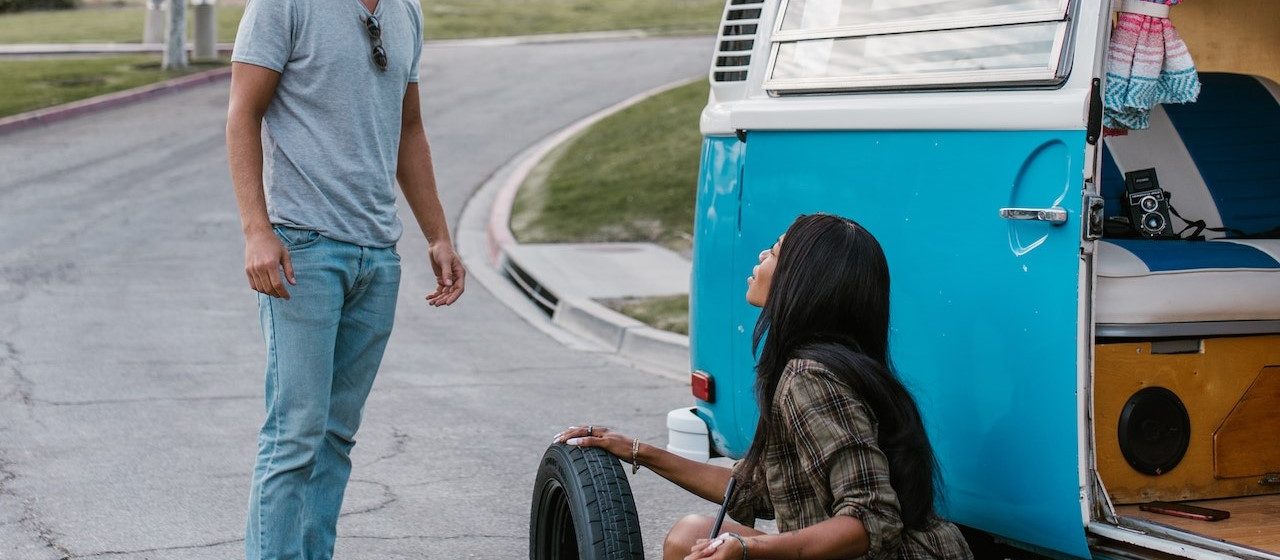 Photo by RDNE Stock project under Pexels License
5 Steps to Keep You Out of Harm's Way
Imagine you're out on the road, driving along minding your own business and singing along to whatever the radio's playing. Then, all of a sudden, you hear a loud bang. That's when you realize one of your tires has just exploded.
What do you do? Do you keep going and hope for the best? Or, do you make an abrupt stop to try and assess the damage?
Having a tire blowout can be a frightening experience for just about anyone. There's no way to predict or prevent it from happening. However, understanding what to do in such a stressful situation will help keep yourself, your passengers, and other drivers out of harm's way.
So, what exactly should you do in case you experience a tire blowout? Breast Cancer Car Donations shares these five simple steps to help you safely deal with the situation:
As much as you may want to turn the steering wheel, take your foot off the gas pedal, or step on the brakes, DON'T! Any of these actions could take a turn for the worse, as they'd cause you to lose control of your car. Instead, take a deep breath and keep your mind focused so you'll be able to make a sound decision next.
Step 2: Keep going straight.
You'll notice your car starting to pull to one side when a tire blows. Once this happens, make sure to firmly grip the wheel with both hands at 10 and 2. Your car might wobble or fishtail, so be prepared to turn the wheel sharply and overcorrect. Continue steering straight.
Step 3: Press the gas pedal gently.
Accelerating with a blown tire might sound counterintuitive, but it can actually help you regain control of your car. As long as it's a slight acceleration, you'll find yourself maintaining forward momentum. Then, slowly step off the gas pedal once you've gained total control.
Step 4: Let your car slow down.
Turn on the emergency lights as you decelerate to below cruising speeds. Point your car as straight as you can and don't turn your steering wheel.
Step 5: Step on the brakes lightly.
When you've finally slowed down to a safe speed of 20 mph or so, slowly turn the steering wheel to navigate your car off the road. Once you've made it safe and sound, your next move is to call for roadside assistance, Or, if you have a spare tire and the know-how in changing a tire, then you can also do that.
Use Your Hardly Running Car to Help Save Lives
If you've been having numerous issues with your car to the extent that you don't feel safe anymore driving it, perhaps it's high time to consider giving it up, especially if the costs of repairs have already wiped out a huge chunk of your savings.
The easiest and most rewarding way to dispose of your clunker is to hand it over to us at Breast Cancer Car Donations. Not only will you be getting rid of it without going through the hassles of paperwork, but you'll also be turning it into a life-saving instrument for the destitute women in your local area who are battling breast cancer.
We'll sell your donated automobile through an auction and use the proceeds to support the life-saving programs and services of our breast cancer-focused nonprofit partners. These IRS-certified 501(c)(3) nonprofit organizations use the funding we provide them to sustain their delivery of comprehensive breast health services to their beneficiaries.
Thanks to your donation, more uninsured and indigent breast cancer patients will be able to gain easy access to leading cancer centers as well as receive financial assistance to cover the costs of their treatments, doctor consultations, hospital fees, medications, and other essential health care services. Our charity partners also provide their beneficiaries with free breast cancer screening and diagnosis as well as prevention and education services.
To show you our appreciation for your charitable deed, we'll promptly mail to you the 100% tax-deductible sales receipt of your car within days following its sale. This receipt will enable you to claim the maximum tax deduction in the next tax season.
Aside from tax incentives, you'll also benefit from our towing service. It's completely free and available anywhere in the country.
Above all, you'll get to experience the joy and satisfaction of making a charitable act aimed at saving the lives of breast cancer victims.
Almost all types of vehicles are qualified for our donation program, including those that have dents, scratches, and defective parts. We accept even vehicles that are no longer running.
To get to know our quick and easy donation process and other pertinent details about Breast Cancer Car Donations, head over to our FAQs page. For inquiries, feel free to call us anytime through our toll-free hotline at 866-540-5069 or leave us a message here.
Get Involved in the Fight Against Breast Cancer Today!
A gesture as simple as making an auto donation can help turn breast cancer sufferers into survivors. So, if you've always wanted to do something impactful, this is your chance! Call Breast Cancer Car Donations at 866-540-5069 or fill out our secure online donation form now!