Can Boats Be Stored Outside In The Winter?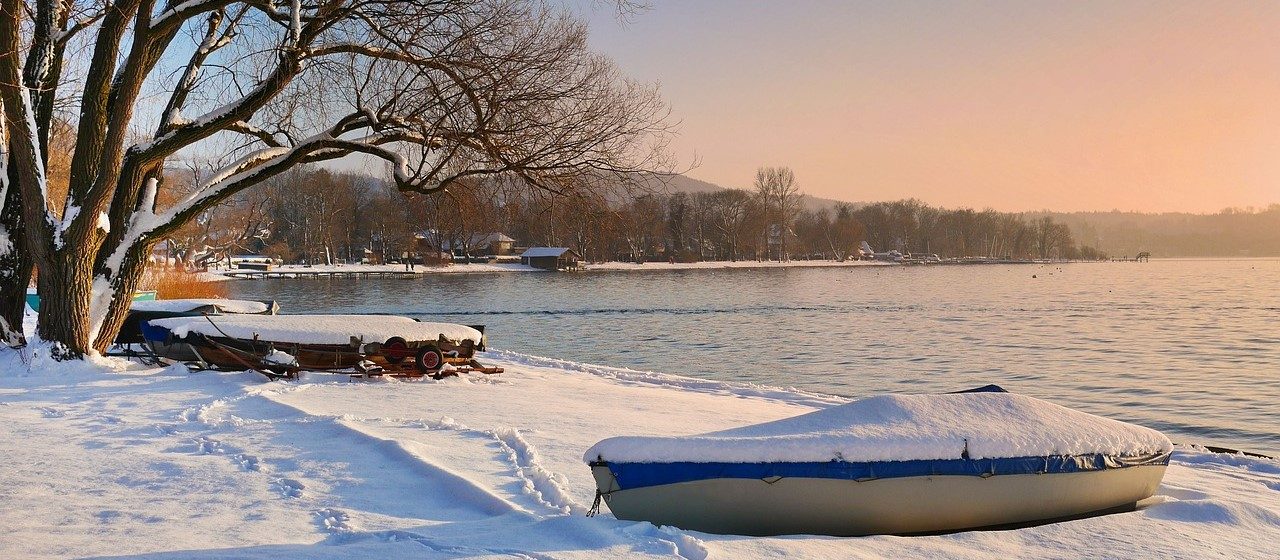 Photo by fietzfotos under Pixabay License
Tips on How to Winterize Your Boat for Storage
As the summer season closes and your exciting boating adventures are coming to an end, it's time to winterize your vessel for storage. Keep in mind that your boat isn't anything like your car because it has more exposed metal components that can be eaten away by rust over time. When corrosion affects these parts, your boat's performance will be significantly affected and this will eventually lead to repairs that would cost you a pretty penny.
In case you're not aware, the harsh winter weather can cause your boat's metal parts to corrode at a much faster rate. Unless you're willing to spend a fortune on repairs once spring and summer come around, you need to properly store and protect your marine vessel for the winter.
Can You Store Your Boat Outside in Winter?
Yes, you can. However, if you fail to store it properly, pests may take up residence in it and chew up the interior as well as the engine wiring. Moreover, if your boat isn't well protected from the elements, you may find yourself dealing with mold and mildew problems after it gets exposed to snow, sleet, hail, and rain. To help you steer clear of these problems, here are must-have tips on how you can store your boat outside during the winter season.
Decide Where You'll Store It.
1. Backyard — If you have enough space to store a boat in your backyard, you may choose to store yours there. Although you won't have to worry about storage fees when you opt for backyard storage, you need to check if your neighbors allow this. Otherwise, you could end up facing penalties if you fail to follow the neighborhood agreement.
Another downside to backyard boat storage is that your vessel can get more exposed to the elements, molds, pests, theft, and vandalism.
2. Portable shelters — You can also store your boat in portable shelters that you can assemble and dismantle on your own. Although portable shelters can last for years, you'll need to keep the excess weight of snow buildup in check if you want to prevent the canopy from collapsing on your boat. You might also need to store your boat seats as well as other small items separately if you don't want pests to cause damage to your boat.
3. Dry outdoor boat storage facility — You can also choose to store your boat in a dry outdoor boat storage facility. This has parking spots that can protect your boat from the elements. However, if you have a bigger boat, this option may not work for you.
4. Shrink-wrapping — A specialist can install this outdoor covering to provide waterproof protection to your boat. This requires the use of special tools that work to shrink the top of the film barrier.
Get Your Boat Ready for Winter Storage
As soon as you've made your decision as to where you'll store your boat during the winter season, you'll need to prep it for storage. First, you'll need to cover your boat with a suitable boat cover. Don't even think about using a water-resistant tarp because it won't provide your boat with the protection that it needs against the brutal winter weather.
Once you've properly covered your vessel, you need to change the filter and flush out the oil to get rid of traces of liquid residue before you add in the new oil.
Next, you must check your boat's manual for instructions on how to spray fogging oil over your boat's spark plug opening or on the carburetor to keep your engine's mobile parts protected against the cold and punishing weather. Don't forget to lubricate the steering and other control devices to make sure that they work after the winter season is over.
The next step is to dispose of the current coolant before flushing it with water and filling it with fresh antifreeze.
Furthermore, your drive belts need to be taken out to keep them from cracking under pressure. You'll also need to detach your battery. Don't forget to use tapes to cover exhaust ports on inboard boats to keep bugs at bay.
Next, protect your gas tank from damage by filling it with gas. Remove the electronics as well as other organic components — such as canvas, leather, and fabric — to protect them from mold and mildew. Keep in mind that your water tanks need to be drained and antifreeze needs to be poured throughout your water pipes.
Lastly, make sure to clean up your vessel inside and out before coating its body with wax to protect it from rusting.
Donate Your Old Boat to Make a Life-Saving Charity Contribution
If you're looking to dispose of your old and battered boat while making a life-saving charitable contribution, consider donating that vessel to Breast Cancer Car Donations. We'll auction off your donation to raise money for the programs of our breast cancer-focused charity partners. These IRS-certified 501(c)3 nonprofits provide relief to uninsured and financially struggling people who can't afford to get breast cancer treatment, screening, and other breast health services.
In exchange for your gift, you'll get free towing and a top tax deduction in the next tax season. Above all, you'll have the priceless satisfaction of doing something extraordinary that can help save lives.
We accept almost all types of vehicles, even damaged ones that are hardly running. You can make your donation wherever you are in the United States, and we'll be there to collect it at a date, time, and place of your choosing.
For more information about our vehicle donation program, check out our FAQs page. Should you have any questions or concerns, don't hesitate to call us at 866-540-5069 or leave us a message here.
Help Save Lives Today!
To process your donation today so you can start helping save the lives of struggling breast cancer patients in your area, all you have to do is to fill out our online donation form or give us a call at 866-540-5069 now!