Winston-Salem, North Carolina Car Donations
Join Winston-Salem, North Carolina Car Donations To Help Breast Cancer Patients Beat the Disease!
Free towing service, tax credit, and hassle-free disposal – you can get all that when you contact us at Breast Cancer Car Donations to join our Winston-Salem, North Carolina car donations program. Your vehicle will be used to help uninsured and underserved women gain access to life-saving breast health services, including treatment for breast cancer.
The Twin City
Winston-Salem got its nickname "Twin City" from its two names. The city was originally two separate towns that were fused in 1913. Winston is named after the Revolutionary war hero, Major Joseph Winston, while Salem came from the Hebrew word for "peace."
The city's residents are mostly Protestants whose roots can be traced to the Czechs who settled there 250 years ago. The city is well-known for its embrace of technology, theater, and fine arts.
According to the United States Census Bureau, Winston (as the locals call the place) was home to 246,328 residents as of 2018. Of this number, 53 percent comprised of women. Furthermore, 15.5 percent of the residents who were under 65 years old had no health insurance.
We can only presume from these figures that a significant number of female residents in the city who have no health insurance are suffering from life-threatening diseases such as breast cancer.
You Can Help Breast Cancer Patients in Your City
You can have an impact on the lives of these women by joining our Winston-Salem, North Carolina car donations program. We support reputable nonprofit organizations that are battling breast cancer. Our vehicle donation program is operated on their behalf, providing them additional funding so they can focus on their mission of saving lives. These IRS-certified 501(c)3 nonprofit organizations provide their beneficiaries with financial assistance as well as access to medical facilities so they can undergo full treatment. They also offer free breast cancer screening as well as other breast cancer prevention and education services.
By turning over to us a vehicle you no longer use or need, you can help us deliver much-needed comprehensive breast health services for those who badly need them.
How Can You Donate Your Vehicle?
When you choose to donate your unwanted vehicle to us, you can expect to experience a donation process that's simple, pleasant, and rewarding. Just by following a few simple steps, you will be able to impact the lives of women in your city who have been diagnosed with breast cancer.
1. Get in touch with us.
You can call us at 866-540-5069 to kick-start your donation process. We'll need your contact information and your vehicle's year, make, model, mileage, and a few other details. You also have the option to donate your car through our website by filling out our donation form here.
2. Schedule your free vehicle pickup.
We'll get in touch with you as soon as we verify the information you provided. We'll then ask about your preferred time and day for the pickup and your car's pickup location. We'll arrange with a licensed towing company to collect your donation for FREE. The driver will hand you a towing receipt before hauling off your vehicle. The receipt will release you from all liabilities on your vehicle from that point onward. You can then cancel your vehicle's DMV registration and insurance coverage.
3. Receive your IRS tax-deductible receipt by mail.
Once we have your car, we'll sell it and have your tax-deduction receipt mailed to your given address within 30 days after the sale of your car. Be sure to keep this document because you'll need it to claim your tax deductions when you file your itemized federal income tax return in the coming tax season.
Donate a Car and Enjoy These Benefits
If you're looking for the best way to dispose of your unneeded car and enjoy some perks at the same time, you've come to the right place. If you take part in our Winston-Salem, North Carolina car donations program, you can enjoy the following benefits:
Wherever your vehicle is located in the country, we can assign a licensed towing company to haul it away for free. We won't even require you to be there at the site on the day of the pickup for as long as you can tell us where we can find your car keys and title inside the vehicle.
Since our partners are IRS-certified 501(c)(3) non-profit organizations, your vehicle donation is tax-deductible. Moreover, we'll sell your vehicle to one of the best auction houses in our network where your vehicle will be sold at its highest possible price, which means a maximized tax deduction for you.
Stop paying for costly repairs.
Inefficient vehicles tend to have higher costs for repairs. If you donate your vehicle, you can stop paying for these expenses and save that money instead. Moreover, you don't need to do anything with your vehicle when you donate it to us. We're willing to take your clunker as it is – even if it comes with a dead battery or a flat tire!
Get that extra space in your garage back! With that hunk of junk out of the way, you can finally have a parking space for your new ride!
What Types of Vehicles Can You Donate?
The best thing about joining our Winston-Salem car donations program is that it allows you to get rid of practically all types of unwanted vehicles you might have on your property. Check out this list of the various vehicle types that you can donate to us:
Cars: sedans, luxury cars, coupes, convertibles, hybrids, sports cars, wagons, hatchbacks
Vans: family minivans, camper vans, cargo vans, passenger vans
SUVs: compact, midsize, full-size or crossover versions
Motorcycles: touring bikes, cruisers, scooters, off-road bikes, mopeds, sports bikes, choppers
Trucks: box trucks, pickup trucks extended cab pickup, panel trucks, refrigerator trucks, tank trucks
Boats: fishing boats, sailboats, tugboats, speedboats, houseboats, cruise ships, catamarans, pontoon boats, yachts
Specialized vehicles: riding lawnmowers, motorized wheelchairs
Fleet vehicles: SUVs, pickups, trucks, buses, cars, passenger vans, cargo vans, limousines, ambulances, taxicabs
Recreational vehicles: noncommercial planes; campers, travel trailers, snowmobiles, Jet Skis, RVs, motorhomes, pop-up trailers, ATVs
Work-related vehicles: construction vehicles, tractors and farm equipment, buses, large trucks, landscaping vehicles
Your Vehicle Can Save Lives!
Help us save more lives by participating in our Winston-Salem, North Carolina car donations program. Call us at 866-540-5069 or fill out our online donation form today to help enable breast cancer patients in your city to beat the devastating disease!
or Call Us Now at 866-540-5069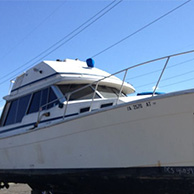 Excellent customer service!