Car Donation West Hartford, Connecticut
Car Donation West Hartford, Connecticut: Do You Want to Save Lives?
If you have an unwanted vehicle that you've been planning to dispose of, Breast Cancer Car Donations offers you a chance to get rid of it without the hassle and the cost! What's more, when you hand over that vehicle to our West Hartford, Connecticut car donations program, you can potentially save the lives of struggling breast cancer victims in your town.
What You May Not Know About Breast Cancer
According to Breastcancer.org, a woman's chances of getting breast cancer nearly double if her mother, sister, or daughter has been diagnosed with the disease.
Did you know that the most common type of cancer that affects women (other than skin cancer) is breast cancer? According to the American Cancer Society, an average American woman has a 13% chance of developing invasive breast cancer within her lifetime. However, statistics show that black women who are under the age of 45 are more likely to develop breast cancer and die from it compared to Caucasian, Native American, Asian, and Hispanic women.
The People in West Hartford Town, Connecticut
According to the United States Census Bureau, West Hartford town in Connecticut had a population of 62,965 as of July 2019, with women comprising 52.3% of the population. Furthermore, 2.6% of the locals under 65 years had no health insurance while 6.4% were living in poverty.
These figures can give you an inkling of the number of needy breast cancer sufferers in Hartford. You can extend them a helping hand by donating any type of vehicle you no longer need to us at Breast Cancer Car Donations through our West Hartford, CT car donations program.
How Your Vehicle Donation Can Help Those Stricken with Breast Cancer
One of the worst things that could happen to anyone is to be diagnosed with breast cancer. If this disease is detected before the tumor can be felt, a person's chances of surviving it increase by 99%. Unfortunately, people from low-income families don't have enough resources to receive much-needed treatment and care.
To address this problem, we at Breast Cancer Car Donations have teamed up with like-minded nonprofits so that no breast cancer patients can be deprived of treatment that can save their lives. We sell vehicles donated to us and use the proceeds to support the life-saving programs of our breast cancer-focused charity partners. The funding enables them to sustain their delivery of critical breast health services in your area to all those who need them.
Thanks to your contribution, uninsured and financially struggling breast cancer patients will be able to gain access to top medical facilities where they can get various types of treatment, including surgery, chemo, and radiation therapy. Other beneficiaries get to receive free breast cancer screening and prevention and education services.
What's in It for You?
When you turn over a vehicle to our West Hartford, CT car donations program, you'll get a chance to substantially reduce your taxable income in the next tax season. It's because your donation is 100% tax-deductible.
Aside from the huge tax break, you'll also get our free and contactless pickup and towing service. Plus, we'll handle everything for you — from coordinating with the licensed towing company to handling all of the paperwork concerning your donation.
However, the best part about making a charitable contribution to Breast Cancer Car Donations is that you'll feel good about yourself for doing something that can potentially save lives. After all, it's not every day that you'd get to become a hero.
How to Make a West Hartford, CT Car Donation
Donating a vehicle to Breast Cancer Car Donations is ridiculously easy — even for a first-time donor! It will only take a few minutes of your time to help those who are going through their breast cancer journey in West Hartford, CT. Check out our simple and straightforward donation process:
1. Reach out to us.
Fill out our online donation form here. If you prefer to process your donation over the phone, call us at 866-540-5069 and give us your contact information as well as your vehicle's year, make, model, and mileage. We'll also ask you to confirm if the title to your vehicle is available.
2. Schedule your free pickup.
Next, we'll ask you to give us your preferred time, date, and location for your vehicle's free pickup and towing. If you prefer to make arrangements for a contactless pickup, simply tell us where we can find the keys and title inside your vehicle before we send out the tow truck that will haul off your vehicle.
3. Receive your tax-deductible sales receipt.
We'll coordinate with the vehicle liquidation vendors within our network for your vehicle's sale in the auction market. You can count on us to get it sold for the highest possible price so you can get the maximum tax deduction for it. Once your car is sold, expect to receive your 100% tax-deductible sales receipt via mail.
If you have any questions or concerns about our donation process, feel free to contact us at 866-540-5069. You may also write to us here.
The Types of Vehicles that We Accept
With Breast Cancer Car Donations, you're free to donate any type of vehicle in whatever condition it may be in. In most cases, we even take those that need a lot of work.
Here's a list of the usual vehicle types that we welcome in our West Hartford, Connecticut car donations program:
Cars: sedans, luxury cars, coupes, convertibles, hybrids, sports cars, wagons, hatchbacks
Vans: family minivans, camper vans, cargo vans, passenger vans
SUVs: compact, midsize, full-size, or crossover versions
Motorcycles: touring bikes, cruisers, scooters, off-road bikes, mopeds, sports bikes, choppers
Trucks: box trucks, pickup trucks extended cab pickup, panel trucks, refrigerator trucks, tank trucks
Boats: fishing boats, sailboats, tugboats, speedboats, houseboats, cruise ships, catamarans, pontoon boats, yachts
Specialized vehicles: riding lawnmowers, motorized wheelchairs
Fleet vehicles: SUVs, pickups, trucks, buses, cars, passenger vans, cargo vans, limousines, ambulances, taxicabs
Recreational vehicles: noncommercial planes; campers, travel trailers, snowmobiles, Jet Skis, RVs, motorhomes, pop-up trailers, ATVs
Work-related vehicles: construction vehicles, tractors and farm equipment, buses, large trucks, landscaping vehicles
Fight Breast Cancer in West Hartford, Connecticut!
Today's a great day to do something extraordinary for the residents in your community who are suffering from breast cancer. Your vehicle donation will surely touch their lives. Call Breast Cancer Car Donations at 866-540-5069 or fill out our online donation form now!
or Call Us Now at 866-540-5069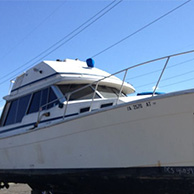 Excellent customer service!