Thornton, Colorado Car Donations
Donate Your Vehicle and Save Lives!
Thornton, Colorado Car Donations: Your Old Car Can Give Hope to Breast Cancer Sufferers
Are you willing to donate an old car that's no longer useful to you to our Thornton, Colorado car donations program? When you do so, you'll be giving hope to thousands of women struggling with breast cancer. If you've always wanted to help discover a possible cure for the life-claiming disease, now would be a perfect time.
Along with Breast Cancer Car Donations, you make it possible for reputable nonprofit cancer organizations to find ways to detect, screen, prevent, and hopefully cure the disease. We generate the funds needed by these nonprofits through your Thornton, Colorado car donations. Apart from that, you also have the opportunity to get top tax deductions for your donated cars or RVs.
Getting rid of a vehicle is so much better when you do it to help needy cancer patients and their families. Besides, why would you even go through the trouble of selling it?
A Fast and Easy Donation Process for You
When you decide to work with Breast Cancer Car Donations, you're giving yourself the convenience of going through a simple donation process. Everything becomes much less complicated for you when you get rid of a car that you no longer want or need. Count on us to take care of everything!
After you inform us about your decision to contribute to our Thornton, Colorado car donations program, leave the rest of the process for us to finish.
Don't bother worrying about the burden of preparing the documents for your donation. We will handle anything paperwork-related. You won't also need to waste your time or effort looking for an affordable towing service. We will hire a professional towing company from your area, and we will be the one to pay for this service.
Here's how it basically works when you donate to Breast Cancer Car Donations:
You contact us either by filling out our online donation form or by calling us at 866-540-5069. Give us specific details regarding your vehicle, including its make and model. We then set a time and place to pick it up, with your concurrence.
The tow truck we hired will come to haul your donated vehicle away. It's totally fine with us if you have to be somewhere else! We will give you your towing or donation receipt, which you will need in canceling your car's registration and insurance details.
We place your donated car up for auction, with the funds going straight to significant cancer-fighting nonprofits. Your unused automobile thus becomes a tool in finding treatment for the devastating illness.
After we sell your car, we will send you by mail your 100 percent tax-deductible sales receipt, indicating your donated vehicle's sale price.  If your vehicle was sold for less than $500, you can claim your vehicle's selling price as your tax deduction. You also have the option of claiming your vehicle's fair market value up to $500, whichever is higher. You can calculate the fair market value of your car by checking the prices online for vehicles of the same make, model, year and condition as your car. Your tax deduction claim gets bigger if your vehicle sells for more than $500. You can claim the exact amount for which it was sold.
That sums up the entire process of our car donations program. If you happen to have any more questions, just check out our FAQs page here.
Types of Vehicles for Our Thornton, Colorado Car Donations Program
We accept almost all kinds of vehicles, regardless of age or condition. No need to be worried about giving away a car that's no longer running as the tow truck we hired can pick it up. So if you've been planning to throw away a broken-down scooter, you might as well donate it to us for a meaningful cause.
To give you an idea of the vehicles we normally accept in our Thornton, Colorado car donations program, here's a list:
Motorcycles: cruisers, touring motorcycles, dirt bikes
Specialty vehicles: motorized wheelchairs, riding lawnmowers, snowmobiles
Watercraft: ski boats, cruise ships, motor boats
Cars: vans, minivans, convertibles
RVs: folding and tent trailers, motorhomes, travel trailers
Aircraft: helicopters, planes, jet planes
Don't hesitate to give us a call if you're having uncertainties about the state of your car. There's still a big chance that we'll accept it.
Perks of Donating to Breast Cancer Car Donations
Experiencing our fast and hassle-free donation process isn't the only benefit you get to enjoy when you collaborate with us. In fact, there's a good number of rewarding stuff waiting for you. Yes, your Thornton, Colorado car donations will be beneficial not only for cancer patients but for you as well.
Aside from your top tax deduction, expect the following incentives below:
Get rid of an unwanted or non-functioning car at no cost
No need to stress yourself over paperwork when trying to sell your car
No need to advertise or look for interested buyers
Freedom from insuring, maintaining, or restoring your car
More space for your garage or driveway
Feeling of joy knowing that you will play a part in the fight against breast cancer with your Thornton, Colorado car donations
Now that you've heard about us and what we do, there's no reason to look for other car donation programs in Thornton, Colorado.
Join the Fight Against Breast Cancer Today
Are you excited to make a huge difference in the lives of breast cancer patients with your Thornton, Colorado car donations? Let's work together in fighting breast cancer and helping its victims. Contact us now at 866-540-5069 and make a car donation.
or Call Us Now at 866-540-5069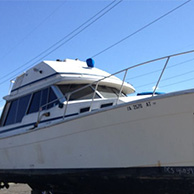 Excellent customer service!