Tacoma, Washington Car Donations
Donate Your Vehicle and Save Lives!
Tacoma, WA Car Donations: Help Breast Cancer Patients Survive the Disease
We at Breast Cancer Car Donations would like to invite you to support a worthy cause that seeks to save and transform the lives of breast cancer sufferers in Tacoma, Washington. A simple car donation will enable you to join us in our humanitarian mission.
Any vehicle that enters our donation program becomes a source of funding for our nonprofit partners. IRS-certified 501(c)3 nonprofit organizations such as the American Breast Cancer Foundation (ABCF) and Women Involved in Nurturing, Giving, Sharing, Inc. (WINGS) will use the proceeds from the auction sale of your donated vehicle to sustain their delivery of life-saving services to underprivileged individuals who need them. Your Tacoma, WA car donation can help breast cancer patients in your community get financial aid to cover the cost of their medication and hospital bills. As such, you'd be giving them hope that everything will turn out fine in the end. You'd also be assuring them that they're not alone in their fight against breast cancer.
A Donation Process That Only Takes Minutes
If you think that contributing to our Tacoma, WA car donations program would be a time-consuming process, that's farthest from the truth. At Breast Cancer Car Donations, we care for our generous donors as much as our beneficiaries, which is why we've designed a quick, convenient, and hassle-free donation process. You can count on us to take care of everything – from managing all the necessary documents to towing away your vehicle for free.
Whenever you're ready to donate, just get in touch with us. You can either call us or fill out our online donation form. Provide us certain details about the vehicle you're planning to give us, including its make, model, year, mileage, and VIN.
Right after we verify all the information you gave us, we'll contact you again to arrange the towing of your vehicle. It's up to you to decide on the date, time, and place of the pickup, and you wouldn't have to spend a single dime for it. Everything's on us!
Before our truck driver arrives at the designated pickup location, be sure that you have your car keys and title ready. If you can't find your title anymore, don't hesitate to tell us about it. We'll be happy to help you get a duplicate copy.
We'll hand you a tow receipt to acknowledge our acceptance of your donation. This document releases you from any liabilities associated with your ownership of this vehicle from that point onward. It also gives you the right to discontinue your payment for its insurance coverage when you finally de-register it at your local DMV.
Several weeks following the sale of your Tacoma, WA car donation, we'll send you by mail your 100% tax-deductible receipt. You'll need this when claiming your tax deduction in the next tax-filing season. The tax credit you can claim will depend on your vehicle's final selling price as shown in the receipt.
For more information regarding this matter and other related details, visit our FAQs page. If you have questions, don't hesitate to talk to one of our donation experts by calling 866-540-5069.
The Kinds of Vehicles You Can Donate
What sets us apart from other car donation programs in Tacoma, WA is that we welcome almost all types and kinds of vehicles. You might even be surprised to know that we accept vehicles that are no longer in good shape. As long as you're donating a vehicle that's not stolen or abandoned, you'll be getting a big "yes" from us when you make your donation offer.
For our Tacoma, WA car donations program, we normally accept these types of vehicles:
Standard cars: sedans, pickups, SUVs
Fleet vehicles: vans, trucks, buses, minivans
RVs: pop-up trailers, motorhomes, 5-wheelers, campers, travel trailers
Motorcycles: scooters, dirt bikes, sports bikes, mopeds, cruisers
Watercraft: pontoon boats, jet skis, yachts, fishing boats, sailboats
Aircraft: planes, helicopters, private planes, gliders
Specialty vehicles: motorized wheelchairs, riding lawnmowers, ATVs, golf carts
We're pleased to tell you that we're open to multiple donations. The more donations we receive, the more breast cancer patients we can support and the more tax deductions you can get! Now, that's a win-win situation!
Benefits in Store for You
Enjoying a handsome tax deduction isn't the only good thing that will come out of your Tacoma, Washington car donation. There are tons of other rewards that you'll certainly get. By choosing to team up with us, expect these perks to come your way:
Avoid the hassles of selling.
Selling an old used car can be quite frustrating and draining since you'll need to place ads and listings, get certain parts fixed and modified, and negotiate with would-be buyers. In contrast, when you hand over your vehicle to us, you won't experience any of these stressful nuisances.
Enjoy a costless way of getting rid of your car.
Thanks to our free towing service, money won't be an issue at all. .
Stop paying for your vehicle's fees.
Speaking of money, you'll be able to save tons of bucks once your car is no longer in your hands. You can finally grow your savings again so you can buy a brand-new automobile.
Free yourself from paperwork.
Filing or processing documents is an inherently stressful task for anybody, which is why we've taken it upon ourselves to do all the required paperwork to free you from this. All you have to do after informing us of your donation offer is to wait for your tax-deductible receipt.
Get an opportunity to work with reputable nonprofits.
Wouldn't it be wonderful to know that you'd be collaborating with two of the country's top cancer nonprofit organizations to help fight breast cancer? What's more, since part of the proceeds from your Tacoma, WA car donation would go to breast cancer research, you could contribute to the possible discovery of a cure for breast cancer in the future!
Join Our Tacoma, WA Car Donations Program Now!
Ready to repurpose your old beater for the greater good? Use it to help fight breast cancer today! Donate to us at 866-540-5069!
or Call Us Now at 866-540-5069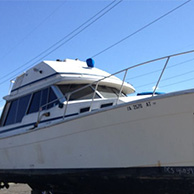 Excellent customer service!